Image : 9to5 Mac
As per a report by KGI Securities (via 9to5 Mac ), Apple is expected to release both the iPhones in 128 GB variants as well. Along with that, we can also expect the exciting iPad Air 2, on September 9.
As per KGI Analyst Ming-Chi Kuo, has suggested in his report that both 4.7- and 5.5-inch models of the iPhone 6 will be launched next week and will both offer 128GB storage option. If Apple retains its usual three-tier structure this would suggest 32GB, 64GB and 128GB models.
Also, apart from the iPhones, Ming has also revealed that Apple may also launch iPad Air 2, on the same day and not in October, as earlier reports had suggested. This could mean that Apple is not planning to  refresh the mini line of iPad, and may bring in those minor changes, like a Finger print scanner, and a 2 GB RAM, for multi-tasking purposes.
Kuo also predicts that the power button – moved to the side – could be a programmable multi-function key, perhaps launching a specific app in response to a long or short press. He has also predicted that the new device could have barometer to measure breath. This may be a part of Apple's Heathkit programme.
Another startling revelation from the report, is the fact that Apple may be dropping the Sapphire glass lens cover from the protruding camera. This is because, although Sapphire is more scratch-resistant than glass, it is more brittle than glass too, thus failing various drop-tests.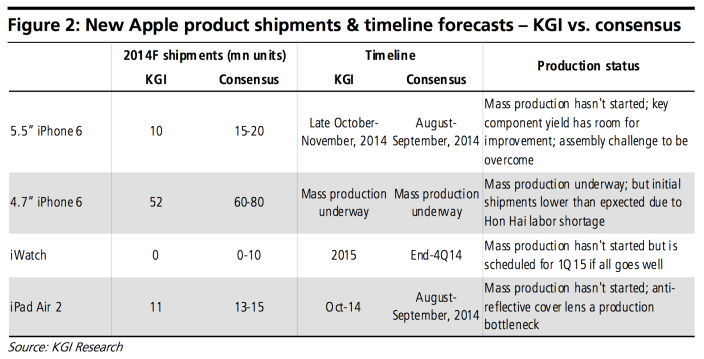 Also, as per the report, iWatch will be announced at the same event on September 8, and is expected to feature 512 Mb of RAM.
---