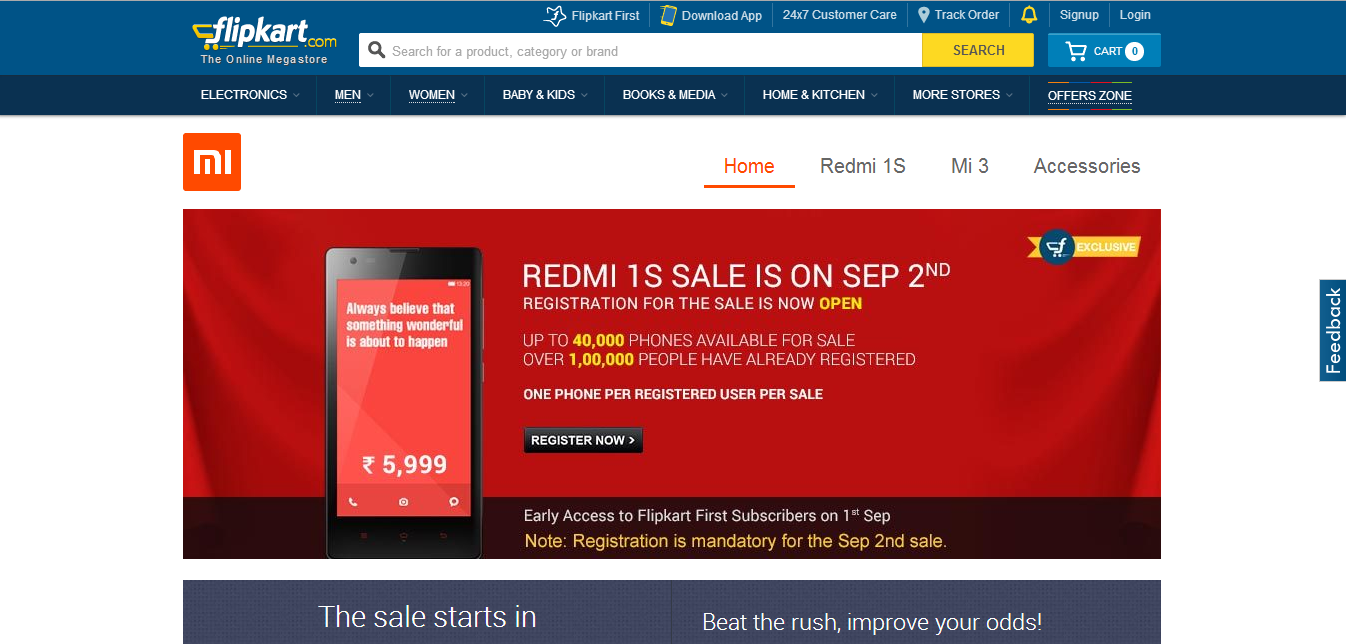 Xiaomi, which recently launched its second device in India, the Redmi 1S, has put up 40,000 units of the new device, for sale on Sep 2nd. This is more than double of what Xiaomi offered at the last Mi3 sale.
As per a banner at Flipkart, 40,000 units of Redmi 1S will be available for buyers. But do note that Flipkart will provide early access (a day before) to Flipkart First registered customers. You can register for the sale here.
The interesting fact is, that Xiaomi has claimed to receive over 1,00,000 registrations for its Redmi 1S sale, a prominent figure in all of Xiaomi's flash sales, as far asr registrations are concerned.
Also, Xiaomi said that it will not selling the already hit, Mi 3 model during the Redmi 1S sale. The seventh batch of Mi3 was expected to go on sale on September 2nd, but has now been replaced by the Redmi 1S.
This kind of business strategy from Xiaomi, will not create good vibes about its products. Firstly, stopping Mi3 due to Redmi 1S sales raises some serious questions on the production capability of Xiaomi. It clearly indicates that if the demand is high, it won't be able to produce more than one model at a time.
Also, people interested in buying Mi3 will take this step in an extremely negative sense, considering the fact that potential buyers were already frustrated due to the kind of sales strategy, which Xiaomi employed during Mi3 sales.
Mi3 proved to be a big hit among the Indian consumers, and so will Redmi 1S be. But, Xiaomi may not be able to achieve the kind of sales of Mi3, which it achieved earlier, even if it brings Mi3 back on the sales chart.
---