As announced today via an official blog post, Telegram has finally come at par with other messaging apps in terms of features but one step ahead with regards to security. The company has now introduced the much-awaited functionality of completing voice calls on its platform. This feature is currently being rolled out only to users in Western Europe but will make a global debut really soon.
It is quite late at introducing voice calls but the delay might have been due to the company's continued focus on security. Your voice calls are also end-to-end encrypted, which means that data bytes sent and received during the call are all secure from hijacking.
The encryption of voice calls is based on the same method used in Telegram's tried and tested secret chats feature. But, the company has decided to improve upon their key verification UI with the inclusion of emojis into the mix. You now don't need to confirm long strings but match just four emojis to secure the audio call. Talking about the same, the blog post says,
The key verification UI we came up with in 2013 to protect against man-in-the-middle attacks served well for Telegram (and for other apps that adopted it) but for calls, we needed something easier.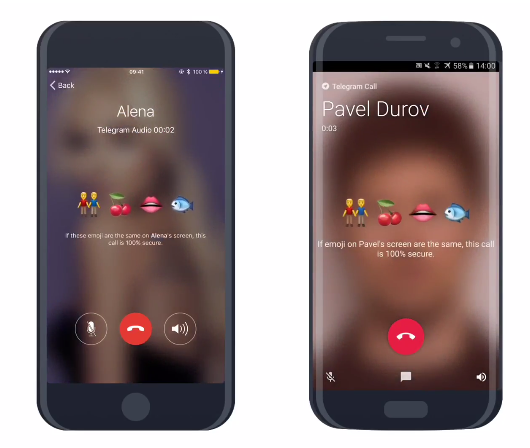 Further, Telegram is focused on making your audio calling experience way snappier and provide you with crystal-clear audio quality. This is being possible with the use of peer-to-peer connection and the best audio codecs, which also make it possible to save some of your precious data. But, the company also has fail safes in place and plans to connect you to the closest server to complete the audio calls without hiccups. This has been described in the blog post as under:
Unlike other apps, Telegram has a distributed infrastructure all over the world which we've already been using to deliver your texts faster than other apps. Now, these servers will also be used for calls.
That's all well and good but the one feature which makes Telegram's voice calling capabilities stand out from the average messaging app is the introduction of artificial intelligence into the mix. Yes, your voice calls are backed by machine learning algorithms and it will try to improve the quality and experience of each voice call placed. The neural network for the same learns from technical info such as network speed, ping times, packet loss percentage, etc. to optimize your next voice call. And these parameters can change during the call, thanks to the AI system.
These parameters can also be adjusted during a conversation if there's a change in your connection. Telegram will adapt and provide excellent sound quality on stable WiFi — or use less data when you walk into a refrigerator with bad reception.
Further, Telegram boasts that due to the amalgamation of such innovative technologies under the hood, their voice calls are already superior in quality to its rivals such as Messenger, WhatsApp, or Signal. Also, it is handing more control over voice calls to the user with this update. You'll now have the option to control who can and cannot converse over voice with you. It even allows you to stop voice calls and block anyone you desire.
Telegram further beats other messaging apps by extending several data-saving options to us, where you can set the voice calls to use the least amount of data. The voice calls are already lightweight and automatically adapt to the speed and type of connection. But, it will further enable you to save another 25-30 percent of your data but at the expense of sound quality. Well, you have to compromise at some point of time, the app can't just provide you with everything.