Today, Samsung is not only taking the wraps off its new flagship devices — Galaxy S8 and Galaxy S8+ at the Unpacked event currently happening in New York. We've awaited this unveiling for quite some time, but you wouldn't have expected the Korean giant to take the wraps off and imbibe the same finesse into their new, redesigned Gear 360 camera.
The Samsung Gear 360 camera, as pictured above, is more compact and better designed as compared to the original ball-shaped one. Now, you not only have an extremely impressive true 4K resolution (3,840 x 2,160) 360-degree camera but also a grip to comfortably hold the camera. The previous Gear 360 supported 4K with 3,840 x 1,920 resolution, but it has been topped up with a sharper, crispier camera.
As for the camera itself, the Gear 360 comes equipped with 8.4-megapixel image sensors with an aperture of f/2.2 on both dual fisheye lenses. this will enable you to create high-resolution images and videos, which are realistically 360-degree and more immersive than you've seen. It also comes with enhanced features which enable you to create customized content via various viewing modes, editing tools and photo effects and filters. The images are captured in 15-megapixel resolution.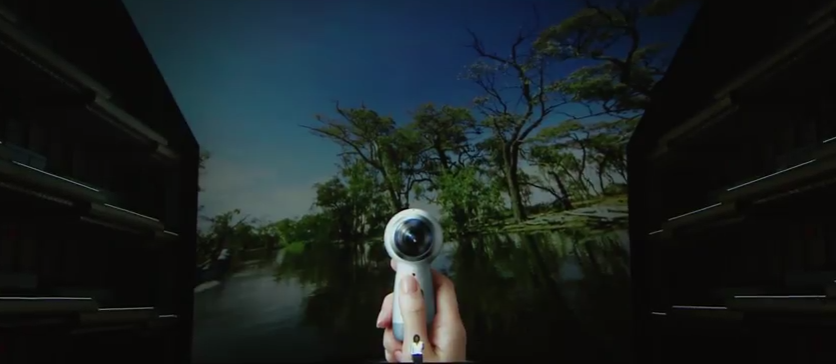 But, the highlight of the new Gear 360 camera would have to be real-time 360-degree video broadcasting and support for iOS devices. To access the live streaming feature, you'll first have to sync with a compatible smartphone or computer. Then, clicking the button on the grip enables you to directly stream videos to YouTube, Facebook or Samsung VR (which can be leveraged through a 3rd-party API to stream to other services like Periscope). You'll be able to stream 360 videos at 2K resolution for about two continuous hours.
Samsung might've pushed creators to show off their 360-degree video recording skills by telling stories, but the biggest complaint with the device was that only Galaxy devices were compatible with the same. Samsung has heard your pleas and is now looking to woo some of you iPhone users by extending support for Gear 360 to you. The new 360-degree camera is now compatible with several iOS devices including the iPhone 7, iPhone 7 Plus, iPhone 6s, iPhone 6s Plus, and iPhone SE. You can also connect to Windows and Mac desktops, as usual.
Yes, this camera has matured from its previous self and now does more than you can imagine. Talking about the redesigned Gear 360 camera, Younghee Lee, Executive Vice President of Global Marketing and Wearable Business, Mobile Communications at Samsung Electronics said,
As consumers turn more to video to share their experiences, we want to deliver accessible and innovative products to make digital content easier to create, share and stream. The updated Gear 360 will continue to expand the horizons of what consumers can experience and share.
There is currently no word on the availability and pricing of the new, redesigned Samsung Gear 360. But, the company plans to shine a light on the same very soon.