India's home-grown messaging app, Hike, has seen a tremendous growth rate since its launch. It recently released data which showed that they added a whopping 5 million new "Hikers" to there existing 15 million userbase. But, is it enough ?
Let us take a look at the statistics first. WhatsApp, which has literally become the new name of our lovely old SMS, had almost 500 million monthly active users till 22nd April 2014. The messaging system handles more than 10 billion messages each day. In a December 2013 blog post, WhatsApp claimed that 400 million active users use the service each month.
The monthly active user base of WhatsApp in India is a whopping 50 million, which is more than double of the total user base of Hike. Out of hikes's 20 million user base, approximately 90 % is India, thus making WhatsApp's monthly active Indian user base, almost thrice of Hike's total Indian user base.
These statistics clearly indicate the huge gap which Hike has to cover. But, will it go the distance or will it eventually die out ?
Well, we think it will cover this gap. This process may take time, but it will definitely happen. WhatsApp's dominance in India is unquestionable and almost unconquerable for at least an year or so, but Hike has got the fuel to go long distance. This is because of various factors.
The major boost up for Hike, over WhatsApp is that it is Indian ! Indians are quite patriotic when it comes to indigenously developed technologies or software. So, whether Hike is a better than WhatsApp or not, it is sure to grow largely because of its Indian factor ( read it as the X-factor ;) ).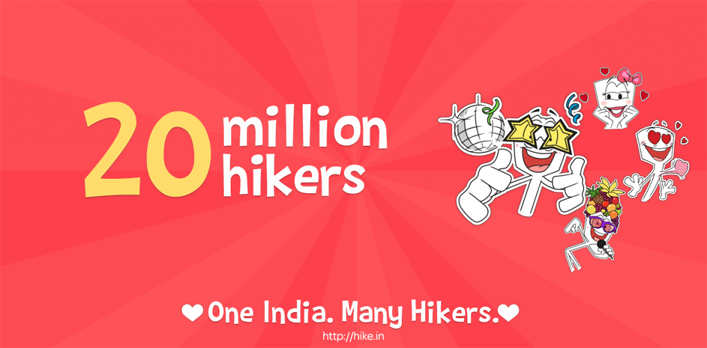 But, for that to happen, Hike needs to spread awareness regarding itself. Currently, most of Indian teens, who are the major users of these messaging apps, aren't aware of the fact that Hike is Indian. Although hike recently started a new TVC commercial on its app, but it needs to do more.
Another factor, which will help Hike grow is the backing of an extremely huge conglomerate and business group,  Bharti Softbank, a joint venture of Bharti Enterprises and Japan's Softbank Corporation.WhatsApp never had this huge fund backing behind them, so they couldn't invest much into marketing. On the contrary, Hike can.
Features of a software are the most important factor that make it stand out of the crowd, and we think, Hike has got those features. There are 3-4 genuine and exclusive features in Hike, which I found exciting. One of them is it's offline mode. This mode, helps users stay in touch, even if their internet connection goes down. Hike does it using your SMS feature. The X-factor about this feature ? When your mobile data gets back on track, your chats continue, including the SMSes in the chat, thus makeing the whole experience seamless.
Another exciting feature is the Hidden mode. You can hide your chats, and they will open, only when you enter the right password. This can be pretty handy, specially for Indian teens, most of whom live with their parents, and hence are deluded of privacy the deserve.
Hike also provides you file transfer limit of a whopping 100 Mb, thus allowing businesses to send their documanets and other data efficiently through App. Mind you, this feature has the capacity to wipe-off our current e-mail systems.
One thing, which Hike has specially done right, is its research on user base. Hike clearly states that it's primary target is the Indian user base. And hence, looking at the targeted user base, it has introduced the right features, Its features are clearly targeted on Indian teens, which may well work in its favour.
But Hike needs to keep in mind that WhatsApp is no far behind in innovativeness. It's simplistic UI, is what attracts users. Hike fails to score on this ground. Many users have complained that they find Hike's UI complex, and it loads in a delayed fashion.
If hike manages to withstand competition from WhatsApp, I think, Hike may well turn out to be India's first, big-scale, social networking app in the already overcrowded international social networking market.
---