Microsoft's collaboration with widely-known audio equipment maker Harman Kardon may have resulted in the birthing of the first Cortana-powered smart speaker — Invoke, but it surely won't be the last.
At the Build 2017 developer conference currently being held in Seattle, the Redmond giant has announced that it has signed up two more prominent hardware partners, Intel and HP, to launch Cortana-powered devices. This shows that the company is shouldering the task of ushering the era of devices powered mainly by its Cortana voice assistant.
Though Microsoft took their names on stage during the keynote speech, no details of what each of these technology giants will build (see, what I did there! :P) and integrate Cortana into is still unknown. It has, however, been announced that Redmond will partner with Intel Inc. to provide developers with a reference platform for Cortana-powered devices. It will give them a guideline on how to build other related hardware using the platform.
As for Harman Kardon's speaker, its cylindrical design looks pretty similar to Amazon's original Echo. But as one can clearly see that the said speaker is sturdy and premium-looking as compared to the Echo. It projects sound at 360 degrees and obviosuly packs in the ability to stay on top of things, courtesy of Cortana's powers.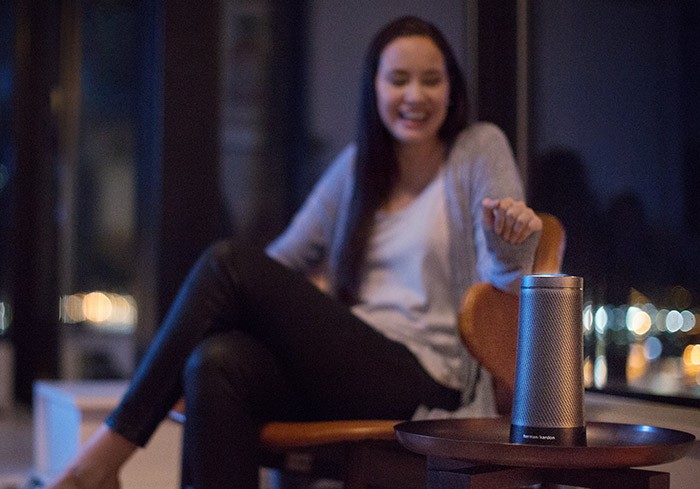 This means the speaker provides you with the capability to control music playback, and other basic capabilities packed in each voice assistant. The highlight of the same will, however, have to be the ability to make and receive voice calls using Skype — which seemed like a plus over Amazon Echo devices. But, the global e-tailer yesterday matched the competition with the release of message and call features to the speaker.
In addition to revealing its hardware partners, Microsoft catered to the developers with the announcement that Cortana Skills kit is now available in public preview. The Redmond giant sees Cortana being baked into everything ranging from refrigerators or toasters to coffee machines and thermostats. It had already released the said developer kit earlier last year, but it was only available to a select few until today. It might be available widely, however, still has been restricted to the United States.
Microsoft has only announced its partnership today, so we may still have to wait for their innovations (or the plain old smart speaker) from HP and Intel to be launched in the coming months. This could prove to be a significant market for Microsoft, not because of the Cortana-powered speakers it may launch.
Instead, the rumored HomeHub feature coming with Windows 10's next major update — which is expected to be announced in Day Two's keynote — could be a real game changer for Microsoft. It is because the Redmond giant is planning to turn each of the total 500 million active Windows 10 PCs into an Amazon Echo competitors. With the integration of far-field speech communication and wake on voice features in Creators Update, Cortana could soon play a central role in the extension of the ecosystem.
So, we'd just you to keep your eyes peeled and check back for more Build 2017 conference-related updates.