Yesterday, we reported that the tablet market continued to shrink for the tenth straight quarter, according to IDC. This development has now coincided with rumors of Motorola working on an Android-powered tablet device. This will be a first for the Lenovo-owned company in a long while. The software is expected to bring new features, which draw inspiration from the parent company.
Citing sources aware of the development, Android Police reports that Motorola's tablet device will be slightly on the larger side when compared to existing popular choices — Nexus 9 or Asus Zenpad. It is expected to be around 9-10 inches diagonally, which is how you measure the screen size. It may also introduce premium material to further enhance the look and feel of the tablet.
That's all the information we currently have on the hardware aspects of the device. No internal specs have been shared, not even by the source close to the Android-focused publication. But, it has surely shared a screenshot attached below, which points towards the upcoming 'productivity feature' of the Motorola tablet. (you can picture the tablet by removing the Halo keyboard from the Lenovo Yoga Book featured image)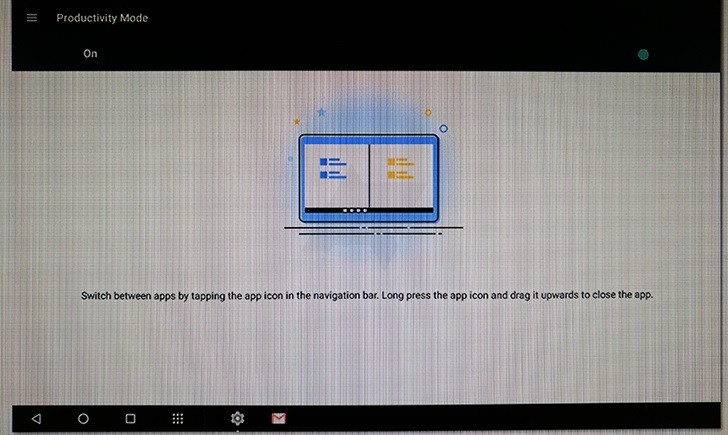 Using the productivity feature, which first appeared in Lenovo's Android-powered 2-in-1 hybrid device called Yoga Book. This feature allows you to toggle the button (in the screenshot) to enable the pinning of frequently used apps to the navbar at the bottom. This has to be one of the clever ideas implemented by PC giant Lenovo, which not only helps utilize the wasted space but also makes it easier to switch between certain apps.
In addition, you can also read in the screenshot that this 'productivity feature' will keep the apps pinned to the navbar and running in the background until you manually close it. You can simply do this by long-pressing on the app icon and by dragging the same icon in the upward direction. This feature, coupled with one-touch app drawer access icon, will make for swifter multitasking on Motorola's tablet device.
Now, that's all the information we could gather about this tablet device. While we're still unaware of the internal specifications — the processor, RAM, storage or camera configuration, we believe that some variant of this tablet would offer cellular connectivity as well.
But, the major question that's acting as the unanswered elephant of the room is – Why is Motorola building an Android tablet when its phone business is performing fairly well? The Lenovo-owned smartphone maker has not only witnessed decent growth in its budget-segment Moto G devices but the high-end Moto X or Moto Z as well. It is now working on an uber-budget smartphone, rumored to be called the Moto C. This will be a Moto E replacement for the company.