Get ready for the bot intervention! We're just days away from Microsoft taking center stage at the Build 2017 conference to talk about its progress that's beneficial for developers. And one of the prominent aspects would be chatbots, an AI-powered text-based platform whose seed was planted at the conference earlier last year.
Now, the Redmond giant has been investing in the development of its bot technology for quite some time. The chatbots have already made their way into Skype but will soon become available on another surprising Microsoft property – the Bing search engine. Several reports on the interwebs have cited anonymous sources but a session on the same has already appeared on the Build'17 scheduler app, which now seems to have been pulled back by Microsoft.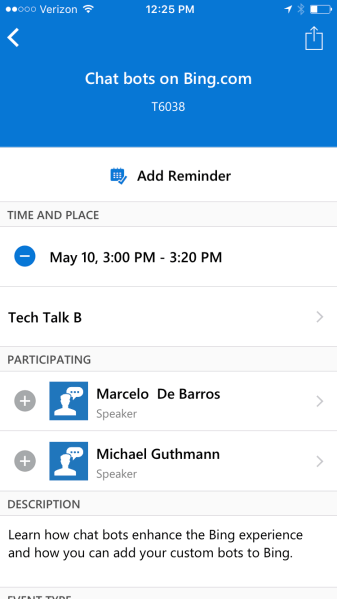 This session called 'Chatbots on Bing.com' has been screen-capped by VentureBeat. The description reads that attendees will be able to learn how chatbots will enhance your searching experience on Bing. It also mentions that developers will be able to integrate their custom bots to the search engines as well. This will be an exciting session as the addition of third-party bots to Bing.com can clutter or hamper the search experience.
Now, we are aware of the fact that Microsoft is porting over its bots to the search engine. With regards to the same, MSPoweruser has gotten its hands of screenshots of how the bots will appear on the search page. Much like every other web-based messaging portal, the chat window sits at the bottom right corner of the webpage. The same was spotted by a handful of Redmond users about a month ago.
This messaging window will initially provide you access to intelligent bots developed by Microsoft's team themselves. They'll be using the Bot Framework, released last year, to develop the apps — the third-party developers will employ the same toolkit to build their bots for Bing. Their bots will be integrated into the service post its debut in the coming week. It has further been suggested that this chatbot will work using Microsoft's Skype service, where bots were introduced initially.
Further, we have already bagged info and screenshots on one of Microsoft's chatbots. It is called Infobot and answers your queries by searching the entire treasure trove of info on Wikipedia. The bot will not immediately appear when you type in the search query, but you'll notice that a new button at the bottom of the information card shown at the beginning.
Tapping on this button takes you to the chat window, where you can question the bot to your heart's desire. It is currently also testing a handful of other integrations to better suggest you restaurants, movies, and your other queries. This year's conference is being held from May 10 to May 12 in Seattle, so stay tuned for more updates on this front.