Instagram has always been working on the frontlines when it comes to moral policing and censoring certain post and individuals on its photo-sharing platform. Though the company has tried its best to maintain certain control over the safety of its community, some type of posts have often caused confusion or slipped through the cracks. It is now, however, planning to change the same.
As announced today, Instagram will now safeguard its massive 600+ million-strong community from sensitive content by blurring it out. Such sensitive posts, in the feed or a profile, will now be covered with a blurred out screen with a 'Sensitive Content' atop them. A post which violates the company's guidelines is automatically nixed from the platform. It hasn't specified what specifically counts as a sensitive post in their books.
But, ones on the borderline will now be blurred on the platform, the official blog post says, on the basis of community reports and if the Instagram moderation team finds the content as sensitive. The complete warning text added atop the blurred background reads: "This photo contains sensitive content which some people may find offensive or disturbing." You will have to tap a 'See Photo' button at the bottom of the blurred screen before you can view the said photo or video.
This change means you are less likely to have surprising or unwanted experiences in the app. If you'd like to see a post that is covered with a screen, simply tap to reveal the photo or video.
While the first feature is aimed at improving the in-app experience and protecting your from posts on the platform, the second feature is aimed at protecting your account from unwanted intruders. Instagram is now making two-factor authentication widely available to the entire community. Previously, this capability was being extended only to a handful of users.
This feature prevents unwanted log-in attempts by confirming your identity via a security code. To activate two-factor authentication on your account, tap the gear icon (on iOS) or the three dots on the top right (on iOS) while on the profile page to access your settings. From there you can toggle the feature to enable it and backup security codes if you're unable to access your phone or are stuck in a low connectivity region — but want to access Instagram.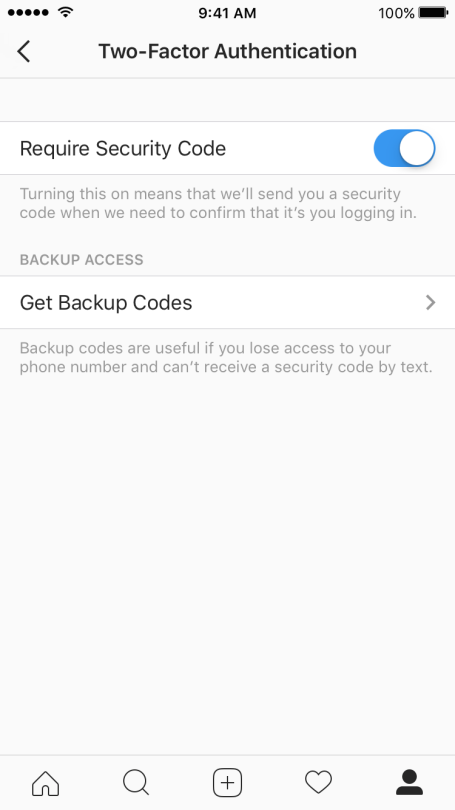 Instagram is making these changes to its widely popular image-sharing platform with regards to its "goal to build a safe environment" for its community of users. It has also created an additional WEB site to help you learn about safeguarding yourself on the platform. It is going to great lengths to make users aware of tools, such as account blocking, comment controls, photo tagging, and more, which is under their control.