Enterprise team messaging app Flock has today announced that it will be adding a fresh $25 million to its coffers to take on the likes of Slack and Microsoft Teams. The company's CEO Bhavin Turakhia will invest the said capital to drive Flock's product development and international expansion plans.
Earlier in December, Turakhia had detailed the ambitious plans for his Slack challenger and said that he'll be seeking an additional $25 million investment from external sources. But, it seems the company has failed to muster investor interest. Thus, the founder has now decided to exceed his original $20 million investment by committing another $25 million to his latest venture.
Speaking on the investment, he further continues to add,
Accelerated demand for the need to increase efficiency across teams has provided us with every reason to continue to expand globally and for me to prepare to invest additional capital.

At Flock, we are deeply committed to enhancing team and organizational productivity. Surveys and interviews with our global users clearly demonstrated that over 80% of professionals prefer using the software in their native language. We immediately made it a priority to develop multilingual support for our users worldwide.
He further says that the communication tool has experienced massive global traction and grown over 200 percent in this time period. Flock is said to have helped professional enterprise teams improve upon collaboration, efficiency, and productivity by 30 percent. The platform has also boosted transparency at work and reduced essential manpower wasted in emailing and in-person meetings by over 50 percent.
Alongside its investment, the enterprise communication and collaboration platform is also taking an instant to announce that it has already flagged off its global expansion. Flock is now available for access in the United States, Brazil, the U.K, Russia, and Spain. And in preparation for the same, the company has also debuted a massive update with several new features and improvements.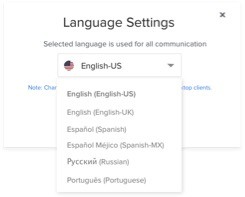 This is Flock's first update which brings along multilingual support, especially for countries it has just ventured into. It also introduces the concept of Public Channels, which enable the users to discover and join conversations that interest them, right within their team's channel. This means you can join another channel — suppose marketing ideas — to learn more about the same in your organization.
Further, this update also introduces two new native apps, namely shared to-do lists and my favorites — to help improve efficiency and task management. Flock had recently also introduced external integration, similar to those already available in Slack, via its own app store on the platform. It has already made various popular applications, namely Trello, Github, Twitter, and Bitbucket among others available for integration.
Flock, for those still wondering, is a free instant messaging service for work and business environments that speeds up and simplifies communication within teams and organizations. The highlight of this platform is that it is available for free for an unlimited number of users across all major platforms. Started in 2014, this venture was founded by entrepreneur Bhavin Turakhia, renowned for setting up the Directi Group and selling his previous effort Media.net to a Chinese consortium for $900 million.