Gartner today published its smartphones shipment report for the 3rd quarter of 2014 and it made us more than clear that Xiaomi and other emerging markets-powered brands are the reason why Samsung has been selling its non-core businesses and focussing back on smartphones.
As per Gartner's latest reports, Samsung Lost Market Share While Top Three Chinese Manufacturers Combined Smartphone Market Share Grew by Four Percentage Points. Although global sales of mobile phones to end users were flat in the third quarter of 2014, overall smartphone shipments grew by a robust 20.3 percent to reach 301 million units.
In the third quarter of 2014, smartphones accounted for 66 percent of the total mobile phone market, and Gartner estimates that by 2018, nine out of 10 phones will be smartphones. Roberta Cozza, research director at Gartner said,
Sales of feature phones declined 25 percent in the third quarter of 2014 because the difference in price between feature phones and low-cost Android smartphones is reducing further
However, what is more important, is the fact that the traditional rivalry between Apple and Samsung may no longer remain that way. While Apple almost maintained its share as compared to previous year's 3rd quarter shipments, Samsung actually lost a staggering 8% during that same period.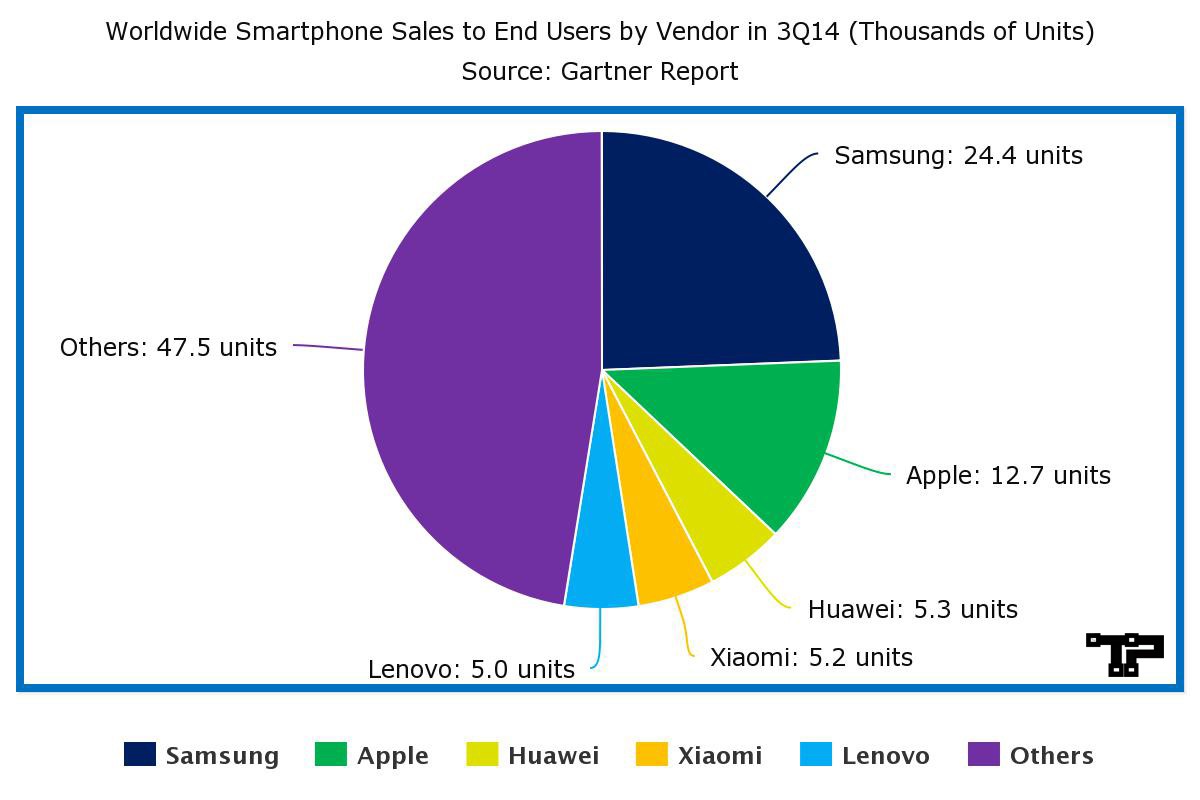 This steep decline in Samsung's sale was marked by the entry of Xiaomi and Huawei into the top 5 ranks, powered by their blockbuster sales in emerging markets. And mind you, it isn't just the cheap price tag. Xiaomi and others are actually offering flagship-like hardware at exorbitantly low prices, while still being in profit.
As for Operating Systems, Android continues to maintain its market dominance and in fact, it even expanded it further. Compared to Android's previous year's 82 percent market share in the 3rd quarter, it further expanded by a 1.1 percent to 83.1 percent. And so much for the rivalry between iOS and Android, iOS stands at just 12.1 percent of the overall market share.
Windows, Blackberry and all "other OS" (which includes Firefox, Tizen and the others) accounted for a meagre 4.2 percent. It is good to know though that Blackberry and Windows still get featured on that list.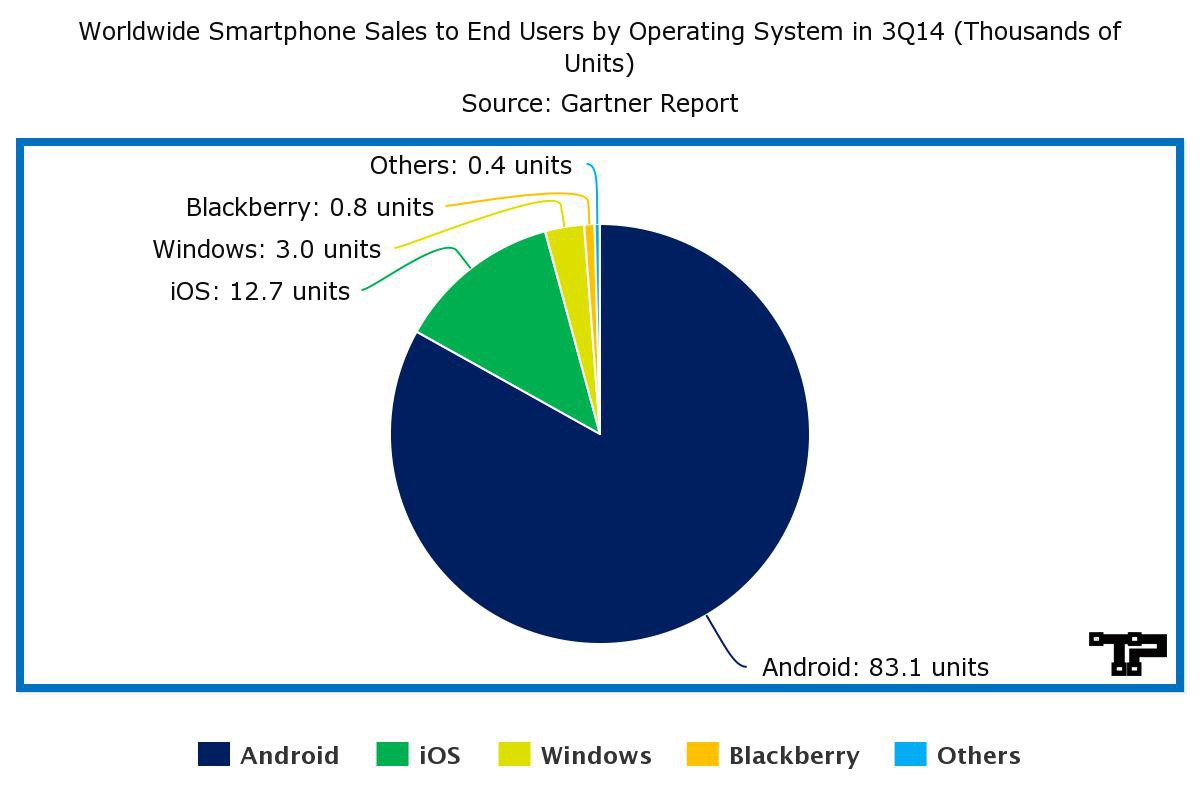 However, Gartner did offer some Solace and motivation to Windows OS. Ms. Zimmermann siad,
Microsoft needs to keep the momentum going from the third quarter, when Windows phone-based devices grew quarter-on-quarter thanks to the introduction of more mid-range devices
As for the final verdict, Feature phones are sharp declining and they are set to become virtually non-existent, with Gartner pegging the rise in smartphones to over 90% in the coming years, from the 66% this year. In the overall Mobile phones shipment scenario, Nokia still features on Number 2, behind Samsung, with a significant 13.8% market share.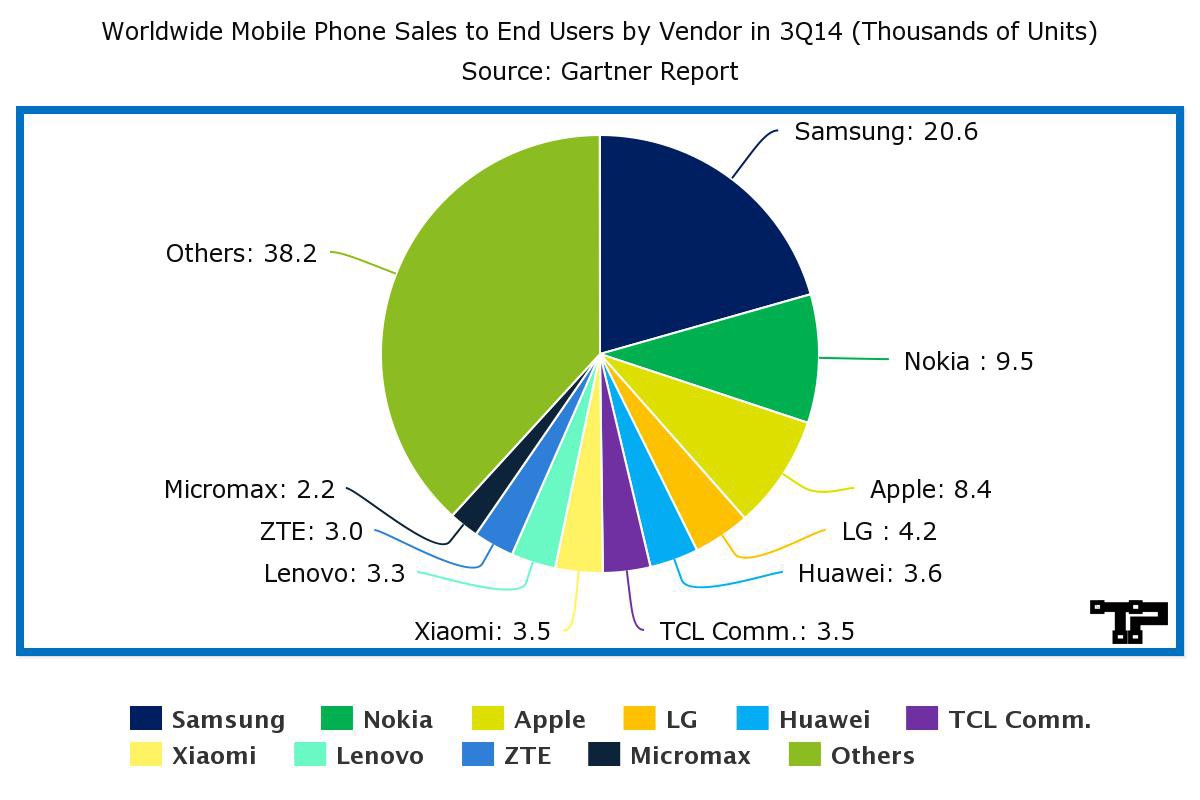 ---