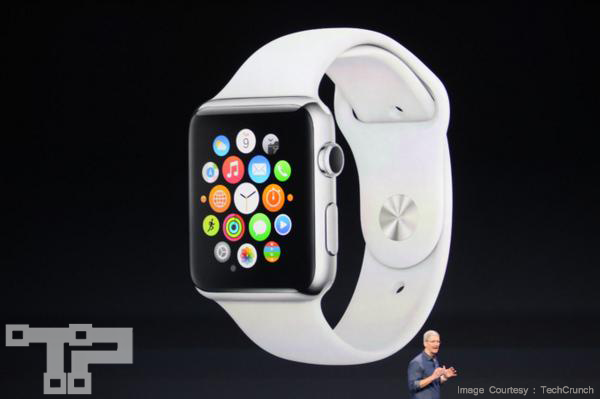 "..One more thing.." The words Tim Cook used to describe the product Apple had been planning for ages. The Cupertino Giant finally unveiled perhaps the most anticipated product of the decade, the Apple Watch. Here is a sneak peak.
Apple is all set to redefine the product category. After it first changed the way people looked at tablets by introducing the iPad, Tim Cook has shifted his focus to a fast rising trend- smart watches.
It is Apple's most personal product yet…
The Apple Watch is elegant, trendy and oozes class. Apple has outdone itself this time and for that Tim Cook and his team got a well deserved standing ovation. Everything about the Apple Watch screams awesomeness. Enough of praising its impeccable design, let us look at what it has to offer.
Design and Build Quality
Apple's first wearable device will come in two sizes (38mm and 42mm) in three "collections," including a more durable Sport model and a high-end Apple Watch Edition, which is finished in 18K gold or a rose gold option. Six different bands will be available, some in multiple color options.
All the watches have touch-screen displays and come equipped with a flexible Retina Display (with laminated crystal of sapphire), a "digital crown," along with infrared LEDs and photo diodes that take your pulse and "turn movement into data." Apple calls it a "comprehensive health and fitness device."
Internals
The Apple watch runs on a custom build S1 chip, details of which Apple chose not to disclose. We may see many leaks regarding it very soon. Apple described Watch as "most challenging product" they designed. The Apple Watch comes with a gyroscope, accelerometer and can piggyback off the Wi-Fi and GPS on your phone. Apple also introduced a TapTic Engine for haptic feedback and vibrations. With it, the Apple Watch can provide custom vibrations for notifications.
Apple also has put a hoard of sensors like other smart watch manufacturers. The Watch allows you to communicate with other iWatch users, send something as personal as a heartbeat or just tap on their wrist to get their attention.
Interface
Google recently released its watch operating system, Android Wear. It has a neat interface as we saw in Moto 360. Apple decided to break the law here even. They redesigned the iOS interface and came up with a special yet intuitive way of interacting with the Watch – DIGITAL CROWN. Instead of using your fingers to multi-touch, you can use the crown to scroll, zoom in/out and do a lot of other tasks without covering up the screen. Now that is why people were so anxiously waiting for Apple to enter the smart watch foray.
The Apple Watch also has introduced the WatchKit API for developers. We can't wait to see what the major developers come up  with, though with what Apple demonstrated with Twitter at its launch, we can set the bar right up.
Apple has also included Siri. Yes, you read it right. Now your very personal assistant is at your wrist. Simply talk and reply to your messages even without taking the phone out of your pocket. Andorid fanboys will scream Google Now, but that's about it. The dictation on the Apple Watch is far far better than what we experienced with Moto 360 and that includes the screen as well.
Pricing, Availability  and Battery Life
Apple Shares were at a frezny during the entire event, but as soon as Apple announced that the Apple Watch will not be available until early next year, they started dropping. We can't blame them. People loved the idea of Apple Watch and they want it now.
The Watch starts at $349, making it one of the priciest smart watches. We can't say the same for the Watch Edition as it it made up of pure 18K gold (seriously Apple? Rolex on a diet?). The Watch Sport is expected to be around a few dollars less and that's it. Expect to pay a hefty premium for the bands as well.
Another thing that Apple did not mention was the battery life, though Tim made a passing reference and i quote, "…making it easier for you to charge it everyday". That is about at par with other devices powered by Android Wear. Expect Apple to provide substantial increment in battery life once we get the watch in the market.
Verdict
There is nothing more apt than CNET's quote on Apple Watch, which according to me sums up the Apple Watch.
The device boasts the style and grace expected from the design-centric Cupertino company and it managed to steal away the spotlight from the iPhone 6 and iPhone 6 Plus, also announced at the event earlier that morning.
There are many things appealing about the Apple Watch. From the exquisitely craftsmanship to being a very precise wrist watch. Tim Cook rightly said "..we set out to create the most perfect watch ever..". Apple once again has shown why they wait to jump on bandwagons. Apple watch is a very great watch which also happens to be a smart watch. Most other manufacturers stress on the opposite. Lastly, 2015 can't be here soon enough.
---