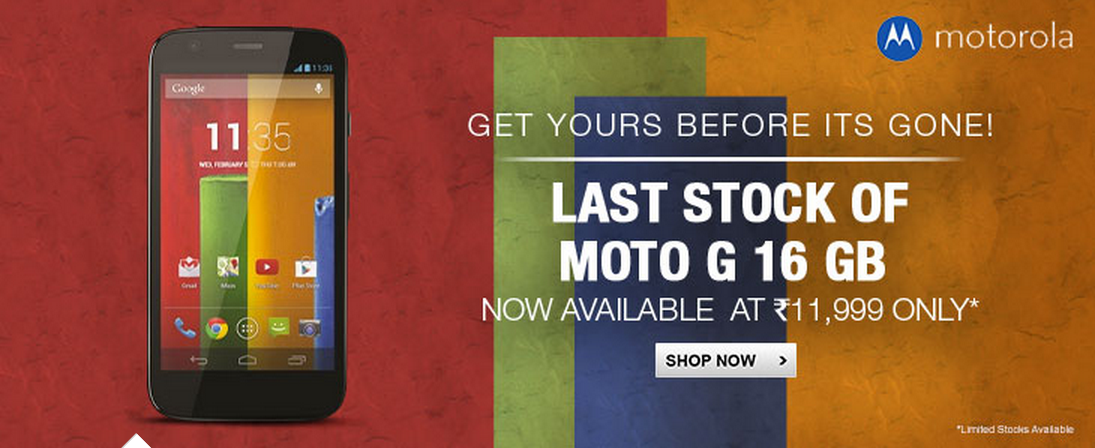 Motorola, which has planned a September 5 launch event, for the launch of next generation Moto G and Moto X phones, is now phasing out Moto G. Flipkart, has now displayed a banner saying that it now has the last stock of Moto G available .
Motorola's plans to gradually phase out Moto G seem viable as it aims to create a platform for the launch of its next generation Moto G and Moto X phones. Although no such banner has appeared for Moto-X, but we are expecting to see it soon.
Moto G, which provided a whole new life to the dying Motorola brand, quickly became people's favourite. Although other low-end phones, like the Xiaomi Mi3 are selling in good numbers, Moto G's unmatched performance, top-notch hardware and its relation to Google (which will go away soon) has made Motorola phones, a preferred choice for the budget friendly Indian consumer.
Moto G's immense popularity among Indian consumers can be gauged from the fact that Motorola sold over 1 million handsets in just 5 months of its launch. This is a notable feat, considering the fact that Motorola did not open any distribution centers and relied on India's largest e-retail company, Flipkart, for its sales.
The next-gen Moto G, popularly dubbed as Moto G2 is expected to launch in Chicago (September 4) and New Delhi (September 5) simultaneously.
---