As per a report on Taiwan based website, TechNews, Apple's next gen iPad air could come with a 2 GB RAM, instead of the usual 1 GB.
Earlier version of Apple's tablets never exceeded the 1 GB RAM mark, be it iPad 3, iPad 4 or iPad Air. But this time, due to the multitasking feature which is expected to roll out in iOS 8, Apple may increase the memory to support this feature.
As per this new multi-tasking feature, split screen multi-tasking would now be possible. Analysts have argued that this is something, which Apple has heavily borrowed from Samsung's customized Android.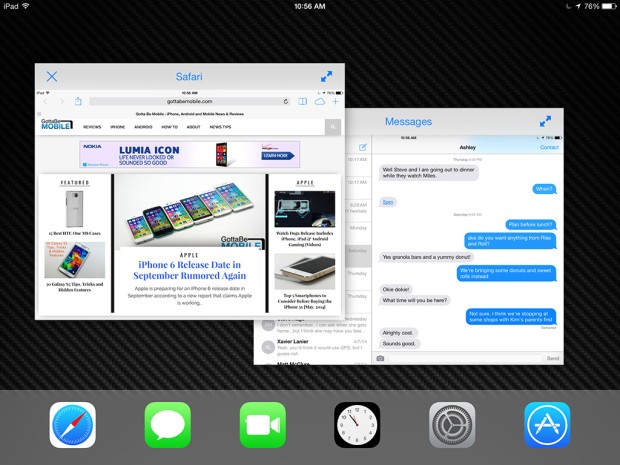 But, as far as the mini version is concerned, Apple is expected to leave it behind in this feature, largely because it houses a much smaller, 512 MB RAM, which won't be able to support this feature. Due to the need for greater multi-function screen space to accommodate gestures, and also allow better multi-page display of visual effects, maybe Apple wants to start showing better mechanism, and thus to exclude the smaller tablet, iPad mini.
Apart from multi-tasking, Apple is also introducing the continuity feature in iOS8, which allows users to sync all their apple device, which is again, heavily borrowed from Android.
iWatch specs also leaked
Apart from the iPad Air leak, memory specifications of the iWatch have also been leaked. As per the leaks, iWatch will have a staggering 8 GB of internal storage (which is still standard in quite a lot of android phones) and will run on 512 MB of RAM, thus putting it in a different class altogether.
---