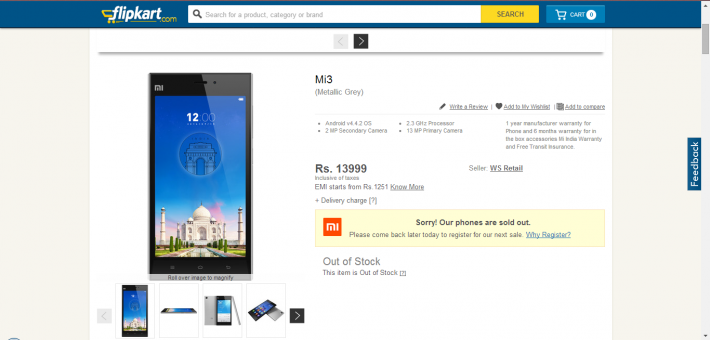 In a report published by BGR India, it has been revealed, that as has been Xiaomi's typical style, less than 10,000 Mi3 units were available for sale fro the 1,00,000 registrations which Flipkart received.
Flipkart, which suffered multiple crashes due to the pre-registration process of Xiaomi Mi3, did not reveal as to how many models were actually available for sale. Neither did Xiaomi answer any of the mails which we sent to them.
But sources, privy to BGR, have reportedly told them that less than 10,000 Mi3 units were available for sale.
It was expected from Xiaomi to sell an extremely limited number of phones, largely to see the kind of demand which the phone has in Indian market, but , seeing the kind of problems which various customers faced due to repeated crashes of Flipkart, this could well spark a negative trend for Xiaomi.
Xiaomi and Flipkart have already confirmed that the next lot would be available to buy again on July 29. Those who have pre-registered but couldn't buy will be eligible to participate in the second round. But, Flipkart will definitely have to bring in better server infrastructure at place, if they do not wish to spark negativity regarding Xiaomi and itself.
---