India's ISRO ( Indian Space Research Organisation ) once again proved the commercial viability of India's highly budgeted yet efficient and powerful space program. It launched 5 foreign satellites, major being the French SPOT-7.
On June 30th, ISRO's highly trusted rocket, the PSLV (Polar Satellite Launch Vehicle C-23)  launched French Earth Observation Satellite- SPOT 7 and four other co-passenger satellites from SDSC SHAR, Sriharikota .
The five foreign satellites, on board PSLV C-23 were French Earth Observation Satellite SPOT-7 and Four co-passenger satellites from Canada, Germany and Singapore. ISRO, which has emerged as one of the fastest growing space agencies in the world, is known for its highly cost-effective and commercially viable missions.
This and its trusted PSLV rocket, are the major reasons why France trusted ISRO with the work of launching its highly complicated and important satellite, the SPOT-7.
The PSLV rocket lifted off at 9.52am and completed all four phases with textbook precision. Indian Prime Minister, Narendra Modi was also present on the ocassion to greet the scientists.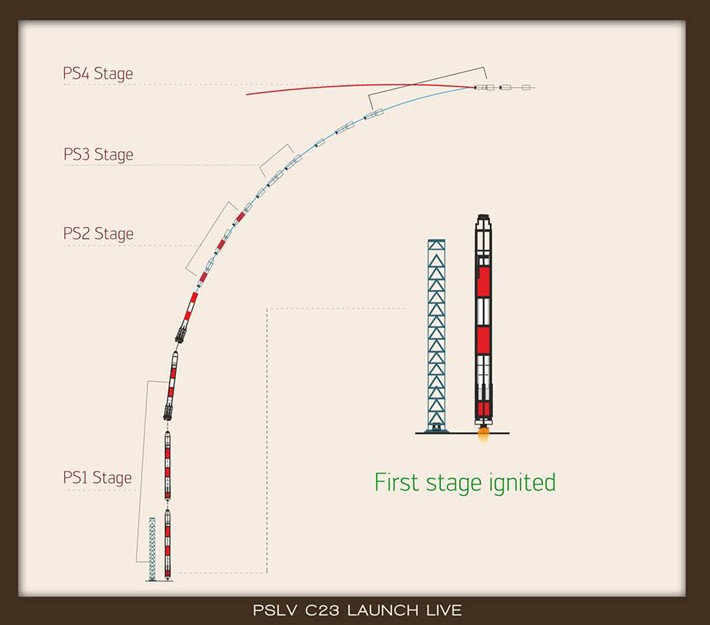 Interestingly, PM Narendra Modi also said that ISRO should move towards developing a satellite which can be used by all the SAARC nations, thus signalling his ambition of projecting India, as a regional as well as global power. In this context, he said,
You should develop a Saarc satellite. We should dedicate this satellite to our neighbourhood as India's gift … India is rooted in our age-old ethos of 'Vasudeva Kutumbakom'. Our space science reflects that. We should share the fruit of this with our neighbouring countries
Last year, ISRO launched Asia's first interplanetary mission to Mars, at a budget which was a minimal of what NASA used for it's MAVEN project.
---