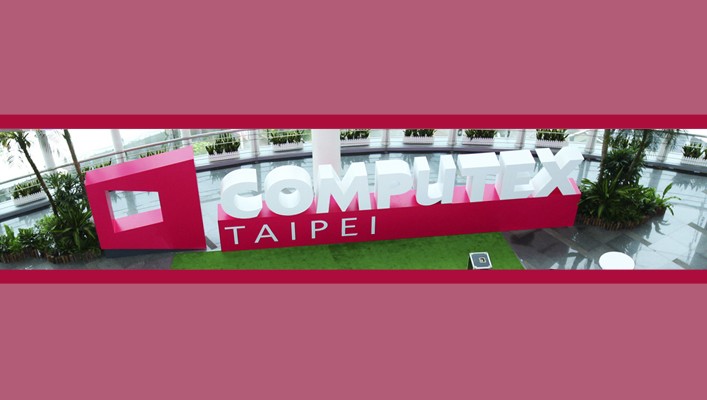 The 34th edition of the largest ICT trade show in Asia and 2nd largest in the world, Computex2014 is taking place in Taipei from 3rd to 7th June 2014. Here is a glance of the on-going show.
Asus Zenfone 4
Asus has refreshed its Zenfone 4 with a bigger display and better specifications. The phone will be a direct competitor to the Moto E in terms of price and features. It has a 4.5-inch display with a resolution of 800 x 480 pixels and runs the latest Android 4.4 OS. It is powered by a 1.2Ghz dual core Intel processor with 1GB RAM, 8GB storage and a 1,750mAh battery. Going above the Moto E, it has an 8MP autofocus rear camera and a front camera. We expect it will be available in India within the next two months at an estimated price of Rs 8,000.
Anti-microbial Glass
Since touchscreen devices are meant to be touched, they often accumulate a lot of microorganism over time. Plus the warm environments in which phones are usually kept in (pockets) means that it's ideal for bacterial growth. Corning's solution uses silver ions built into the glass – it's not a nano-coating or a layer of some sort that wears out over time. Instead Corning claims that the Antimicrobial functions works for the lifetime of the device. The antimicrobial glass prevents growth of algae .
Asus Transformer Book V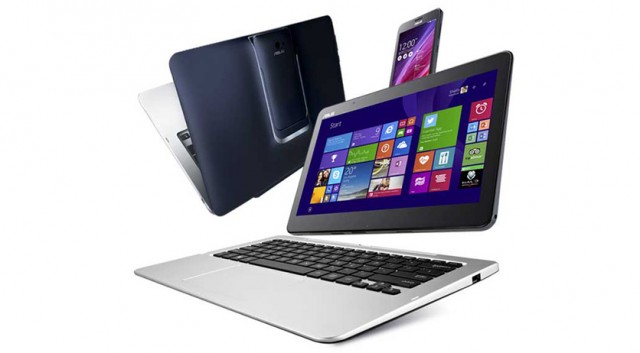 Probably the most impressive product unveiled by Asus is the Transformer Book V (5). Named so because it can 'transform' between 5 different devices: It can be an Android smartphone, Android tablet, Android laptop, Windows tablet or Windows laptop. You can also share data between devices. The smartphone part has a 5-inch screen, 64-bit Intel Atom quad core processor, 2GB RAM, 8MP PixelMaster rear camera (Asus' new camera tech that uses pixel upsampling for sharper images) and up to 64GB storage .
3D Motion & Depth Sensing in Laptops
This concept is not entirely new – Kinect and other similar systems were introduced a while back – but to shrink that entire depth sensing system down to fit inside a laptop screen is a feat. HP has already launched a few laptops that integrate the Leap Motion system in a few of their laptops, but now more and more manufacturers are integrating these technologies in their laptops.
Wireless + USB storage
This points to a new trend; since a lot of devices do not have expandable storage (but they do have WiFi), the storage can be moved to an external WiFi device and accessed via an app. We've seen some iterations of this from Kingston and Seagate but there are some new innovations showcased at Computex. For instance, you can now have expandable WiFi storage – it doesn't have any flash memory of its own, but you can add up to 32/64GB using micro SD  ..
AMD announces Kaveri mobile chips, challenges Intel
AMD announced the mobile version of its Kaveri mainstream processor and claimed it was now prepared to go 'toe-to-toe' with Intel's Core processors. Along with the new mobile APUs, AMD announced new branding and rolled out a Pro Series to challenge Intel's vPro in the enterprise.
 The basics of the architecture are the same: an enhanced Steamroller CPU core combined with AMD's Graphics Core Next Architecture with Radeon R7 series graphics. Borrowing a page from Nvidia's "192-core" Tegra K1, AMD said that the mobile version of Kaveri has up to 12 "compute cores," which translates to four general-purpose CPU cores and eight GPU cores. Combined, these compute cores can deliver up to 818 gigaflops of performance, according to AMD. Laptops using the mobile Kaveri APUs will be available this year from Acer, Asus, Dell, HP, Lenovo, Samsung, Toshiba and others.
Microsoft displays new Windows devices at Computex 2014
Microsoft's Nick Parker has shown off some new Windows devices from hardware partners at the Microsoft keynote presentation at Computex 2014.
The HP Pro X2 612 was the first reveal — a 2-in-1 "designed from the ground up for business". It comes with a stylus using the Wacom digitiser, full HD cameras front and back and enterprise security built in. Parker said that the combined battery life would run to 14 hours, thanks to the second battery in the detachable keyboard. A 4G version was also said to be available.
The second was a 7-inch tablet from Toshiba. Parker hyped up the design, including the "champagne gold" finish but also claimed that price would be competitive with other 7-inch devices on the market — he went as far as to describe the pricing as "aggressive", without going into specifics.
Asus Unveils Two Steam Machines and More Under ROG Lineup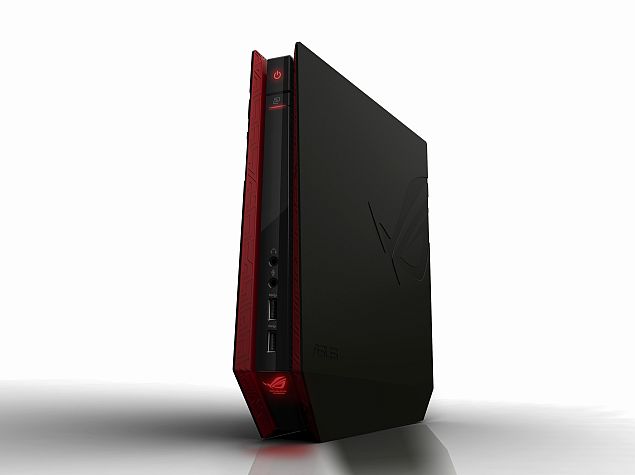 The highlight of the launch is the first of Asus' upcoming Steam Machines, the ROG GR8, that runs the latest Windows8.1 OS and is SteamOS and Steam Controller compatible (it will ship with a Steam Controller). The Intel Core i7-powered PC features an Nvidia GeForce GTX 750Ti graphics card, also streams HD videos from Android smartphones/ tablets, Windows 8.1 PCs and WiDi 3.5+ devices.
 Asus has additionally launched ROG G20 gaming desktop (which will be available as both a Steam Machine and a regular small form factor gaming PC) with the same processor as the ROG G8, but uses an Nvidia GeForce GTX 780 graphics card instead of the ROG GR8's Nvidia GeForce GTX 750Ti. Also running Windows 8.1, it takes up a larger 12.5-litres of space.
 Asus' ROG Gladius gaming mouse also made an appearance at the event. The mouse comes with gamer-centric ergonomics along with some "flexible customisations." The new ROG GK2000 gaming keyboard with metal finish and red backlighting has been also unveiled. Also unveiled, was the ROG GX500 gaming laptop.
 Other PC components that have been launched by Asus include three motherboards namely ROG Maximus VII Formula, ROG Maximus VII Impact and ROG Crossblade Ranger, a ROG Ares III water-cooled graphics card and a ROG Swift PG278Q gaming monitor.
Intel announces new Core M processor aimed at thinner convertibles
Announcing the new 14-nm chip,  Intel Corporation president Renee James said the company can now clearly see the path till a 10nm design. "This is a journey, it is not a destination," she said. Giving a glimpse of how this new processor can change the game, James along with Asus chairman Jonney Shih showcased the Asus Transformer Book T300 Chi convertible with a 7.3mm tablet side.
---