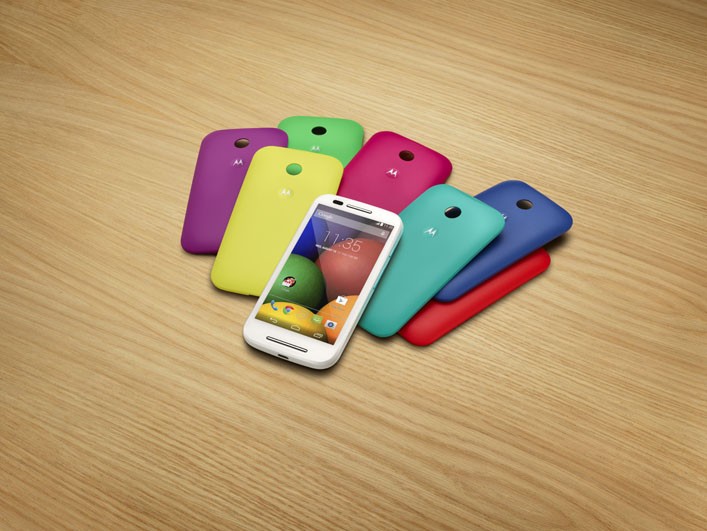 Motorola has finally launched, the highly anticipated, Moto E. A branded smartphone, with Google's latest android (as has been Motorola's promise), and much more, at just ₹ 6999 ($130).
Motorola has all of a sudden become the star performer in low-budget android segment. It previously launched the Moto-G ( approx. ₹ 10000), which repeatedly went out-of-stock on various online stores. And now, Motorola has come with yet another cheap, but solidly built smartphone, the Moto-E
Tech Portal had reported long back, the exact specifications of Moto-E. You get a 4.3 inch display, toughened up with Gorilla glass. A sub-HD screen with dual core processors. And Google's latest, Android 4.4 Kitkat. All this, at just $130.
Motorola has no doubt, worked on the path of giving a smartphone to every mobile phone woner, and this is evident from the fact that, it held the very first launch event of Moto-E, in India. The roaring success of Moto-G and emerging market of status of India's smartphone industry, has prompted the smartphone maker to launch it first, in India.
This also confirms Motorola's belief that  India will be a key target market.
Moto E will be available in more than 40 countries through more than 80 carrier partners around the world over the next few weeks.
Motorola is also offering an upgraded version of the hugely popular Moto G, featuring 4G LTE. Same great features now on the fastest networks where available, for just $219. The original Moto G continues to be available for $179 on Motorola.com without a contract and through local carriers in more than 40 countries worldwide.
---