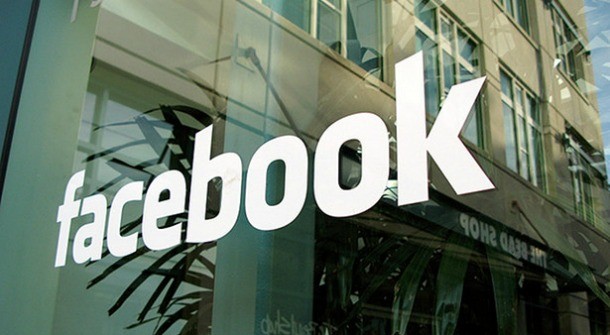 Facebook finally seems to be getting some momentum in its advertising and mobile business. As compared to previous year's 30%, revenue from mobile advertising now accounted to 59% of the total revenue shares. This is largely due to the global shift of users from large to small screens.
Other Notable highlights from Facebook's first quarter results include :
Overall revenue stood at $2.5 billion, a 72% increase from Q1 in previous year. It stood at $1.4 billion in previous year
Revenue from Facebook's advertising business now stood at a whopping $2.27 billion, a 82% increase from last year.
Facebook's CFO, David ebersman will be stepping down this year by September. He has been with Facebook for over 5 years.
As far as Facebook's user base is concerned, it is still seeing a robust growth. Facebook reported that it saw a 24% increase (Y-o-Y) in its daily active users. Daily active users for Facebook now stand at 802 million (for March 2014).
Facebook's mobile business gained a much needed growth, with the Daily active users (DAU) at 609 million for March 2014. This is a 43% increase Year-over-year. Facebook's mobile app (specially for android) hasn't been as popular among the users as it expected it to be, with the app, still releasing beta versions for testing.
Monthly active users increased by 15% to reach 1.28 billion, as of Marcg 31, 2014. Mobile Monthly active users reached to 1.01 billion, a 34% increase as compared to previous year.
The figures from Facebook's quarterly report are shown below :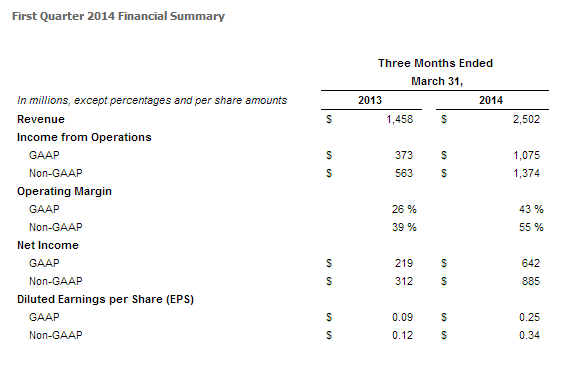 Another major news which came with Facebook's quarterly results is the Facebook's CFO, David Ebersman, will be stepping down by the month of September. He will be replaced by  David Wehner, currently Facebook's Vice President, Corporate Finance and Business Planning. Ebersman will remain with the company through September to ensure a seamless transition of his responsibilities.
Detailed figures from Facebook's conference call are reported below :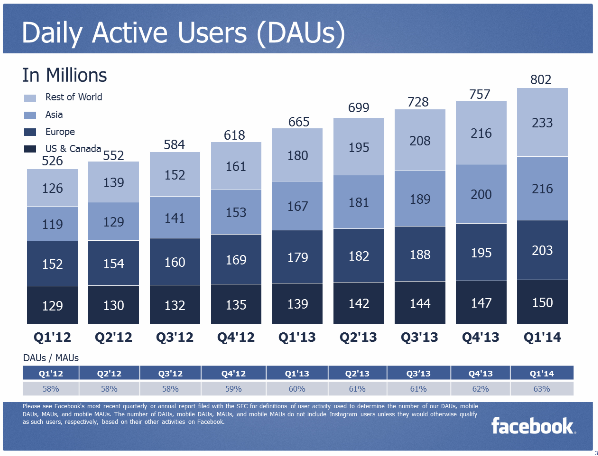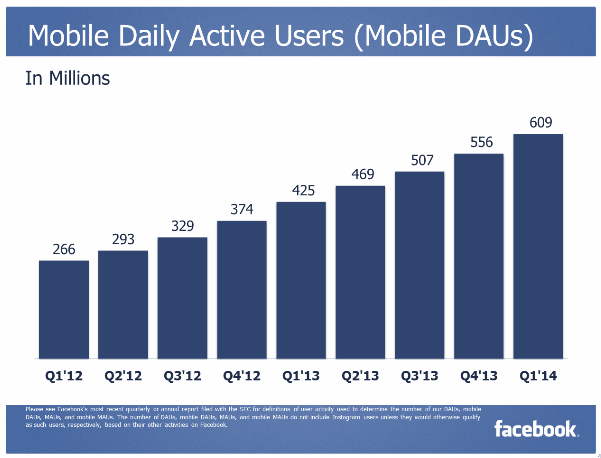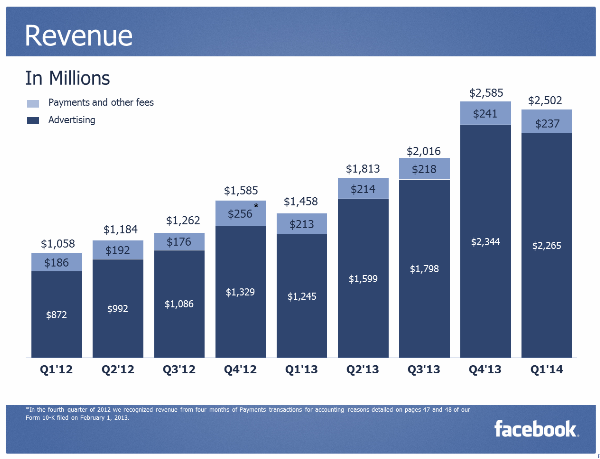 We will be covering the Q1 results in more depth . Stay tuned.
---