Today, Intel took the Computex center stage by storm. While the limelight may have been stolen by the unveiling of its 'extreme' edition Core X series processors, the American chipmaker also made its modular computer platform 'Compute Card' official. It was first shown off at the CES'17 conference earlier this year but we now have a definite launch time and hardware partners building the compute machines.
Intel Compute Card, simply put, in a credit-card sized computer which packs inside all the essentials such as Intel SoC, memory, storage and wireless connectivity with flexible I/O options. The size of the card is around 95mm x 55mm x 5mm and can be plugged into a dock, like the one shown on stage. It showed the Compute Card being plugged into an LG dock, included in an "all-in-one and an education-focused laptop" to convert the same into full-fledged PCs.
The highlight of the said 'Compute Card' is that one can easily swap out an older variant of the module with a freshly upgraded variant. It will prolong the lifetime of smart devices and prevent them from becoming obsolete in the coming years. Intel today released the Compute Card Device Design Kit, along with a set of guides and reference designs for developers. The product has presently been made available in four SKU's —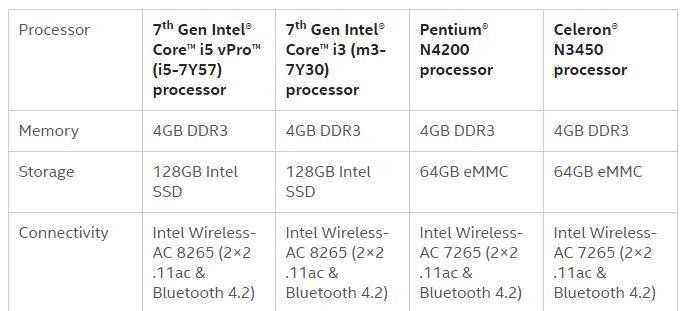 Since Intel's compute card is based on the simple concept of modularity, the chipmaker showed off a cohort of solutions one can employ the credit card-sized computers. While the Compute Card will hold prominence in the IoT ecosystem, developing smart home devices, hardware makers can also utilize the same to build laptops, tablets, digital signage, POS and other effective solutions. The partners signed up by Intel to work on such solutions are as under:
Contec, ECS, Foxconn, LG Display, MoBits Electronics, NexDock, Sharp, Seneca, SMART Technologies, Suzhou Lehui Display, and TabletKiosk. Other partners currently working on solutions include Dell, HP, and Lenovo.