Amazon is aggressively working on its drone delivery efforts to further simplify last mile delivery of products ordered from its e-commerce platform. First spotted by GeekWire, the company has now been granted another patent related to this drone initiative.
This patent application was filed way back in August 2015 and has only been granted to Amazon by the US Patent and Trademark Office (USPTO) on Monday. It describes that the e-commerce giant has patented a shipping label design, which also doubles as a parachute — built directly into the label itself.
As is known to all, the company is planning to employ 'Prime Air' drones to make deliveries to its customers, where it will hover over/near their houses and drop packages to the ground. The shipping label is an add-on to the existing process and will include sensors and other hardware that'll detect that the package is falling and activate the parachute to execute a soft-landing of the package at your location.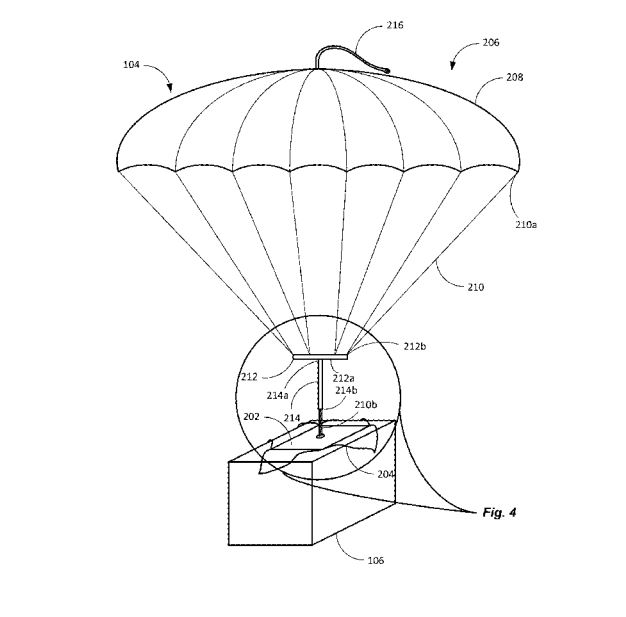 There is currently no info on whether Amazon is planning to implement this package delivery mechanism into its drone delivery system that's been under testing for years. The company has already shown off the prowess of the same with successful demos in both the Unites States and the United Kingdom.
The shipping label, however, as the patent describes will be quite complex and it will most likely include a self-adhesive backing, multiple parachute cords, a parachute and a breakaway cover to protect the parachute itself. There is also the possibility that the cords of the parachute will include shock absorbers to further lighten the blow when the package hits the ground. The package is going to be tracked by a host of sensors baked into the drone delivering the package.
The patent mentions that the shipping label, as well as the parachute system, can be adapted based on the delivery item's size and weight. It means Amazon can also accommodate more than one parachute system on the package to eliminates the chances of any damage. The company hasn't implemented any such methods of delivery yet. It has only taken off and landed the drone, as well as the package at the destination.
This technology, however, fits perfectly with Amazon's overall drone delivery strategy which is also said to involve massive hot air balloons at a later stage. These flying warehouses will be stocked with a certain amount of inventory and make last-mile Prime Air deliveries even speedier. It can be employed to deliver perishable items and groceries to customers on a day-to-day basis, especially where the drones can be sent out for deliveries according to a safe and planned schedule.