Microsoft seems to have completely turned its aim towards the Middle East to further beef up its team and services. In line after the cloud stack, Redmond is now looking to enhance the strength of its cyber security infrastructure with the acquisition of yet another Israel-headquartered company. This time it is shelling out close to $100 million, as reported by local Hebrew publication Calcalist, to acquire cyber security firm Hexadite.
This development is quite coincidental. You don't even need to dig deep for any connections for as to why Microsoft is picking up an AI-powered cyber security platform. The Redmond giant was just recently caught knee deep in troubles due to the vicious and widespread WannaCry ransomware attack.
The ransomware infected close to 2 lakh Windows systems and disrupted the functioning of nearly 150 countries over one weekend. India was ranked third in the list of countries worst affected by this global attack, which took shape via the EternalBlue exploit that was leaked with the NSA hacking tools dump, published by Shadow Brokers, a couple months ago.
Now, the prominent question here is — how does Hexadite fit into this complex cyber security puzzle? Well, the answer is as simple as it can be. The Israeli company isn't about protecting your PC against attacks but cleaning the mess once the hacker hit the mark. It connects to existing cyber security detection platforms and employs machine learning and artificial intelligence algorithms to analyze threats.
Founded in 2014, Hexadite was co-founded by a trio, namely Idan Levin, Barak Klinghofer, Eran Barak in Israel. The cyber security firm's headquarter is based in Boston and the company is focused on employing a fully automated incident response system to fight the cyber threats received by any organization. The automation helps them cut down on time and eliminate the cyber threat within a few seconds or minutes. It has been described on the company's website as under:
Hexadite uses artificial intelligence to investigate and remediate every alert, resolving incidents in seconds and freeing up your analysts to focus on the threats that truly demand their expertise.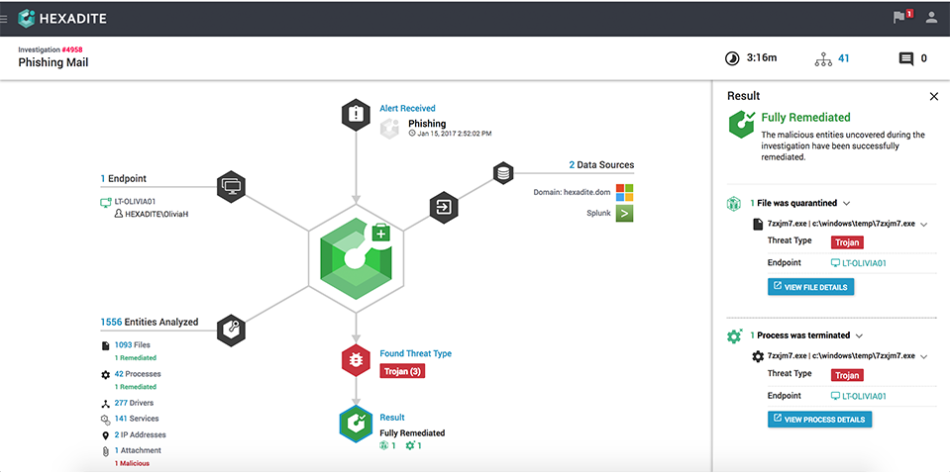 This system makes it easier for any organization to instantly detect a breach and patch the same up in the least amount required. It seems to me that the same will be possible when the AI has learned how to secure certain loopholes, i.e. it has memory of the same. The said solution will also enable the companies to save a lot of capital lost to re-patch the gaping hole in their security and making each individual aware of the same. The brand image of the platform also deteriorates in the process.
The automated cyber security processes of Hexadite has mustered interest from several marquee investors. It had recently raised a whopping $8 million in an investment round led by HP ventures, the investment arm of HP. It also saw participation from multiple other investors, namely Ten Eleven Ventures, and YL Ventures. It had also received $2 million in seed funding, prior to this funding round. It currently has a 35-member strong team.
Prior to Hexadite, Microsoft picked up cloud monitoring, analytics, and optimization solution provider Cloudyn. This transaction is expected to be in the ballpark of around $50-$70 million, valuation hasn't been confirmed by both parties. The objective of Cloudyn is to empower businesses with cloud accountability, which means you'll be in control of the consumption and expenditure of cloud services employed by you.