Another hardware giant is potentially giving up on Google's efforts to build a robust smartwatch ecosystem. Though Mountain View debuted a full feature-packed Android Wear 2.0 update earlier this year but it was possibly too late to perk up the condition of the flailing smartwatch ecosystem. And it now becomes evident from the fact that Asus is planning to end development of its well-known ZenWatch lineup very soon.
Citing anonymous sources of Taiwan's supply chain, a fresh report from DigiTimes suggests that the sales figures of the ZenWatch had only been minimizing over the past couple of the months.
Even though this lineup is one of the most affordable Android Wear-powered smartwatch series but still users are still reluctant to not buying one. Asus' shipment volumes had fallen down to an average of 5,000-6,000 ZenWatch devices per month across the complete product lineup. This is possibly the reason behind the decision to discontinue the smartwatch lineup.
The first ZenWatch (pictured above) was announced by the Taiwanese hardware maker back in 2014. Asus continued to iterate on its existing smartwatch lineup and launched a circular ZenWatch 3 at the IFA 2016 trade show. The same featured a 1.39-inch AMOLED display and was powered by a Qualcomm 2100 chip, coupled with 512MB of RAM and 4GB of onboard storage. But, we may soon not be able to purchase one as they'll be off the market if people buy the remaining stock.
As for the present Q1 statistics, a report released earlier in the week suggested that Apple's WatchOS was still leading the race but Android Wear had now been replaced from the second spot. Samsung's in-house Tizen smartwatch OS is now more popular and running on more wrist-based devices as compared to Google's Android Wear operating system in the previous quarter ended in March 2017. One can also witness that Tizen closely overtakes Android Wear by 1 percent in this pie chart attached below: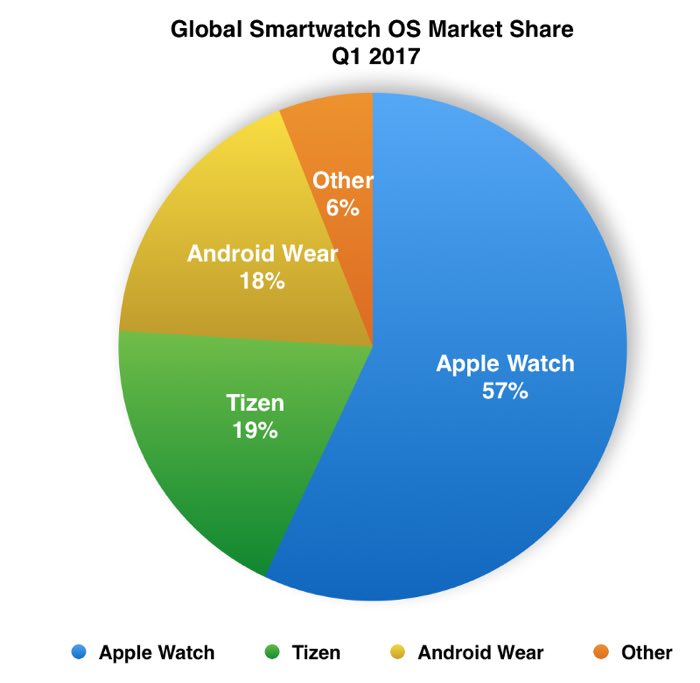 Earlier, Samsung had also partnered with Google to develop Android Wear-powered smartwatches. But, it decided to shift focus and built its own Tizen-based ecosystem of smartwatches — the most popular being the Gear S3. Android Wear 2.0 brought along the new interface, smart replies, a standalone Play Store, and Google Assistant, but possibly a little too late. Users have already jumped ship to other platforms and hardware choices.
We've reached out to Asus to gather more information on this report and will update you once we hear back from them. Till then, comment your thoughts about the flailing market share of Android Wear in the present smartwatch market? Can Google announce something substantial at I/O 2017 to pique everyone's interest?