Amazon's touchscreen Echo is coming sooner than anyone would've expected. When the leaks started pouring in earlier last week, we only got a glimpse at what a smart speaker with a screen is actually going to look like. The device is expected to be revealed today itself, as reported earlier in the day but we now have more info about the specifics of the launch timeline.
The publication, AFTVNews, which fueled the rumor mill with the very first leaked image of the Amazon Echo with a built-in display, has now shed light on the official name and pricing of the device.
According to a fresh image grabbed by the publication, Amazon's latest addition to the Echo smart speaker lineup is apparently going to be called Echo Show. If you read even closely, the said device will be priced at $229.99 in the United States, with pre-order starting from May 9th, i.e today itself. The price tag for this new smart speaker looks completely plausible as the original Amazon Echo retails at $179.99 presently. It may, however, receive a price cut as the Echo Look (a device which can see and detect your clothing) and Echo Show go on sale in the coming days.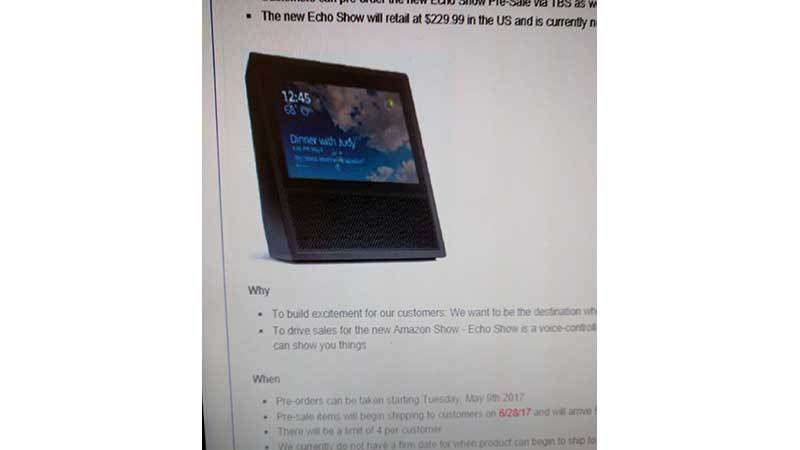 Further, the publication mentions that Echo Show will be made available for £219.99 in the UK and €239.99 in Europe. There is no word on the global release date of the device, but it is expected to begin shipping on June 28 in the United States. The pre-orders, on the other hand, are being expected to begin today itself. This report falls in line with the info relayed by WSJ earlier yesterday, which suggested the device will cost just north of $200.
As for the device, it is expected to include a 7-inch touchscreen right above the massive speaker. It has the ability to answer questions and perform most voice-controlled AI functions, while also displaying info about the same on the screen. Since Harman Kardon has now debuted its Cortana-powered smart speaker with Skype call functionality, Alexa is also expected to debut the same today. It will be taking the capability a step further with video call integration, thanks to the screen and web camera available on the device.
Stay tuned for more updates on the release and features of the device!