Didi Chuxing has today taken its first step towards internationalization. The Chinese ride-hailing giant has today announced that it is finally making it easier for foreign travelers to operate its services in the country. After a prolonged waiting period, it has released an English version of its services coupled with overseas credit cards and bi-lingual customer support.
The ride-hailing application, which ferries over 20 million people across 360 cities, was only available in Mandarin till date. It made moving about the city especially tiring and confusing but Uber China did offer some respite by offering its services in the commonly used — English language.
But, post acquisition by Didi Chuxing, the support for English language was nixed from the Uber China app. The drivers and users on the said platform have been operating independently — as was mentioned during the merger of their businesses earlier last year. The elimination of any English alternatives added to the miseries of the foreign travelers. But they'll finally come to an end, starting today.
On the heels of its monstrous $5.5 billion fundraising round, raised at a valuation of over $50 billion, Didi is now executing its global expansion plan by releasing an English user interface (UI) of its app in three major cities of its homeland. The said interface was first reported of being tested back in February. Talking about this strategy, the press statement recently stated,
The internationalization of mobility services in China is a crucial link in Didi's broader global strategy.
It has finally been launched in beta testing in Beijing, Shanghai, and Guangzhou but for top three mobility options i.e Taxi, Premier private cars, and Express car pooling. The test gas currently been extended to three cities via an updated app but is expected to make its way to other cities soon enough.
The English version is further restricted to the geographical location of where the traveler (or foreign resident) belongs to. One could only register for Didi's new interface if you have a registered mobile number from any of these twelve locations:
the Chinese mainland, Hong Kong, Taiwan, Thailand, Republic of Korea, Japan, United Kingdom, France, Australia, Canada, United States, and Brazil.
In addition, the new English version of the Didi app also brings along a couple handy features, such as global credit card support and real-time IM translations, for foreign travelers.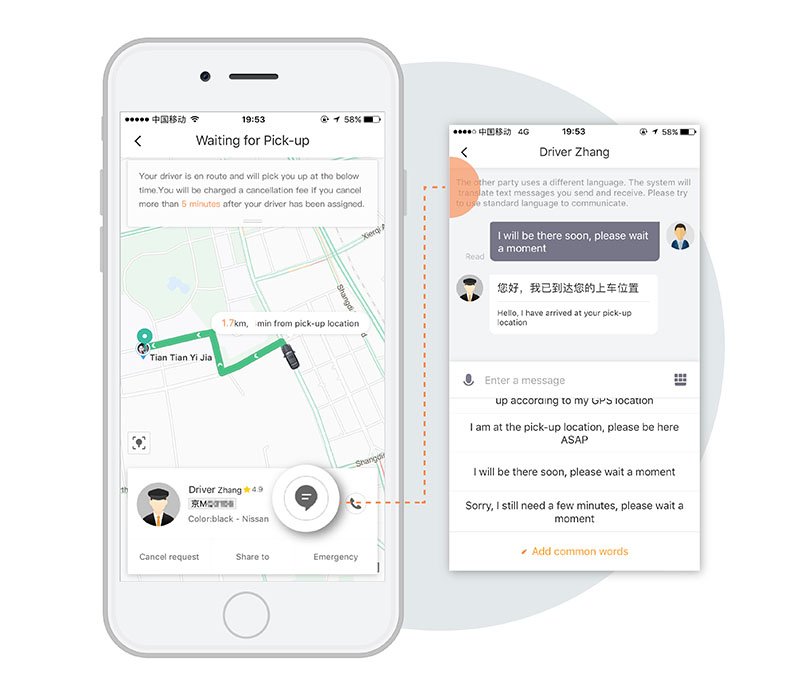 The former means you can simply use any 'major' international credit card to pay for your rides in China while the latter simplifies your conversations with the driver who's coming to pick you up. The in-app messaging feature handles real-time, instant translations to smoothen language issues, which is common among non-Mandarin speakers. The ride-hailing giant also offers foreign travelers with customer support in English (or Mandarin, if they're comfortable with it).
The release of this updated application is just one of the numerous upcoming steps, which Didi is looking to undertake to expand its presence across the globe. It is expected to witness a surge in the number of foreign travelers or residents sign up for its useful ride-hailing services, who'll also be the first international users of the platform. In addition to the expansion of its ride-hailing service, the company is also working on innovative, new technologies — AI and autonomous mobility — at its recently opened R&D center called Didi Labs in Silicon Valley.