If you're aware of who Elon Musk is, then you know that his primary ambition is to strive towards the development of a sustainable ecosystem. He's already building electric vehicles under the Tesla moniker and has acquired SolarCity to build an all-around energy capture and storage solution. But, is the automaker also working on another initiative to benefit the environment?
Redwood Materials, a stealth company which counts a couple senior-level Tesla executives as its founding team, has been spotted in the wild by CB Insights. The SEC filing doesn't explicitly mention this but the company seems to have close ties with Tesla. Just keep on reading and it'll immediately become crystal clear why we're too sure of Elon Musk's backing on this initiative.
This company is based out of Redwood city, California — that's where the name has been adopted from. Though info on this initiative is currently quite scarce, the SEC filing suggests that it will work towards advanced materials recycling and manufacturing. The same has also been reiterated on the barebones website for this project, also spotted by CB Insights. Redwood Materials has emphasized its objective as under:
Advanced technology and process development for materials recycling, remanufacturing and reuse.
According to the SEC filing, the company has been launched by just two individuals: JB Straubel, Tesla co-founder and its current CTO and Andrew Stevenson, Tesla's head of special projects. The company has also received a huge $2 million investment from an undisclosed investor earlier last month, suggests the SEC filing.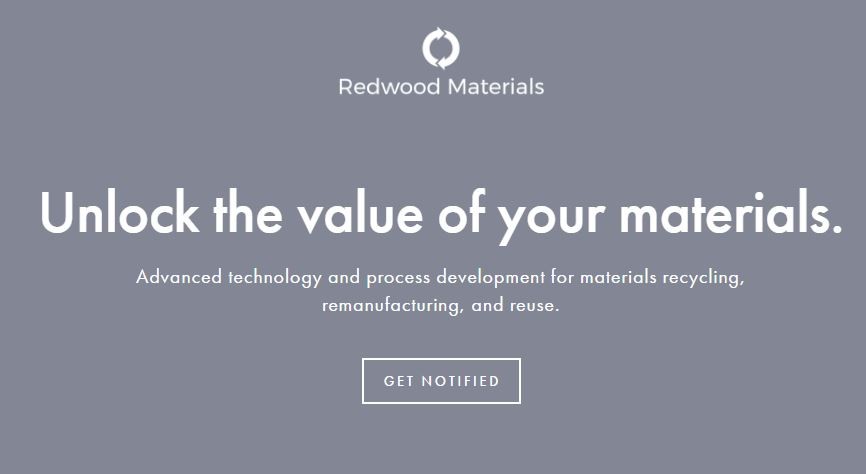 Now, this is where the things turn interesting and point directly towards Tesla. While Straubel is known to be a prolific investor in technologies that interest him but he doesn't usually have a direct involvement with them. This situation does sound different and Stevenson, the other co-founder of Redwood Materials, previously highlighted Tesla's interest in 're-thinking the materials supply chain' during a presentation at Carnegie Mellon's 2017 Energy Week.
This should most likely be enough evidence to light up massive 'pointers' in the direction of Tesla and its legendary founder — who's primary objective is to focus on reusability, cost-reduction, and sustainability. Both of the co-founders of the stealth company have been active participants in the development of Tesla's humongous Gigafactory in the Nevada desert.
The automaker is producing a large number of lithium-ion batteries for its upcoming mass-production Model 3 sedan in this facility. And has expressed its interest in recycling materials, has already set up a facility for the same, and wants to mine used battery packs instead of actual minerals — which are depleting quickly, putting a strain on the overall supply. And we'd need a lot of the same if we are to power the onslaught of electric vehicles in the coming years. It may also be fixed by an innovation in the battery charging and capacity space.
Further, if Musk's projects don't exactly work out, we can always fly out to Mars in his interplanetary rocket ship that's currently in initial stages of construction. A prototype for the spaceship was shared at an extensively huge conference last year where Musk was looking for backers for this project. This is, however way out in time as compared to the current scenario — where SpaceX is focused on sending humans to space, especially around the Moon.