Twitter is today taking a lengthy stride to expedite its efforts both in global news coverage and live video — an important avenue being explored by most social media giants right now. The micro-blogging platform today attended its first-ever NewFronts conference, the place where online publishers pitch their latest content efforts to a cohort of advertisers.
In preparation for this event, the company revealed its ambitious plan to live broadcast news 24 hours a day, seven days a week. The company's CFO and COO Anthony Noto spoke about this new video-focused initiative last week and the very first live 'programming' partner was revealed yesterday — Bloomberg. But let me tell you, this was just a glimpse of what's in store for Twitter's live streaming video strategy.
But, the company's chief executive Jack Dorsey took center stage at the conference to unearth something more surprising than only one news partner. He announced that the platform is now planning to introduce 'hundreds of hours' worth of exclusive live original programming, coupled with live games, events, and other syndications. Twitter is debuting live broadcasting across different realms — be it sports, politics, news or even entertainment.
Talking about the live experience, Twitter's Global VP of Client Solutions Matthew Derella said,
You're not going to see anyone that can give you the audience mindset, the most premium content, and do both at massive and accelerating scale like Twitter can.
In a jiffy, Twitter went from being partners with Bloomberg for financial news programming to debuting different new partners in the form of — BuzzFeed News, The Verge, and Cheddar for original live news; concerts and fashion shows from Live Nation and IMG Fashion; and sports broadcasts from the WNBA and MLB. These partners will have complete control over their content, but Twitter is also developing original content shows, especially sports and entertainment, exclusively for its platform.
#WhatsHappening is a new live daily, entertainment-driven, primetime show on everything in the world that embraces Twitter's unique conversation.
This development comes on the heels of Twitter's surprisingly positive quarterly earnings report. Although the company's revenues took a deep gash, it reported an impressive uptick — close to 9 million users — in its monthly active user base. It also disclosed that it garnered over 45 million viewers and 800+ hours of live streaming video in the process. This was significantly up from 600 hours of programming in the fourth quarter of previous year.
Now, what the analysts are calling the Dorsey Effect, the Wall Street's belief in the micro-blogging platform has been renewed. The positive earnings, coupled with the Bloomberg 24-hours news partnership and now a dozen more content collaborations have made Twitter's share prices to skyrocket in the past couple of days. It is currently trading around $17.50.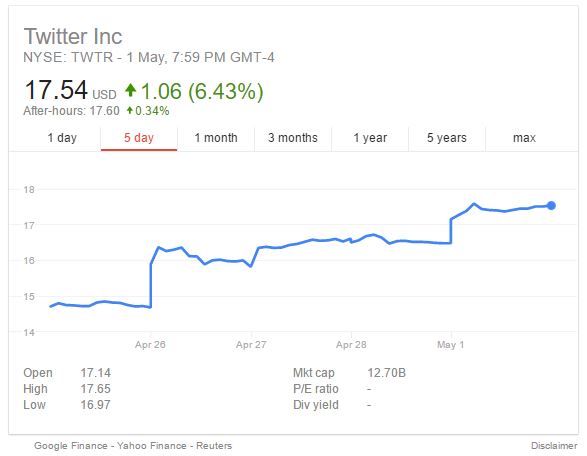 What had started out with a handful of live streaming events such as NFL games, U.S presidential debate, and Game Awards, is now taking the ambitious form of 'live programming' — similar to TV news channels. Twitter lost out on its attempt to secure streaming rights for upcoming NFL games to Amazon, who shelled out five times the money to win the race. But, it is now taking even jumps that'll define its video strategy going forward.
Talking about the partnerships, Noto mentioned in a statement:
We could not be prouder of the success we have achieved so quickly since launching live streaming premium content. Last quarter, we streamed over 800 hours of live premium content from leading brands across sports, e-sports, news, and entertainment.

Adding these 12 new live deals tonight is a testament to the success of our only-on-Twitter experience, combining high-quality streaming video with our only-on-Twitter conversation.
With this strategy, Twitter is now planning to cash-in on the opportunity by roping in a handful of big-time advertisers – after signing up some impressive live broadcasting partners. The Live video strategy will help them roll out 15 to 30-second unskippable video ads, which TV advertisers are ready to big checks instantly. The micro-blogging platform is betting big on this idea that users will flock to the platform to watch live stream running every time, all day long — in addition to conversations with the community.