In the middle of 2016, BlackBerry decided to induce a significant change in its business operations. The Canadian hardware giant no longer carries the said moniker because it has given up on its hardware ambitions and is aggressively focused on pushing ahead with only the software ones. This strategy seems to be paying off, as seen in the company's fourth quarterly earning call.
The Canadian giant now refers to itself as the "global software leader in securing, connecting and mobilizing enterprises," which is so different than its glory days in the 90's. BlackBerry reported non-GAAP total revenue of $297 million, of which software and services amounted to $193 million. The latter, which includes the mobile device management products and the QNX industrial OS, increased by around 12.2 percent as compared to the previous quarter. This excludes revenue from IP licensing and professional services.
For the said quarter, the non-GAAP operating income stood at $13 million coupled with an earning of 4 cents per share. This was also accompanied by an operating loss of $57 million, which is significantly lower than $238 million or 45 cents per share in the previous year. Their non-GAAP margin increased from about 40% in the previous quarter to 65% in the three-month quarter, ended in Feb'17. Operating expenses were nearly halved, now standing at just $229 million.
Talking about the earnings report, John Chen, Executive Chairman and CEO, BlackBerry said,
I am pleased to report that our Q4 results came in at or above expectations in all major metrics. In the quarter, we continued to grow our mix of software and services revenue across the company.

In turn, this allowed us to expand our operating margin and report positive free cash flow. In addition, our balance sheet continues to strengthen and benefit from reduced capital requirements with our focus on software and licensing.
Due to the aforementioned positive figures and growth, the company is currently performing exceptionally well on the stock market. The quarterly earnings have caused the share prices to shoot up by about 14 percent, where it is trading in the ballpark of $8.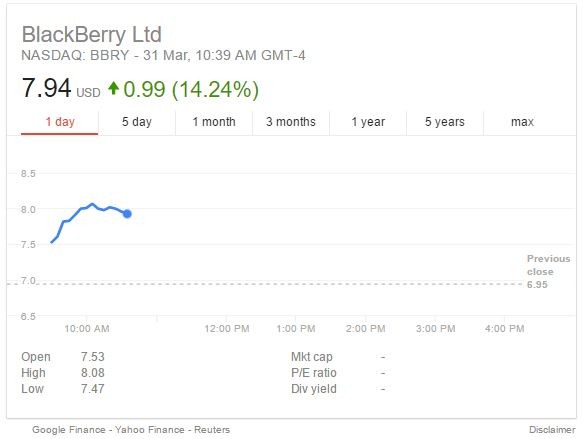 Further, for those unaware, BlackBerry has given up on its iconic phone brand — especially popular among enterprise professionals — because the business had been suffering due to the introduction of Android and iOS devices. The market share of BlackBerry OS has already collapsed to nearly zero percent. The company tried accepting Android with open arms but it wasn't easy reviving the same.
So, making good on its promise to drop hardware ambitions, it pivoted to being just the software giant that it is striving to become in the coming years. It has already debuted a handful of security and enterprise services across platforms. The company had over 3,500 enterprise customer orders in the quarter, which is 16 percent increase from last quarter.
BlackBerry's QNX division is known to be working with several automobile brands, fulfilling their infotainment needs for years. But, QNX is now building its own self-driving operating system to continue and expand upon its partnerships with existing automakers. It is also pushing its iconic brand and physical keyboard through a licensing deal with Chinese brand TCL for worldwide manufacturing and marketing operations. It has also signed up Delhi-based Optiemus for the same task in India i.e to bring their latest smartphone BlackBerry KEYone to the market.
With BlackBerry completely depending upon its software assets, the operating costs have been slashed by half. This has given Chen the confidence that they could turn the business around — by leading on the security and autonomous mobility front. In lieu of the same, he continues to add,
Looking ahead to fiscal 2018, we expect to grow at or above the overall market in our software business. We also expect to be profitable on a non-GAAP basis and to generate positive free cash flow for the full year.