The renowned crowd-sourced caller ID and spam protection app, Truecaller, has today bagged a massive update which brings along a cohort of nifty new features. The latest update(v8) can be seen as a stepping stone to becoming an integrated platform with additional services. It no longer plans on being confined to their crowdsourced model of blocking annoying callers.
With the aim of becoming a full-fledged platform, Truecaller has now integrated a messaging app, Google Duo video calling, and UPI-enabled payments service for Indian users. But, that's not all. The Swedish company is now looking to further its position in emerging markets and is, thus, bringing its popular callerID service to feature phones as well. The announcements were made at the company's first annual "Stay ahead" event in New Delhi.
Commenting on the addition of these new features, Alan Mamedi, CEO and co-founder, Truecaller said:
We have been able to build a mobile identity platform and ecosystem that more and more people are relying on a daily basis to build safe and meaningful services on top of it – and today we're finally able to showcase the true potential of Truecaller.
Taking a closer look at the features announced at the company's event today, they mostly rely on integration based on partnerships. It is now shipping some of its popular features out of the box in the core app, with other new additions as well. Starting off, Truecaller is finally bringing its messaging service 'Truemessenger' also used for identifying new numbers and blocking spam is now being natively integrated into the main app. Now, you'll not only be able to detect or block but also integrate SMS messaging capabilities directly into Truecaller app.
Further, the messaging service is being supplemented with a new feature called Flash. This nifty addition is aimed at sending out quick replies to friends and families using pre-defined messages or even just an emoji. You can instantly send such messages to update them on your current situation. You can share info about you being distressed or on the move, while the option to share your location is also integrated into the same.
Truecaller has also managed to secure a partnership with Google to integrate a dedicated Duo video calling button into their app. This is surely a significant deal but would've come easy as the former is looking to bolster its platform and latter wants consumers to adopt its communication stack. You'll now be able to make high-quality video calls without leaving the Truecaller app. The said integration is currently not live but will make its way to both Android and iOS in the coming months. And you'll have the option to opt in and out of using this feature at any time.
India-specific Truecaller features
In addition to the aforementioned features, Truecaller has also decided to bring along some exclusive features for its largest audience among the 150 million users on the platform. Speaking on their robust new offerings, Lindsey Lamont in the official blog post adds,
We have been able to build a mobile identity platform and ecosystem that more and more people are relying on a daily basis to build safe and meaningful services on top of it.
Starting today, the company is introducing support for payments to its app as well. It has partnered with ICICI Bank to launch a peer-to-peer payment solution for the populace of the country. With this move, Truecaller has now decided to also bank upon the need for digitization and user-friendly payment solutions in wake of recent demonetization drive.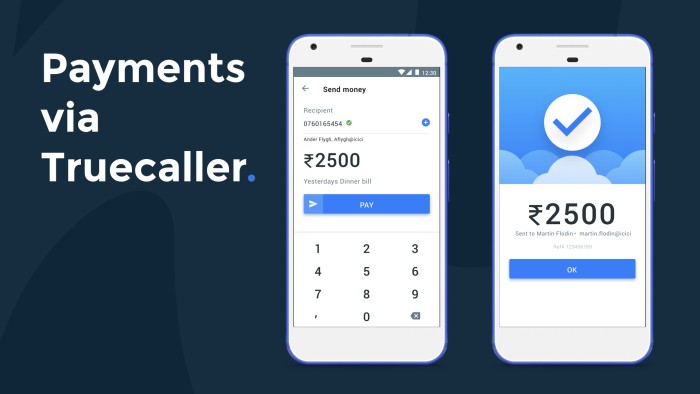 ICICI Bank holds the requisite licenses for this UPI-enabled payments solution and is providing the back-end service for this wallet solution. You will easily be able to create unique Virtual Payment Address (VPA) and send or receive money using any UPI-enabled bank in India. They're employing Bank Grade security and Truecaller will not store any money or sensitive account and credit/debit data.
Also, Truecaller has announced a first-of-its-kind partnership with the second largest telecom carrier in the country — Airtel. It has recently been pushed to the second spot, courtesy of the recent Vodafone-Idea merger. They're now banding together to extend the infamous caller ID identification to feature phones.
Called Airtel Truecaller ID, caller ID of unknown numbers will be delivered to users through Flash SMS before the call actually hits the phone i.e it starts ringing. This is a major feature addition to Truecaller's stack, that'll enable safer and more efficient communication even on non-data phones. It will be offered to Airtel feature phone users in the form of a subscription service.
This first of its kind service is set to provide online experience to offline users, helping them take the right call and to make their communication safer and more efficient. This subscription-based service that will ease a user's life from unwanted spam calls without having to subscribe to data service or buy a smartphone.
Truecaller has completely redesigned their Android application and is currently working on workarounds to display real-time callerID on iOS devices. Apple doesn't permit other apps to draw over other apps, so it has been unable to extend similar functionalities to iOS users.