Samsung is today joining the largest watch show 'Baselworld 2017' in the world not to show off upgraded iterations of its smartwatches but to honor the meticulous art of watchmaking. We might have now decided to stay updated with daily activities right on our wrist but the Korean giant is today taking us back to the roots of horological devices.
The company is today taking the wraps off three concept Gear S3 watches that have been designed by Switzerland-based luxury watch designer, Yvan Arpa. Firstly, you're introduced to the usual Gear S3 watch with premium materials coupled with new custom bands. It is common practice for watchmakers to further the quality of their devices. Samsung's Gear S3 concept without the touchscreen is one of those concepts as it includes a mechanical Swiss-made movement and detail. However, that's not it.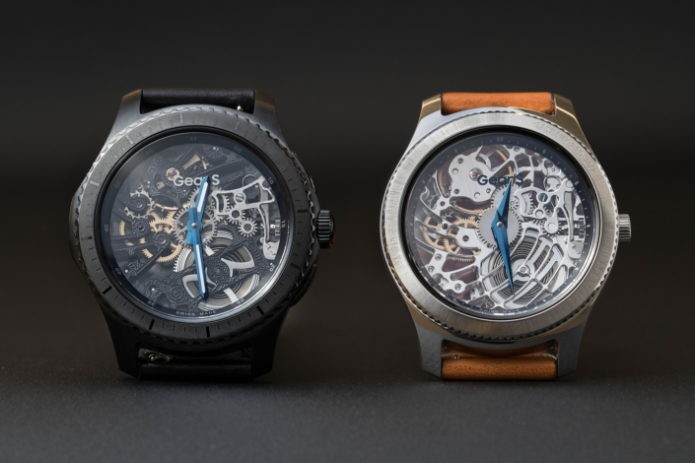 Samsung has another concept hybrid pocket watch, which may sound dated but will look uber-cool in today's age. How many people do you see carrying pocket watches these days? Well, probably none. But, the Korean giant is looking to bring pocket watches back in fashion with its concepts. This watch blends together the essence of traditional watches with digital innovation — it pairs two smaller watch faces with a mechanical compass. There is currently no more information on these pocket watches, about how they work and whether the watches faces run on Android Wear 2.0.
Talking about these concept timepieces, Younghee Lee, Executive VP of Global Marketing, Mobile Communications Business at Samsung Electronics said,
The Gear S3 takes convenience, style, and innovation to the next level while retaining a commitment to quality craftsmanship. The Gear S3 is more than just a smartwatch, it is a beautifully designed watch that puts a timeless spin on the smartwatch category, crafted for both watch aficionados and tech enthusiasts.
While Samsung has brought along a handful of concept watches, it has still got the traditional Tizen-powered Gear S3 smartwatch in tow. The company is not only displaying the usual two variants — Classic and Frontier, but has also brought along smartwatches with upgraded build materials and new custom straps. These not only advertise the prominent features of the smartwatch but also attract show floor visitors with shiny, new and premium materials. It has now converted the Gear S3 into a classier and well-dressed version for Baselworld 2017 and we appreciate it.