During his ongoing trip to China, Apple chief executive Tim Cook paid a visit to $1billion bike-sharing company Ofo's headquarters in Beijing, reports Reuters. There he met with the founding members, who are pushing a sustainable and greener commuting alternative in the world's most populous and pollution-plagued country.
Sharing his excitement of visiting the startup famous for its yellow bikes, Tim Cook in an official Sina Weibo post said,
Thanks for welcoming me today, ofo team! Great energy behind your mission to make commuting greener, more efficient and fun!
He also shared a couple of pictures from his visit, one where he can be seen riding an Ofo bike within the headquarters and the other where he is standing out in the bike parking lot with the executive team of the company (refer to the feature image above).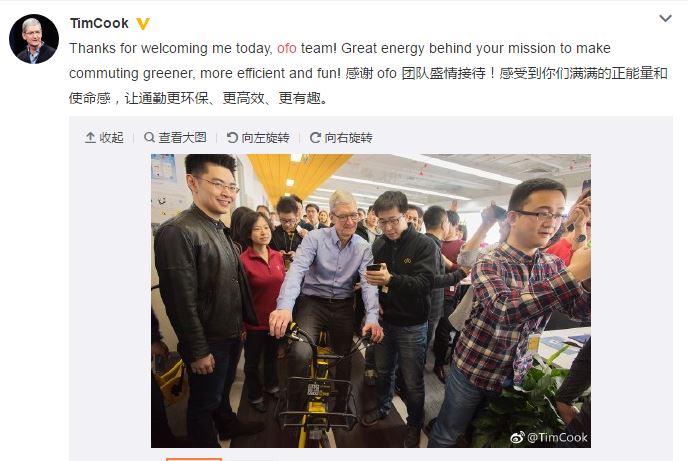 The chief executive's visit to the headquarter of the bike-sharing startup was confirmed by ride-hailing giant Didi Chuxing, an investor in Ofo. Their statement clearly mentioned that Cook was only there to meet the team, including CEO Dai Wei. No discussions for any sort of investment or collaboration with the company happened during the interaction, adds the statement.
Well, Apple's CEO paying a visit to the office of a fledgling startup in China is sure to raise some red flags. And it still seems suspicious for Didi to preemptively debunk the theories of partnership or investment talks. The first thought over the top of anyone's head would have been quite the same because similar was the case with Didi Chuxing. And also because, bike-sharing startups in the Dragon's land are now also involved in a fierce battle and have mustered investor interest from across the globe.
For those unaware, Apple had invested a massive $1 billion in China's leading ride-hailing giant when it was fighting the fierce battle for market share with Uber in the country. This earned the Cupertino giant a board seat at the company, which later gulped its rivals Chinese operations. At that instant of time, Cook described the investment as 'a chance to learn more about certain segments of the China market.'
Started in 2014, Ofo has developed the very first non-docking bike sharing platform which can be operated using a mobile app. And it is surely quite easy to avail a bicycle to ride across the streets of Southeast Asian countries (yep, they have expanded across the region). People looking for a ride can open the Ofo app, unlock a trackable bike parked nearby, ride it to their destinations and pay once they reach. It is said to operate 2.2 million bikes across 43 cities across China, with pilot programs in Singapore, London, and California.
The company is targeting the millennial population, who is looking to save themselves from being stuck in congested traffic or public transport. And it has recently topped up its coffers with a fresh $450 million investment to further build out their product and expand to new regions. This has pushed its valuation past the billion dollar mark, helping it join the ranks of unicorn startups in the country. It was led by Didi Chuxing, Matrix China, and CITIC.
This development comes on the heels of the company's arch-nemesis MoBike driving its bike-sharing startup into Singapore. Now, the said money-burning rivalry is being referred to as the Uber vs Didi battle for the biking ecosystem. MoBike also closed a $215 million funding round, led by Tencent Holdings and Warburg Pincus LLC, then the last month it announced another huge investment from Temasek. It operates close to 1 million bikes in the Southeast Asian region,  significantly lower than the 2.2 million Ofo currently has under its belt.