Though the Nintendo Switch has been a massive success since its launch earlier this month, the tablet-style hybrid console has already been witnessing its fair share of hiccups. But today, it is being reported that hackers have managed to hack the Switch's 'known' hidden browser through the use of an old set of Webkit exploits.
The hidden browser has been uncovered by hacker 'qwertyoruiop', who is recognized in the gaming industry for iOS and PlayStation 4 1.76 Jailbreaks. The hacker has posted a screenshot of the Nintendo Switch console running the exploit, thus, you can witness initials and the word "done" written on the screen. Talking about the same, Wololo.net, who first reported the hack the day before, has said,
According to the hacker, "all" he had to do was slightly tweak his existing jailbreakMe iOS Webkit exploit and remove iOS specific code from it.
Though the breach has been carried out by re-using Webkit vulnerabilities via the browser that is currently hidden from users — but it is soon expected to be unlocked by Nintendo itself. The hacker has currently not provided any proof of concept code, but instead just the photograph attached below. There is not any particular need for proof as this wouldn't be a hoax, thanks to the hacker's reputation in the industry.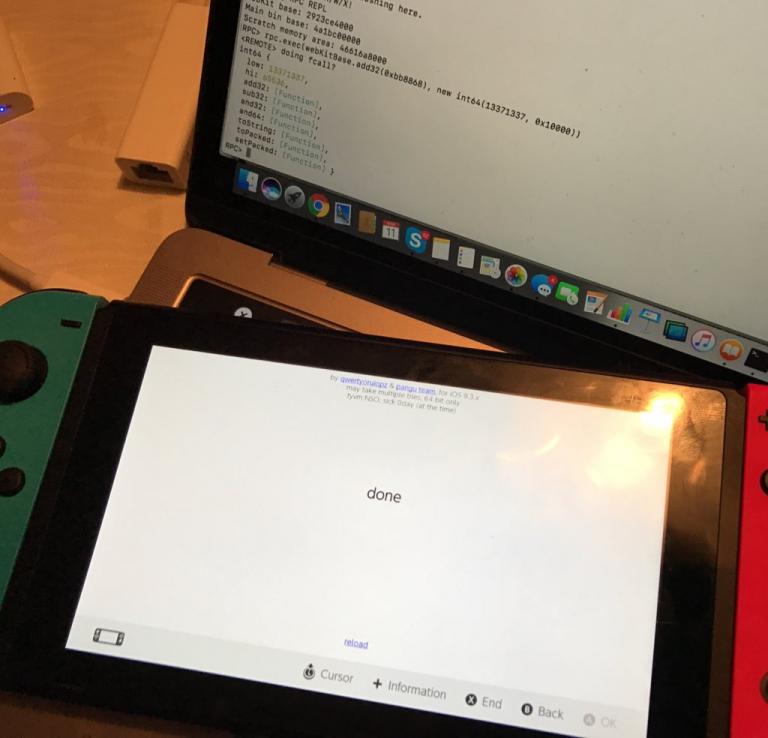 This photograph reveals nothing, but only adds to the mystery and piques the interest of other hackers who had been looking at similar vulnerabilities. It only shows the console's browser window and some code on the Mac, which it is resting upon. But, the discovery of a major browser vulnerability at such an early stage (just within two weeks of its launch) in the Nintendo Switch is of grave concern. The exploits are, however, is not particularly risky for the end user. But, it shows that the Japanese gaming giant has rushed the release of its latest console — which also seen user complaints due to the lack of compatible games.
Previously, Nintendo Switch users have been complaining about syncing issues with the Joy-con controllers — especially the left one. The review console units, even after the Day One patch, have been reported of facing sync issues with the controllers. The reason for sync issues, as dispensed by Nintendo, is electrical interference due to mobile, laptop or other devices. So, it's being recommended to keep away from these while playing the latest Zelda game on your Nintendo Switch.