At the Geneva Motor Show, Land Rover has today taken the wraps off its latest Discovery vehicle which has been designed for search and rescue operations. This unique version of the Discovery is being called 'Project Hero' and it packs within the roof a quadcopter drone, which can take off and land on the car even when it's moving. The vehicles are presently being trialled by emergency response teams of the Austrian Red Cross.
The said variant of Discovery has been custom-made by Land Rover's Special Vehicle Operations (SVO) unit, with the aim of speeding up response time to disaster-struck locations. This vehicle release builds on the company long-standing partnership, exactly 63 years, for which they have been working together to save lives across the globe. This will have to be Land Rover's most advanced automobile that it built in partnership with the International Federation of Red Cross and Red Crescent Societies (IFRC).
Talking about this Discovery, John Edwards, MD, Jaguar Land Rover Special Operations said,
Land Rover and the team of engineers and designers at SVO are proud to support the incredible humanitarian work of the IFRC and its members. The new Discovery is an outstanding all-terrain SUV, and Project Hero is the optimum combination of enhanced capability and innovative technology. We hope to help the Red Cross save lives in emergency situations.
As for the quadcopter attached to the roof of this Discovery variant, it is the first vehicle to introduce this technology. Land Rover has developed self-centring and magnetic retention technology to help the drone land on top of the vehicle while it is still being driven. It means that the drone lands and magnetic field help it latch onto the vehicle.
The Red Cross plans to employ the drone to transmit the live footage of damages and potential survivors, thus, enabling them to hatch a rescue mission much faster. It will help them respond quickly to landslides, earthquakes, floods, and avalanches — any terrain which cannot be traversed by foot.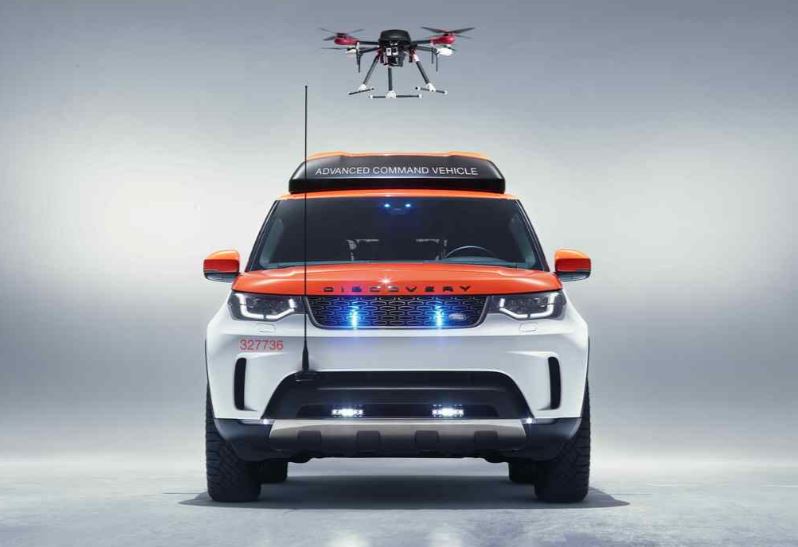 In addition to the drone, Land Rover has also included a sliding floor in the rear load space, equipment mounting points behind rear seats, added LED lighting for better illumination and innovative power supply points with international configurations. It also comes with multiple frequency radio equipment, thus, enabling contact in multiple regions.
Dr. Jemailah Mahmood, under secretary general for partnerships, IFRC thanks the automaker for their continued support saying,
We are grateful to Land Rover for their generous support over the past 60 years, and are proud of our ambitious global partnership that has transformed the lives of millions of people on four continents.

Project Hero combines the best expertise of the Red Cross and Jaguar Land Rover to create a truly unique vehicle, which we hope will be capable of making a difference to rescue operations in the toughest environments.
These Land Rover Discovery vehicles will first be deployed for a 12-month stint, starting in June 2017. And the drone will be tested in real-life rescue operations, helping the team better understand the quirks that need fixing. Project Hero will be based out of Austrian Red Cross training centre in Erzberg, in the mountainous Eisenerz mining area.