Towards the end of last year, the Mountain View-based tech giant debuted a new 'Reserve with Google' service to allow users to book fitness appointments on the go. The said feature is currently in early test phase and has, thus, only been rolled out in Los Angeles, the Bay Area, and New York. It has courted existing services like Mindbody, Full Slate, Front Desk, Appointy as partners to display its results.
Appointy, who is one of the launch partners for the service, is a completely bootstrapped startup from the street of Bhopal, Madhya Pradesh. It has faced numerous hardships since its inception in 2007 but it has still managed to stay afloat and increase their client base to more than 110,000+ business users in over 110 countries.
The company provides its clients with an appointment automation tool to streamline the said process by reducing human intervention. The platform is aimed at increasing consumer convenience and improving staff productivity. But, Appointy believes that integrating the service with Google's new platform has the potential to change how appointments are booked online.
Thus, integrating with the search giant will enable their partner businesses to be easily discoverable via Google Search, Google Maps and the aforementioned website. The reservation service further brings users directly to Appointy through the search results. Speaking on the same, Sarang Verma, COO at Appointy said,
Appointy believes that Reserve with Google has the potential to change the way customers search for, compare and book services online. We believe that there is a significant opportunity for growth in SaaS for the global services industry. We are excited to be able to contribute and be a part of this change, as well as to represent Indian startups on the global map.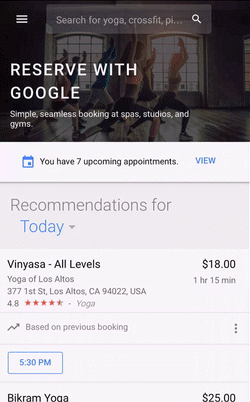 Commenting on the partnership, Nemesh Singh, CEO at Appointy said,
Starting from a small town inIndia, to being one of the first few partners for reserve with Google, Appointy has come a long way. This validates the years of hard work and testing put in by the team, and is an exciting new phase for not only for Appointy, but for Indian startups in general.
While the said service is currently available at select locations, the company believes that it will expand globally in the coming weeks. And it is expected to increase the visibility and reach of Indian businesses, once the service goes live in the country. Appointy is, thus, working on onboarding more partners to use its automation tools, while also adding to the database.