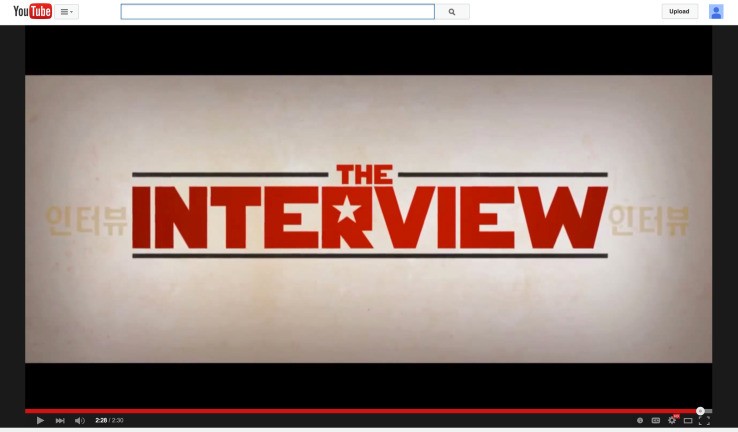 Despite the grave threats that the so-called "Guardians of Peace" (however funny it may sound, just read it as North Korea) made, Sony Entertainment studio has finally launched "The Interview" through online streaming channels owned by Google (YouTube Movies and Play Store), Microsoft (Xbox Video) and itself.
Sony has released the movie through Google Play, YouTube Movies (embed below), and Microsoft's Xbox Video, as well as at its own website. The company is providing the movie in HD at all the aforementioned channels.
Apart from the partners mentioned above, Variety reports that Netflix is also reportedly in talks with Sony Pictures to release "The Interview" on its platform. Explaining the decision, Sony Pictures CEO Michael Lynton said,
We reached out to Google, Microsoft and other partners last Wednesday, December 17th, when it became clear our initial release plans were not possible. We are pleased we can now join with our partners and platforms to further expand the release.
The Interview, is however still scheduled to release across some 300 screens tomorrow. The company had earlier announced that it will release the movie through select theatres who were willing to screen the film.
Google further issued an official blog post, explaining reasons behind its backing up of Sony Pictures. Google says,
Last Wednesday Sony began contacting a number of companies, including Google, to ask if we'd be able to make their movie, "The Interview," available online. We'd had a similar thought and were eager to help—though given everything that's happened, the security implications were very much at the front of our minds.

Of course it was tempting to hope that something else would happen to ensure this movie saw the light of day. But after discussing all the issues, Sony and Google agreed that we could not sit on the sidelines and allow a handful of people to determine the limits of free speech in another country (however silly the content might be).

So starting at 10 a.m. PST in the U.S., you can rent or buy "The Interview" on Google Play and YouTube Movies. It will also be available to Xbox Video customers and via www.seetheinterview.com.
The company has made all the necessary preparations to make your Christmas laughable with its assasinated-comedy and will be available starting at 10 A.M. Pacific Time on Google Play, YouTube Movies, Microsoft's Xbox Video and a dedicated website, www.seetheinterview.com on rent for $5.99 or for purchase at $14.99.
As for the Canadian Audience, Seth Rogen has some news :
CANADIANS! Sincere apologies but #TheInterview is not available 4 u 2 download yet BUT will be soon. We are working on it!

— Seth Rogen (@Sethrogen) December 24, 2014
---