Microsoft has been busy. It has been bringing in new updates to its apps, it has been busy re-branding its devices business…all in all, Microsoft has been busy  trying to drop off the tag of a "sleeping behemoth, unable to adapt to changes". Amidst all this, it had earlier, pretty quietly, launched Sway, an online collaborative tool for corporates. Well, we received a preview invite, and here's the review :
If there's one thing, which I absolutely love about Microsoft apps, it is their impressively neat UI. Whether the app is even made for my needs or not, I make sure I try all of them, just because the neat and corporate looking UI attracts me towards itself. And with Sway too, it is pretty similar.
Once you log in, Microsoft present's you with a simple looking Dashboard sort of landing screen. There are options on the top-left corner of the screen, to create a new Sway. That same place houses a Menu, which when clicked, opens up a grid of Microsoft's online apps, where in you can create Sways. It includes Word, Excel, Powerpoint, Outlook, Calendar, OneDrive, People, OneNote and Office Online.
The top-right corner houses your account Menu. You can change a setting, view your previously created sways, or simply Log Out.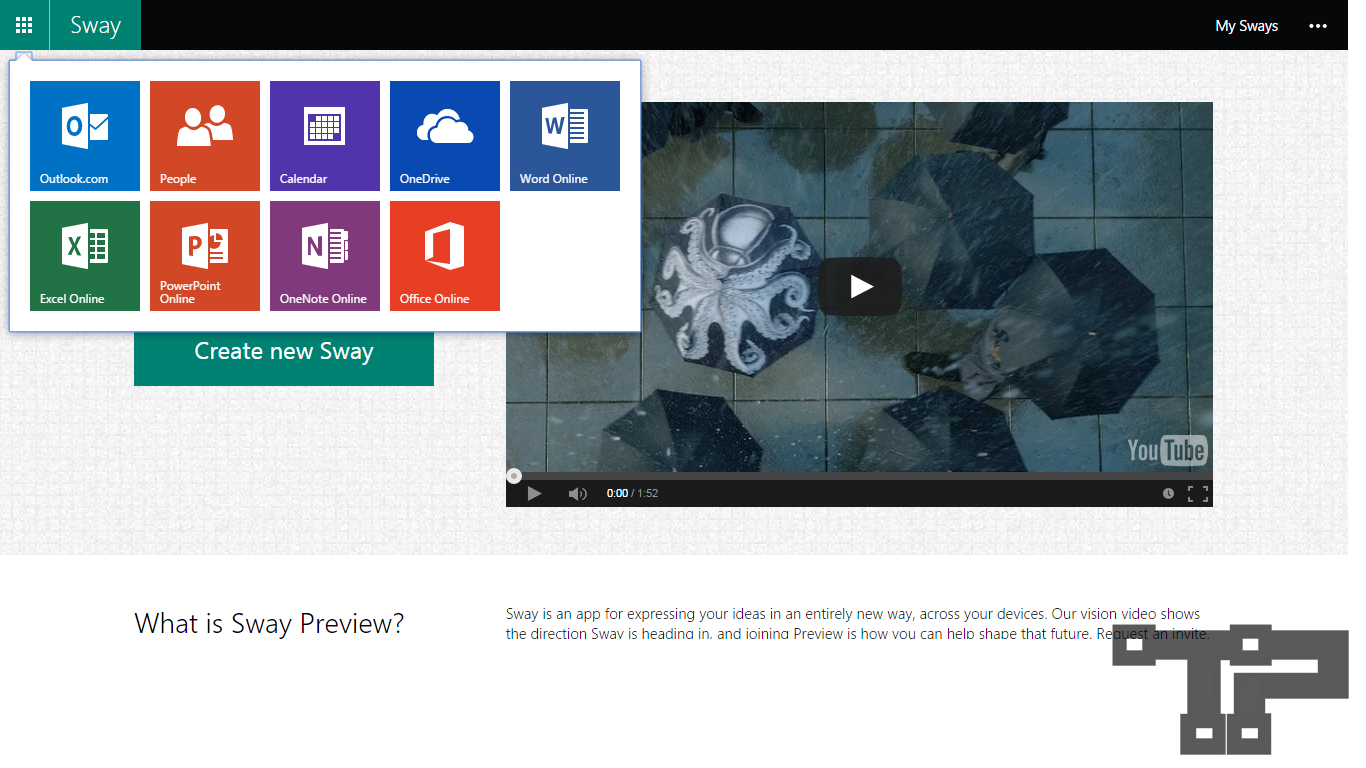 I started with creating a Sway on Microsoft PowerPoint Online. When you open Powerpoint Online, you get presented with your regular powerpoint templates. The interface is similar to Powerpoint Online standalone app, and it also strikes similarity to Powerpoint's iPad app.
Once you select a new template to work on, it's the usual Powerpoint Online affair. In fact, once you click on a template, it actually opens up Microsoft's Powerpoint Online. There's nothing new to it, and we all know how it works. Let's quickly come to what Sway is actually meant for, Sharing.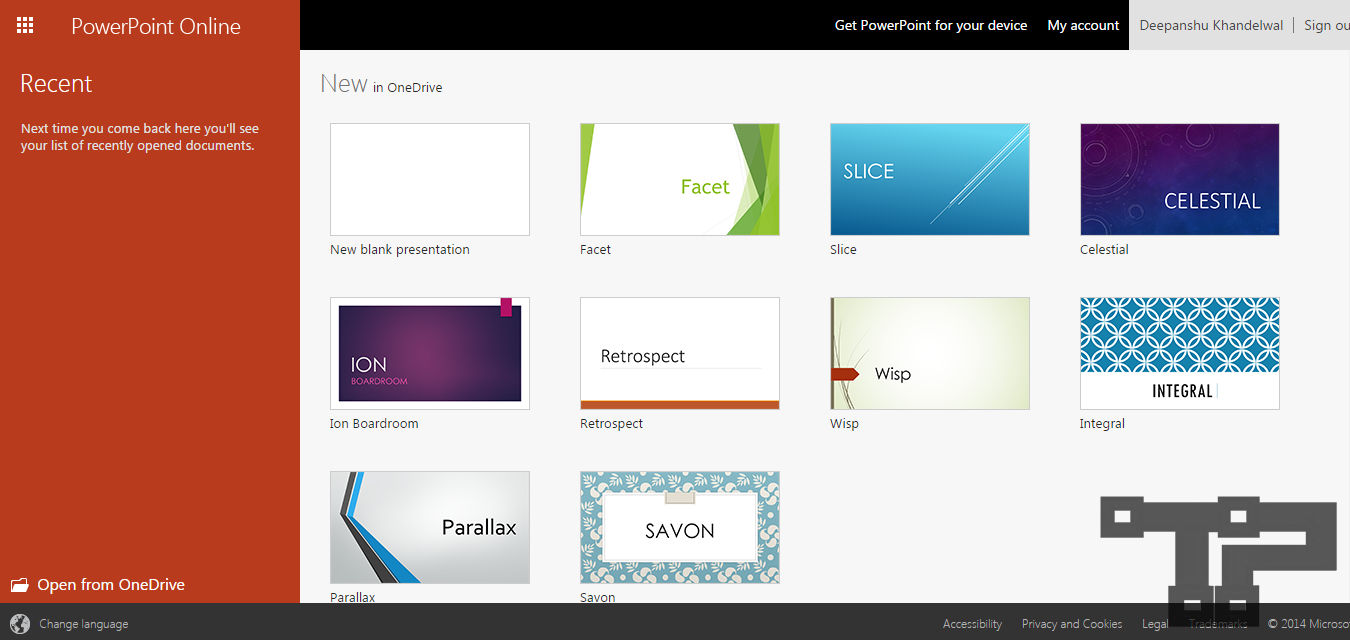 Now, if you are a regular Google Drive user (just like I am), then you'll hardly find any difference between Sway and Drive, apart from Microsoft's neat-tiled UI. The similarities can be noticed at once. Sway has the same share feature, which adds on more users to your work-desk, similar to what Google Drive's share button does. Once you click on Share, you get presented with a host of options, which you can choose as per your requirements.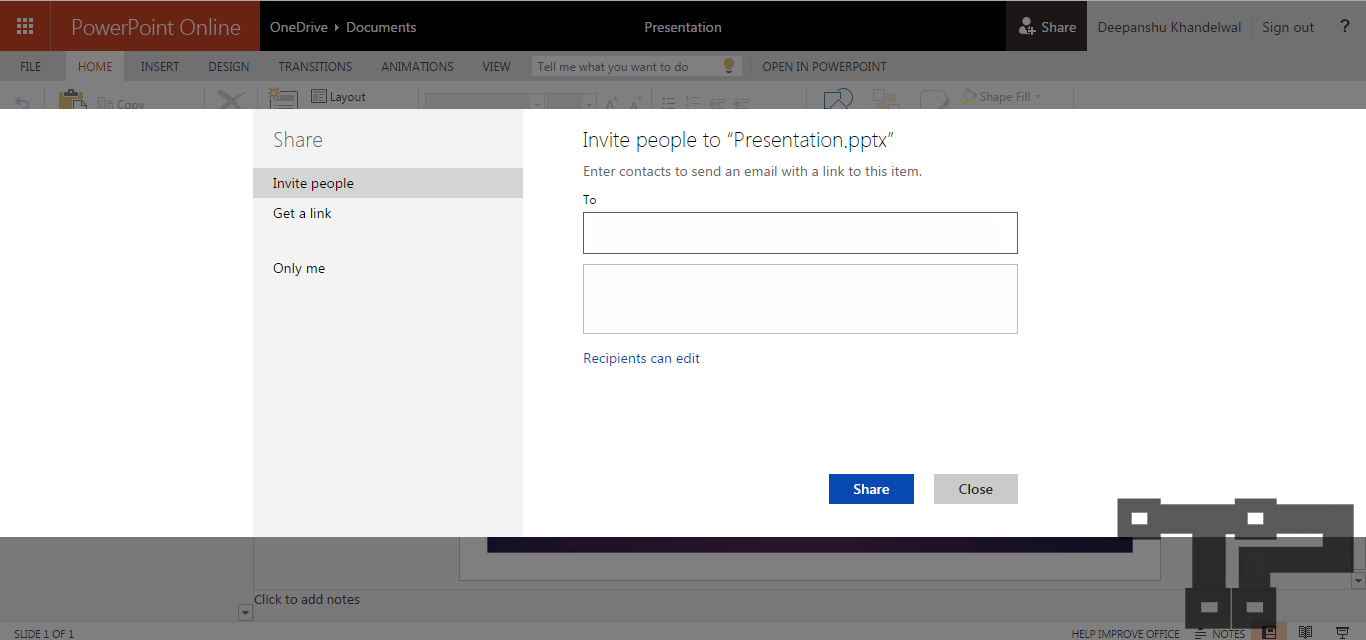 But, then, why Sway ? Well, if you are not a Drive user, and you get to Sway first, I think, you'd probably stick to Sway and won't even care to know what Google Drive is. Even though Sway is a bit late to the scene of online collaborative tools, which now also includes a host of start-ups, and it obviously also has Google Drive, Microsoft may still take up a lot of customers, largely because of the fact, that Sway is a collection of the best apps, ever designed for your work environment, i.e. Microsoft Office.
Also, the editing in Sway is actually, pretty real-time. While collaborating with one of my colleagues, I could actually see him editing the presentation. I didn't notice anything of this sort in Google Drive. You can collaborate their too, but such real-time collaboration, that is where Sway wins over Drive. Microsoft shows how this works, in the video below :
My overall experience with Sway ? Excellent. But, that excellent experience is not actually because of Sway, instead it is because I get to work in an environment, which is familiar to the one on my laptop and my iPad. With Sway, I can collaborate with my colleagues in that very environment, something, which I had been waiting to get for a really long period of time.
But again, you can not simply neglect Google Drive. Microsoft may have launched a powerful online tool, but it is at least an year and a half late. Still, the very fact that it helps you collaborate on the most profoundly used work-related apps like Word, PowerPoint, Excel, OneNote and Outlook makes it stand-out of the rest.
Did you have a look at the Sway Preview yet ? If yes, shoot us your views in the comments section, if No, well, we'll be happy to share an invite with you.
---