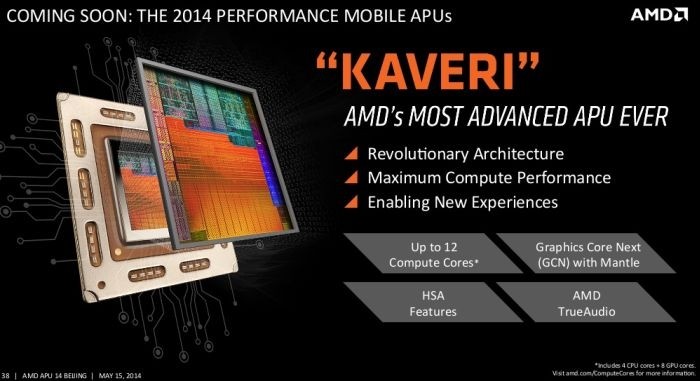 World's biggest graphics manufacturer, AMD kicked off its Future of Compute Event with the addition of the high performance processor codenamed "Carrizo" and mainstream processor codenamed "Carrizo-L" SoCs to the company's mobile Accelerated Processing Unit (APU) product roadmap. Also, they also announced exclusive partnerships with Samsung and Capcom.
AMD also introduced consumer electronic industry's first-ever ultra high-definition (UHD) monitors to feature its innovative, open-standards based FreeSync technology. 
Joe Chan, Vice President of Samsung Electronics Southeast Asia Headquarters, said:
We are very pleased to adopt AMD FreeSync technology to our 2015 Samsung Electronics Visual Display division's UHD monitor roadmap, which fully supports open standards. With this technology, we believe users including gamers will be able to enjoy their videos and games to be played with smoother frame display without stuttering or tearing on their monitors.
Watch John Byrne unveil the latest APU:
According to AMD's Corporate Vice President, David Bennett:
Samsung and Capcom are strategic partners in helping us bring our revolutionary IP and technology to the homes and offices of consumers around the world. As we expand our product influence in the commercial sector, we believe open standard technologies like AMD FreeSync and software advancements like our Mantle API will play integral roles in driving the industry forward.
Apparently, CapCom has partnered with AMD on the AMD Mantle API to enhance Capcom's "Panta-Rhei" engine, enabling enhanced gaming performance and visual quality for upcoming Capcom game titles. AMD's Mantle API technology has been adopted by major developers including Crytek's CRYENGINE®, DICE's FrostBite 3 and Oxide's Nitrous engine.
These latest mobile APUs are scheduled to ship in 1Q 2015, with laptop and All-in-One systems expected in market by mid-year 2015.
---