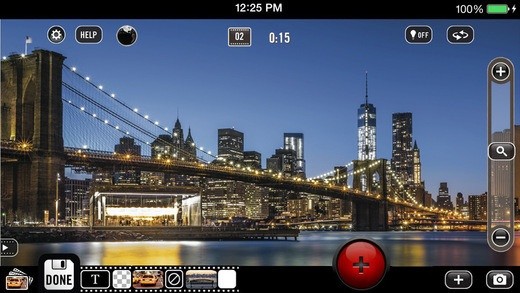 Yes, this isn't a typo. It's actually a $999.99 app that supposedly brings 4K video recording to the year-old iPhone 5s. Through its "BurstMode", the Vizzywig 4K app captures 4K resolution snaps, at the rate of 24 images per second. These are then stitched together to make the 4K video.
Unfortunately this app works only on iPhone 5s with 32GB or 64GB of storage. The app will make you lose 72MB for one second of video roughly using 4.32GB for a 1 minute video.
But the app comes with drawbacks too. For instance, if you upgrade your phone from iOS 7 to iOS 8 tomorrow, you will not be able to use this app, because it only works on the former. Also, given the fact that iPhone 5S's sensor is 3264 pixels wide and 4K video frames are usually 3860 pixels, you won't really be able to enjoy a full 4K video playback.
It does, however, have its advantages over direct video recording. The most immediate one is that all frames are captured using the full 8 megapixel sensor of the iPhone 5s, meaning that you have raw, uncompressed quality available. Vizzywig 4K also lets you edit your clips, add transitions, titles, and scrolling credits along with mix in some background music. Users can also upload their videos directly to YouTube, or save them locally and share them by other means.
---