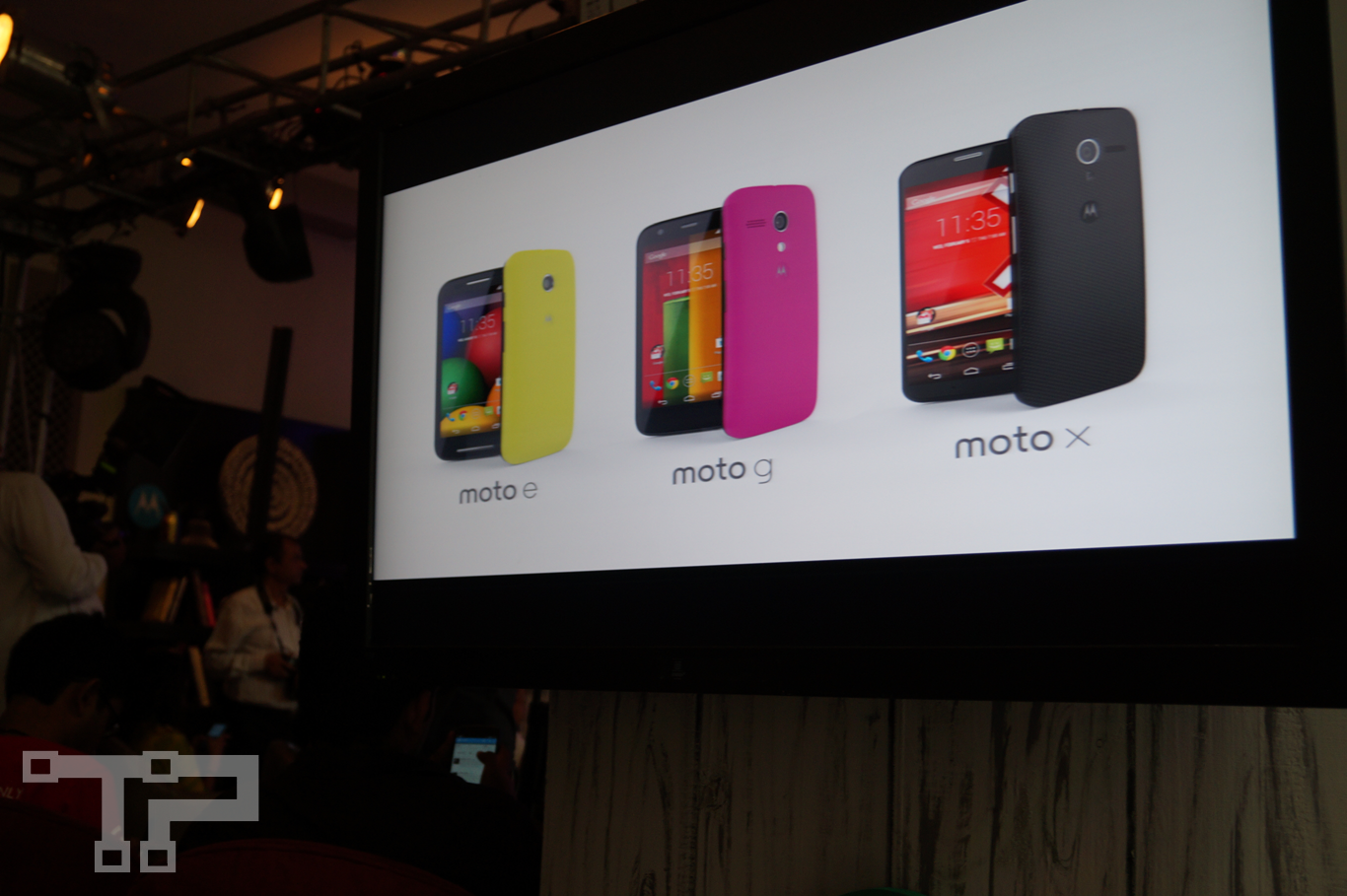 Motorola launched 3 new devices today at a special media event in New Delhi. We covered the event in a live blog and now we have exclusive hands on footage.
Moto G was a very successful launch. It was hard to beat in that price range, but with the launch of brands like Xiaomi and ASUS, Motorola was in for a tough competition.
Rebranding the older one as 1st Gen, Motorola today unvieled Moto G (second gen) along with Moto X and the Moto 360.
Here are our initial impressions:
Look n Feel
The handset is pretty similar to the previous gen with the only exception that the design of Moto E has been carried forward to this one too. Dual front mounted speakers atop the 5″ display flank the front with the front cam and proximity sensor.
The back houses the camera and a single led flash. The build quality is plasticky though it will feel comfortable in the hands. The phone will be available in Black and White variants.
Display
The display has been bumped up from 4.5″ to 5″. The resolution remains 1280 X 720 which equates to a measly 294ppi compared to last generation's 326PPI. Still, the text is clear and is bright.
The jump to 5″ is a welcome one, but the 2nd gen had to do away with the PPI. It now has a reduced PPI than the predecessor, thus degrading the overall crispness in display.  The device is very easy to operate with one hand and we applaud Motorola for that.
The new Moto G carries forward the same Snapdragon 400 processor clocking at 1.2 GHz paired with a 450MHz Adreno 305 GPU. It is similar to what the 1st generation Moto G had. So nothing new on that front.
The main issue with the new handset is that it sports only 1 GB of RAM. Android is a resource hog. We'll confirm the lag once we get a review unit.
The inclusion of an SD card slot is a very wise move. This had to be done. A 32 GB card coupled with the 16 GB internal memory, and you get loads and loads of space, as is needed, with an Android smartphone.
Battery Life
Motorola was rampant about its "all day battery life". They went on and on about it. The device features a 2070 mAh non removable battery. Check back for battery life test later this week.
Software
Moto G runs on Android 4.4.4 KitKat and Charlie Tritschler has promised that it will get an upgrade to 5.0 as soon as it launches. Motorola provides pure Android experience without any skin on top. This makes Andorid less heavy on system resources. There is no bloaware installed.
Camera
The only thing that has been improved is the camera. The new Moto G sports an 8 MP snapper providing 16:9 in 6 MP. It also shoots 720p HD video.
On the front we have a 2 MP camera for "selfies". It also shoots video at 720p.
Connectivity
The phone comes with all the bells and whistles when it comes to connectivity. The usual Bluetooth 4.0 and WiFi a/b/g/n are present.
Pricing and Availability
Moto G is on sale exclusively at Flipkart available from midnight today. Its priced at 12,999 for the 16 GB version.
Early Verdict
Motorola was almost non existent a few years ago. Now, they are up and running amazingly. Moto G is a good phone but is priced on the higher end of the spectrum. We say that, largely because it is similar to its predecessor generation, camera being the only major difference.
Increased screen size means that the Moto G had to loose a lot of crispiness from its screen, reducing its PPI drastically. This has definitely affected the overall display of the phone. Motorola, could have gone for a better display, and with an upgraded processor. This phone, may or may not do well in the Indian market, considering the fact that Redmi 1S and Mi3 are the current trendsetters.
---