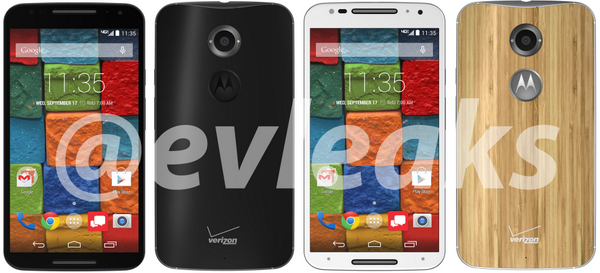 Popular tipster, Evan Blass ( popularly known as evleaks ) has leaked a new image which clearly represents the next gen Moto X, popularly dubbed as Moto X+1
Although it has already been made clear by Motorola that it is planning to launch the next generation Moto X and Moto G phones, simultaneously in Chicago and New Delhi, but no clear images of the new phones were available, yet.
Serial tipster, Evan Blass, has tweeted a new image, representing the next gen Moto-X, as his "retirement gift" to his followers. The new image (shown above) shows 4 different views of what is popularly dubbed as, the Moto X+1.
The picture shows two different colours of Moto X+1, with one of them being, the famed wooden panelling by Motorola. The other one is black.
Motorola is expected to launch the new phone on September 4 in Chicago and simultaneously on September 5 (IST) in New Delhi.
As for the specs, Moto X+1 will probably feature a 5.1 inch 1080 p display, paired with 2.45 Ghz Qualcomm 8974 processor. The phone will house 2GB of RAM. It will come in two memory options. A 32 GB variant and a 64 GB variant.
---