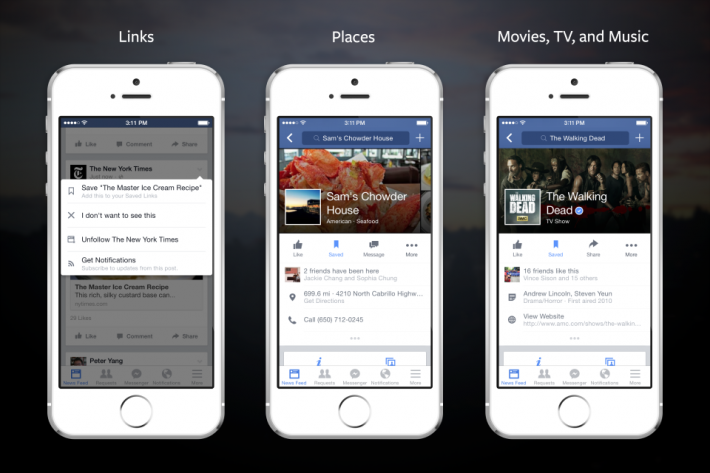 Facebook has today launched a new feature, Save. Save, can be considered yet another attempt by facebook, to know more about people's interests, after it failed to do so with its Paper app and others.Save, as the name suggests, is a list creator tool, that lets you add stuff from news feed, places, events, movies, TV shows, and music to a list where you can view them later. This feature will be rolled out gradually to iOS, Android and Web.
You can view the items you saved at any time by going to your saved items in the "More" tab on mobile or by clicking the link on the left hand side of Facebook on the web.
Your saved items list is organized by category and you can swipe right on each item to share it with your friends or move it into your archive list.
Facebook has also set a reminder feature which will occasionally remind you of the links you have saved, if you are browsing a similar content at that time.
Save, is yet another attempt by Facebook, to get to know more about what people are thinking, and what there mood is while browsing the social network. According to us, Facebook will definitely use this data to produce better ads for its advertiser network.
Save feature will give Facebook, an insight as to what the user is interested in and it will then show more targeted ads to that particular user. This is, considering the fact that in an extremely brief launch post, Facebook has said nothing about how it plans to use this data, which it gets from users.
---