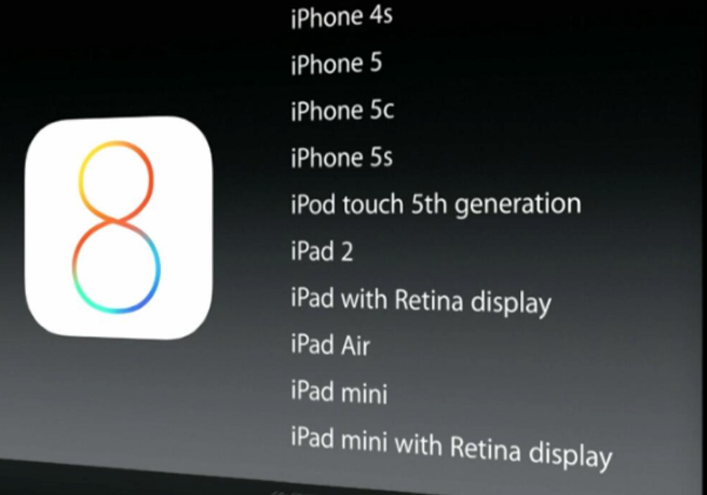 In its ongoing World Wide Developer's Conference, Apple has just announced the new iOS, the iOS 8 along with a host of other features. The surprising move is, it has dropped iPhone 4 from iOS 8's compatibility list.
All iPhone 4 owners, the current iOS on your phone, will be the latest you can get. Apple, minutes ago, has just announced that iOS 8 will not be compatible with iPhone 4. The move seemed surprising to me just because of the fact, that Apple recently re-launched iPhone 4 and iPhone 4s in emerging markets like India and China. The re-launch proved to be a huge success for Apple as it zoomed to 4th spot in top Mobile manufacturers list in India.
The compatibility list, for its latest OS, iOS 8 (as shown in the image above) includes iPhone 4s, 5, 5s and 5c. It is also compatible with iPad 2, iPad with retina display, iPad Air, iPad mini and iPad mini with retina display.
The inspiring part : it is compatible with the 5th generation iPod touch, thus making clear that Apple has not lost all of its interest in its breakthrough product, the iPod.
---
UPDATE
Apple's latest mobile software, iOS 8 Beta, is now available for download through Apple's developer portal.
The biggest breakthrough Apple has announced is the availability of beta versions of both mobile and desktop softwares starting from today,  before their final releases.
---