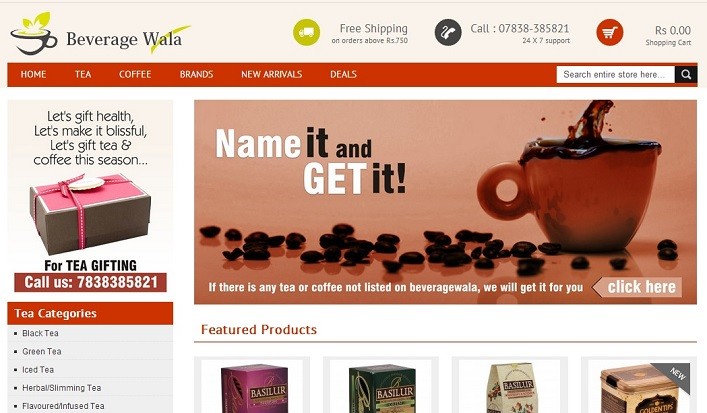 India's start-up eco-system is on a boom. Reports have suggested that while funding to start-ups when they are in nascent stage has decreased globally, it has increased in India. Though the funding is small, but it is increasing at a pace, which is faster than any other country in the world, and for that matter, including China.
Introducing an entirely fresh and innovative concept in this eco-system, is a small team at Beveragewala.com. Beveragewala.com is an Indian e-commerce start-up which sells over 35 brands of tea and coffee online, with over 400 products. From the most expensive to the more consumer friendly brands, you get a wide variety of brands to choose from.
Since the very inception of Internet, man's dream has been to make it Internet of things. We are in an age, when Tech giants are fighting amongst themselves to get the largest chunk of customers. Google is trying to make your entire life, an online affair.
Beveragewala.com, is one such initiative. With Beveragewala and other such e-commerce initiatives, the consumer is getting virtually everything  online. Although they are still at a very nascent stage, but as it grows, this idea, could certainly be the next big thing in India.
When we asked the founders as to how this kind of an idea popped up into their mind, this is what they said :
India is a tea loving nation. With very limited brands prominent, consumers are looking for new brands and products, and slowly we are seeing new domestic brands and big foreign brands entering into the market. Hence, we feel that Beveragewala is entering into this industry at a very nascent and appropriate stage.
India is tea-loving nation (for over centuries). India's per capita consumption is quite high, at over 800 million kilograms of tea in a year (as per 2010 estimates).  Beveragewala aims to tap at this very tea-loving public, and aims to deliver all those exotic brands, which may not be available in your nearest retail stores.
Beveragewala kicked off in March 2014, and within just 2 months of operations, the have already received 300+ online orders. I personally reviewed the website, and as has been my taste, it is simplistic. I have personally, always liked a simplistic approach. The site straight away takes you to its featured products and new products range.
The ordering process is hassle free, and they accept almost all major cards in India. Like any other e-commerce site, you first have to register as a user, so that your shipping address can be saved for future use.
As per my review, Beveragewala, is a fresh concept. A new idea, which hasn't been tried in India before. It is still in its nascent stage (or you may call, Beta stage), but seeing their progress, it is set to grow. They have kept the website interface simplistic (although by the use of a pre-built e-cart software) and minimalisitc. This is help them since the target customer base is the general Indian public, which is not the tech-savy type.
I would like to mention here, that the best part about India's e-commerce websites, even the biggies like Flipkart, or Myntra is that their interface is extremely brilliant, and apt for the general user. The reason behind Amazon's "continued" failure in India is its shabby looking website, which stands no chance in front of the indigenous & extremely popular player , Flipkart.
India's e-retail scenario is looking extremely bright, as is evident from the launch of various international e-retail brands in India. But what sets the indigenous e-retail websites (like beverage wala) apart is their knowledge of customer interests and their simplistic, minimalistic, yet beautiful website. All the best to Beveragewala. Farewell !
---