Want to shout out loud about something ? Want to be heard ? Well, this may just be the right app, with the right blend of real time social-networking, and real-time socialising. 
Finally, the social networking void in India's start-up ecosystem, may well be filled by a brand new concept, a brand new app, Shout. Yes that means the same as the verb shout and the app does exactly what the verb means, it shouts.
Shout, which claims to be world's first locality based social networking app, is based on the concept of shouting. You post a "shout" on the app, and anyone within 1 km. of your range, with the same app, will get to know what you are shouting about. It is as simple as that ! All you need, is an internet connection (which you already have !).
Ask for help, say a Hi, find company for a weekend trek, spread the word of a traffic jam, shout out your feeling or simply interact with another Shouter, near by you. Let your hostel herd hoot , the gossip gang go-berserk, your colleagues at work shout it out and friends at play sledge.
The interface is neat, and like most new apps of today, is based on Flat UI. This being said, it is not complicated. It's a simple, minimalistic user interface, and that is what we think will draw user's attention towards this app.
The app boasts of several new and innovative features. One of them is called "alter ego". This feature gives you an option to form an alternative profile of yourself. Now, when you shout, you can either shout as the real you, or as your alter ego. Anonymity is the principle, behind which this feature has been introduced.
There's one feature which caught our eye the most, and that is "echo". The default distance of your shout's reach is 1 km. But if you wish to increase that range, all you have to do is click Echo and, Bamm ! your shout has reached to even more people.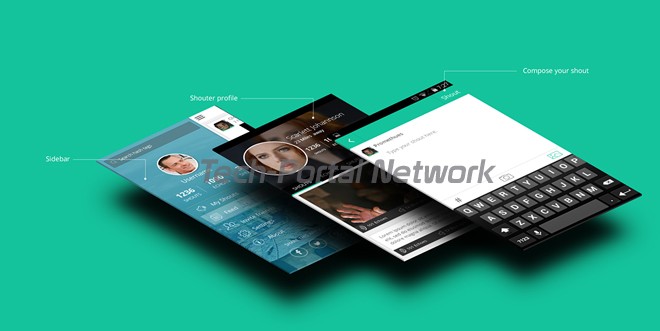 There's another feature called "Shut-Up" and yes, it is your actual, Shut Up ! This is what the developers say about this feature "This might sound a bit harsh but don't we use this in our real day to day life. Shut up is to empower people to differentiate a shout from a noise. It is a revolutionary social experiment, never before someone has tried anything of this sort". Whether this feature is revolutionary or not, only time we tell, but we definitely find it interesting.
So, what's the story behind this app's development, we asked the developers, and they say "During one of our chai (Hindi for Tea) sessions we felt that there is a void in the way we interact with people around us. During our childhood we used to play gully cricket, sit on the walls, drink chai and roam in the neighbourhood with people from our area. In my place we call ourselves the 'Area Boys'. But right now we don't even know anyone in the area".
They further add, "Very soon we identified that none of the current apps give us the power to share things with people around us, and probably this realization lead us to the idea of Shout, World's first Locality based Social app with an option for anonymity called the alter ego".
The app is currently available only for Android, and will soon be coming up for iOS. It can be downloaded like any other app from Google Play store. You can download it by clicking here.
In the end, this is definitely a fresh concept, a fresh app, and something, which Indian start-ups have never really given to the social networking world. With our decreasing personal interaction with each other, due to various social networks, this app will definitely bring back that lost element in our lives.
So, as of now, Go, Shout ! 
---