Microsoft recently launched the developer preview of its much awaited Windows phone 8.1 update. The event also marked the entry of three new smartphones , Nokia lumia 930 , lumia 630 and lumia 635 , which will be the platform devices for Windows Phone 8.1 OS version. The update was available through the developers channel from April 14.
We hence give you, a complete round-up of certain new and exciting features of Windows phone 8.1
1. Cortana – The voice assistant
One of the best feature of Windows 8.1 is Cortana , which is a voice based virtual assistant. Cortana is powered by Bing and is like Apple's Siri or Samsung's S voice (but according to us, better than both). Microsoft assured that this will get better with time and people will spend more time on it. Cortana is sometimes funny unlike S voice or Siri. Also in functionality, Cortana is one of the best when compared with Siri and Google Now.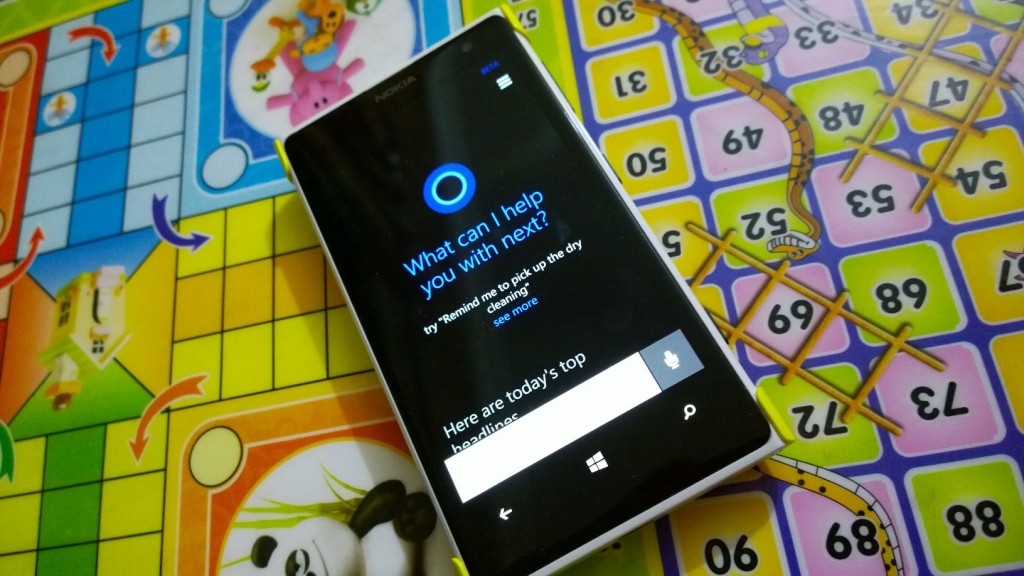 Cortana can also track your flight status and courier packages unlike the other two. Also, Cortana can perform small tasks like setting alarms and reminders , you can dictate a message to it or search the web and a lot more.
2. Notification Bar.
Finally , Windows phone has a (much needed) notification bar which can be accessed by simple drop down swipe gesture like in Android or iOS. By default , there will be four shortcuts that are Wifi , Bluetooth , Airplane Mode and Rotation Lock. Coming down there will be a "clear all" option which will remove all the notifications and on the right side there will be "All Settings" option. Notification Bar will as usual show you the notifications of calls , messages , emails and of other apps.
3. Greater Start Screen Customization
Microsoft have made an attempt to offer more customisable options for Windows Phone users and have added "Start Background" feature that will allow users to add an image on the start screen of the device.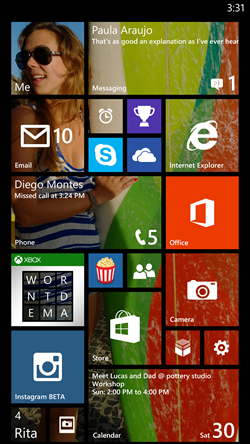 Earlier Windows 8 was limited to solid colors only.
4. Word Flow keyboard
Another big feature of the Windows Phone update is the introduction of "word flow keyboard", which allows users to just swipe finger on the alphabet in that word. Microsoft also claims that the keyboard will learn from the users writing styles.
5. All new camera app
Microsoft has taken the photography experience to a whole new level with the new camera app which gives easy access to clicked images and user can easily share those images. Microsoft also finally marked the entry of the burst mode feature to its Windows Phone.
6. New Sense feature
Microsoft has introduced several new sensing apps that includes Data Sense , Wi-Fi Sense , Storage Sense and Battery Sense.
Data sense will give a record of data usage of the device. In this, user can also set the limit of the data to be used. There is a feature called "High Savings" which will use less data by compressing the images which are being browsed on the web.
Wifi sense will automatically connect to the nearest Wifi hotspot to conserve the data usage.Even when Wifi sense is off , Cortana will switch it on, when suitable wifi hotspot is available.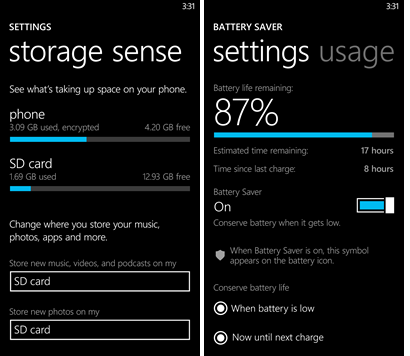 Storage Sense will help users to manage their data efficiently by moving images,apps etc. between inbuilt storage and SD card Storage.
Battery Sense feature will give the list of the apps which are consuming battery and also includes a battery saver option which will help in extending battery life.
---