E-commerce players are faced with a constant "keep up or get left behind" dilemma. There are two primary tasks here: to keep pace with the dynamic development of the market while simultaneously enhancing own efficiency and profit. Yet the old design of e-commerce and the lack of operational adaptability that comes with it prevents organizations from reaching the optimal balance between client happiness and profitability. Today's customers often prioritize an attractive front-end look, while numerous retail operations require a reliable and secure digital back-office. This is where BigCommerce development services and Headless architecture come to the rescue.
Headless architecture — what makes it better?
Headless is a number one trend in the world of retail, according to 52% of digital agencies and 46% of merchants that participated in the 2021 Global Headless Report. But what makes it so promising? Let's dig in!
The logic of legacy e-commerce architecture combines the backend and frontend parts of one system (we'll talk about that a little later). Headless commerce, on the other hand, is a fundamentally different technological architecture layout, where the user-facing shop components are separated from the backend and all transactional operations.
In simple words, in this approach, the backend ("body") is not connected to the frontend ("head"). So essentially different "heads" can be attached to the "body", if necessary. This allows you to use one backend to manage the site (or sites) and mobile application, as well as automate the distribution of content across all available sites and devices.
Part of MACH architecture
Headless is a part of MACH — a modular IT infrastructure for e-commerce platforms. The acronym stands for Microservices, APIs, Cloud, and Headless. But what does it mean? Well, if you have numerous frontend layers tied to a single backend, it allows you to quickly roll out new campaigns to different sales channels, including mobile, online, and self-service kiosks.
The idea behind it is to satisfy businesses with a high level of control, required to meet the needs of future customers. But as the practice shows, this future is now, as the best-in-class e-commerce players are already working with concepts, provided by modern commerce backend platforms for Headless storefronts like BigCommerce.
Headless architecture on BigCommerce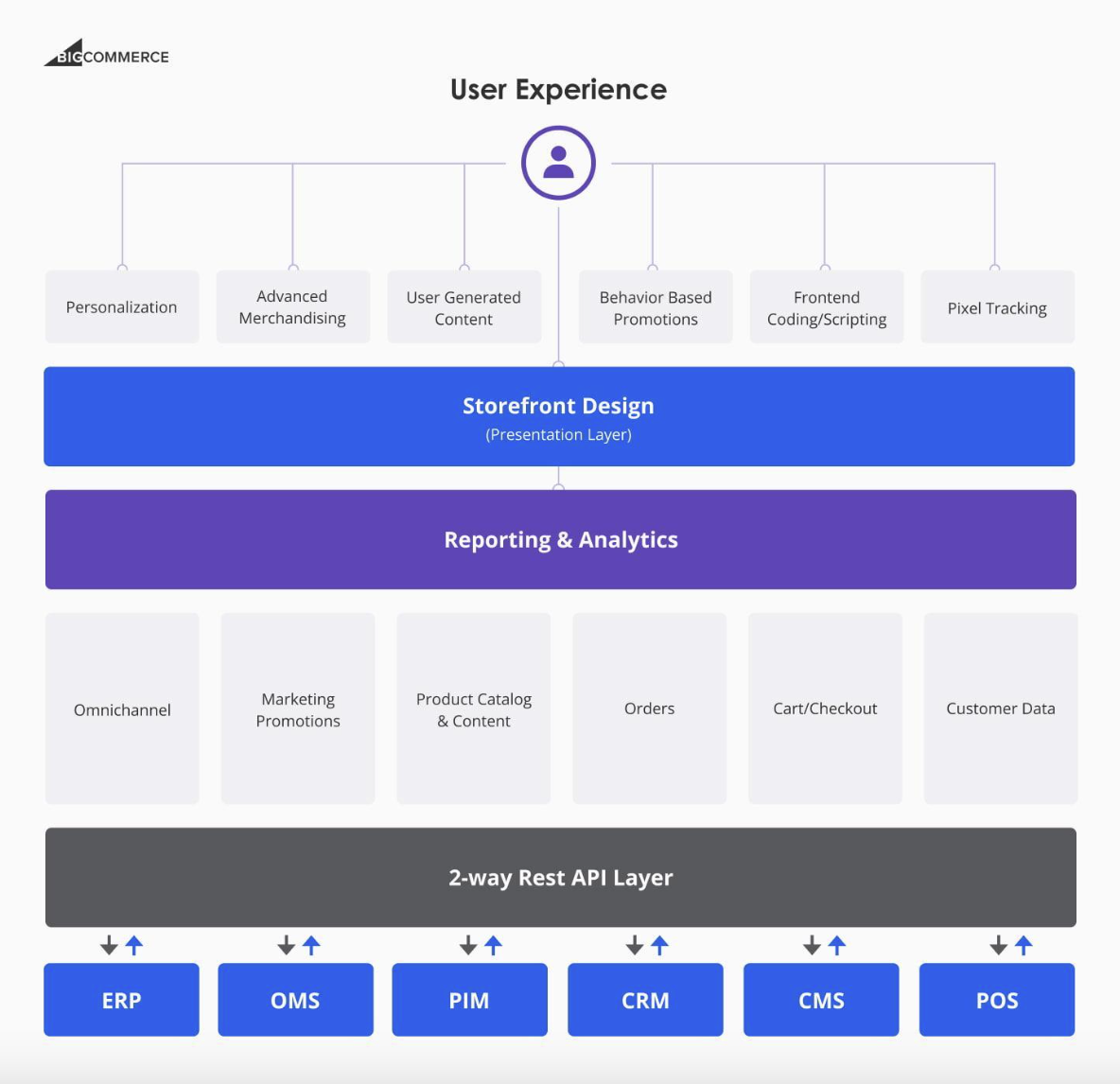 As a short conclusion — Headless architecture allows you to create and grow a digital store with maximum freedom. Monolithic systems are typically lacking in this regard.
The Contrast Between Headless Commerce and Monolithic Architecture
As we've already said, in monolithic e-commerce platforms, the server-side and presentation components are tightly integrated. As a result, each user interface update will almost certainly necessitate validation as well as backend modifications.
Changing the grid layout on a product page, for example, might cause issues with the checkout process or the shopping cart. Even if the update is only visual, you'll want to enlist the help of frontend and backend IT professionals to make sure the rest of the service doesn't suffer.
Here's how Headless differs from Monolith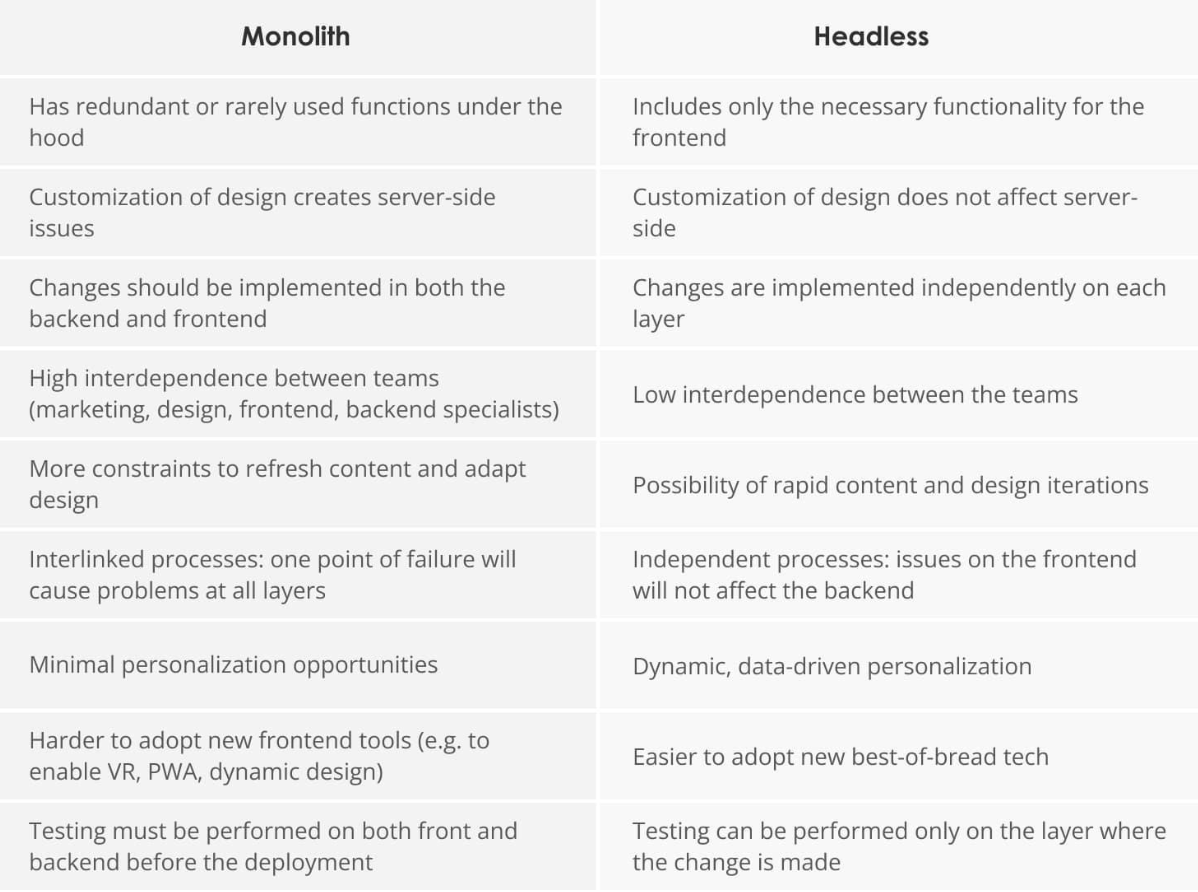 Few retailers were concerned by this rigidity since online purchasing was mostly desktop-based. However, as of now, consumers buy across various channels (about 36% of physical transactions are influenced online), so monolithic infrastructure has become an impediment to development.
Why Leading Retailers Are Embracing Headless
Half of the merchants in 2021 said they planned to transition to Headless by the middle of 2022, while another third said they planned to already do it this year.
Certainly, moving stores is a major endeavor. However, due to the ever-changing nature of customer demands, online businesses will eventually be forced to abandon their monolithic design and become Headless. There is a huge income prospect, creative flexibility, and other advantages of Headless commerce, which you should not lose out on:
Improved Customer Experience
Competition in the retail industry is focused on the customer's experience. Client happiness is just as important as a company's products and services, according to Salesforce.
Consumers demand individualized experiences, outstanding customer service, and exceeded expectations. McKinsey 2020 estimates that 80% of customers desire retail personalization.
Using Headless, you can change the look and feel of a page at any time, according to the demands of the user, while also improving navigation and brand consistency across all channels.
A great example of this improvement can be seen by furniture vendor Burrow. The company used BigCommerce development services to integrate Headless into a custom content management system. That allowed them to create distinct shopping experiences across channels, improve website performance, and build new marketing tactics. As a result of the innovative move, Burrow saw a 30% improvement in conversion rates.
Omnichannel retail
A whopping 60-70% of clients now do their business in-store as well as online. Self-service kiosks and live commerce, for example, are becoming increasingly popular among major companies as a means of combining the advantages of in-store purchasing with those of internet shopping. Live commerce, for example, can lead to a 20% increase in the number of younger clients.
A brand's identity and customer experience must be preserved as it expands into new distribution channels. It doesn't matter if it's a website or a smart fridge, customers demand the best possible experience at every point of contact. This is the point where Headless architecture plays its role the best.
Consistent design and content optimization matched to the needs of each channel are possible with Headless. For example, in order to prevent long lines at kiosks and on mobile devices, the primary buttons should be larger. Your customers will be delighted by the bespoke brand-tailored presentation layer on each channel, while all retail transactions are aggregated and processed in one backend system at the same time.
Faster Growth
In 2020/21, the e-commerce business exploded, and it shows no signs of slowing down in 2022. Global e-commerce sales will hit $5 trillion this year for the first time ever. Due to the rapid expansion of this industry, the level of competition is expected to rise. Consequently, if you want to take over a new market or a new consumer group, you need to proceed at cruise speed.
Your business can quickly grow into new channels and markets using Headless.
Without the need to rely on IT, marketing teams can produce their own content and make changes to the page's appearance themselves using Headless. You could quickly grow to new channels and markets if you have access to fundamental commerce functionalities and fast interaction speed (ahead of your competitors).
Cutting-edge Technology and APIs
Application Programming Interfaces (APIs) are crucial in a Headless design. To put it another way, APIs are like glue. They help you link various front-end frameworks, CMSs, DXPs, and PWAs to your back-end systems (e-commerce platform).
Custom designs could only be created using a single programming language or a limited number of frontend frameworks in monolithic systems. Either that or you can always just start from scratch. That was before Headless.
Your ability to choose and choose best-of-breed frontend technologies is made easier since Headless architecture uses 'composable blocks (microservices and APIs).' Most customers today expect companies to use new technology in order to improve their customer experience. You have the capacity and flexibility to achieve this with a Headless architecture.
Operational Stability
Your frontend and backend are distinct, so you can make changes to one without interfering with the other. As a result, your engineers don't have to worry about the frontend when they're working to enhance backend operations (such as adding new connectors, increasing performance, and strengthening security).
Marketing has the option to use page builders without contacting IT, thanks to Headless design.
Wrapping up
The world of online shopping is continuously changing, allowing merchants to find new strategies to attract and retain customers. To take advantage of these methods, a brand must be willing to adapt and innovate.
Leaders are frequently the ones who take advantage of new opportunities. 50% of companies with the top 10% in revenue, according to McKinsey, are better able than their rivals to test new ideas and alter their products, services, and business practices.
Competitors who make timely and courageous moves to innovate earn clients. Be one of the leaders.
Edvantis has emerged as a pioneer in Headless commerce and Bigcommerce development services.