In a recent announcement, tech giant Apple revealed its attempt to take on the growing buy-now-pay-later segment. Called 'Apple Pay Later', this new payment method is Apple's take on the increasingly popular Buy Now, Pay Later (BNPL) business model, allowing users to take loans from $50 to $1000 and pay gradually over time.
For now, Apple Pay Later is available for a handful of users in the US and requires iOS 16.4 or iPadOS 16.4. In its announcement, the company further informed that it will be inviting "randomly selected users" to use a pre-release version of the Apple Pay Later feature, and will bring it to all eligible users in the coming months. It will be present in the Apple Wallet itself.
This will allow users to apply for loans of $50-$1000, and repay them through a series of four payments over the course of six weeks with no additional interest or fees. Apple noted that users will be able to use the loans for online and in-app purchases made on iPhones and iPads and with merchants that accept Apple Pay. The Wallet app will help them to track, manage, and repay their Apple Pay Later loans. Applying for Pay Later loans will not impact the credit of users, Apple noted.
"There's no one-size-fits-all approach when it comes to how people manage their finances. Many people are looking for flexible payment options, which is why we're excited to provide our users with Apple Pay Later," said Jennifer Bailey, VP of Apple Pay and Apple Wallet. "Apple Pay Later was designed with our users' financial health in mind, so it has no fees and no interest, and can be used and managed within Wallet, making it easier for consumers to make informed and responsible borrowing decisions." The arrival of Apple Pay Later is long overdue, given that it was announced during the WWDC in 2022 and was supposed to debut with the arrival of iOS 16.
Apple's foray into the BNPL market is a significant move, given the current surge in popularity of the payment model. In recent years, companies like Klarna have made BNPL a household name, with many consumers choosing the payment option over traditional credit cards. With the introduction of Apple Pay Later, Apple is poised to disrupt the BNPL industry by offering a convenient and flexible payment option that is integrated with its existing suite of products. By leveraging the power of Apple Wallet, Apple Pay Later promises to provide a seamless payment experience that is both secure and user-friendly.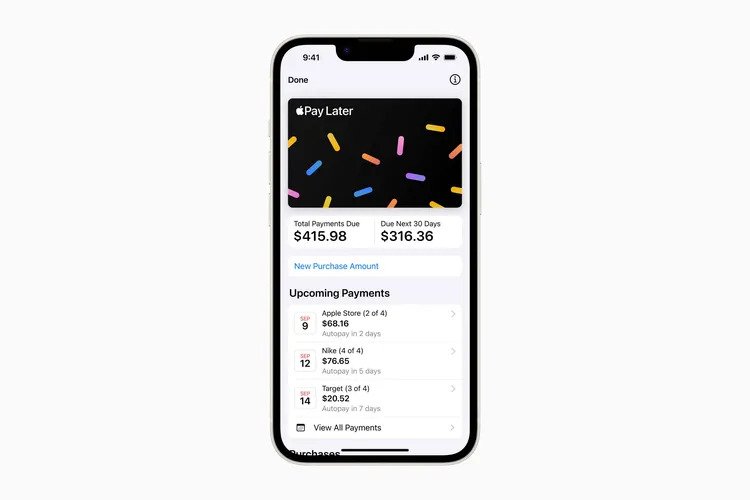 Interested users will have to enter the amount they would like to borrow. Once the Wallet ensures that the user is in a good financial position to repay the loan, it will show users the Pay Later option when they select Apple Pay online and in apps on iPhone and iPad. They can then use Apple Pay Later to make a purchase or apply for a loan directly while making a purchase. The Wallet will show them the total amount due for all of their existing loans, the total amount due in the next 30 days, as well as all upcoming payments on a calendar view in order to track and plan their payments.
The Pay Later program, according to Apple, is managed by a new subsidiary, Apple Financing LLC, which the company says "is responsible for credit assessment and lending," while the Mastercard Installments program now enables Apple Pay Later. It will commence the reporting of Apple Pay Later loans to US credit bureaus starting this fall.