Market research firm Canalys has reported a 2% drop in the global shipment of smartphones from 339 million units (Q2 2018) to 331 million units(Q2 2019). Despite that, Samsung shipped 76.9 million units with an annual growth of 6%, becoming the largest smartphone vendor (in terms of shipments) in the second quarter of 2019.
Samsung's increased shipments were due to steady sales of the new Galaxy A Series, including the Galaxy A50 and A70. The series has been extremely popular in markets like India. But its flagship model Galaxy S10 didn't perform well. Rushabh Doshi, Canalys Research Director, said, "Its portfolio refresh was fortunately timed, as it was able to capitalize on the new devices to win back business from operators and retailers in Europe and Asia."
Huawei trails behind Samsung with a global shipment of 58.7 million units in Q2. The company noted an annual growth of 8% which is lesser compared to previous quarters. Doshi said, "Samsung benefited in markets such as Europe in May and June as arch-rival Huawei struggled to reassert its position."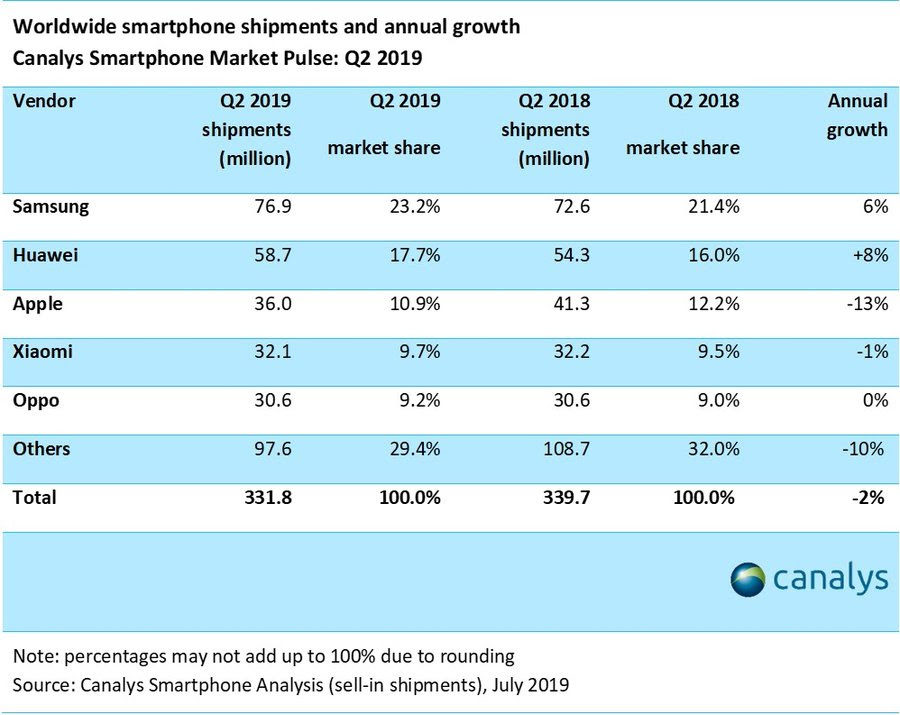 While China is Huawei's biggest market, receiving 64% of total smartphone shipments (in Q2 '19), it's still struggling in the US as well as in a few European countries. Trade restrictions on Huawei put by the US have troubled the company's business overseas. Huawei noticed a 15% fall in its overseas shipment of smartphones.
"Mobile operators decide which smartphones to range at least six months in advance. Many have been forced to explore contingency strategies in case they have to replace Huawei devices in their portfolios by the end of 2019," said Ben Stanton, Canalys Senior Analyst. "But Huawei's brand has now been damaged outside of China, and it will take time and money to repair."
Other than Samsung and Huawei, almost none of the major smartphone brands showed any growth. Instead, brands such as Apple and Xiaomi reported losses in Q2 '19. Apple saw a 13% decline in worldwide smartphone shipments and managed to ship only 36 million units, 5.3 million units lesser than Q2 '18. The only promising thing for Apple was the sales of iPhone XR, which accounted for 37.5% of the total iPhone shipments.
A reason for this was the hiked prices of iPhones in China where it noted a 22% decline in sales. Also, the iPhone remains the only segment that observed sales decline while the wearables segment noticed sales growth worldwide.