Uber did not exactly have the kind of IPO opening it was expecting to get. Despite a rather conservative pricing of $45 per share, and an oversubscribed IPO, Uber's debut started with a 9% tumble with shares hitting a low of $42.23. There has however been a recovery since, with shares trading 0.71% lower at the time of writing.
Earlier yesterday, Uber announced that it will be making its debut at the NYSE at $45 apiece, valuing the company in the vicinity of $82 Billion. The pricing was termed conservative by many, considering earlier speculations of the ride-hailing company looking to cross the $100Bn valuation mark.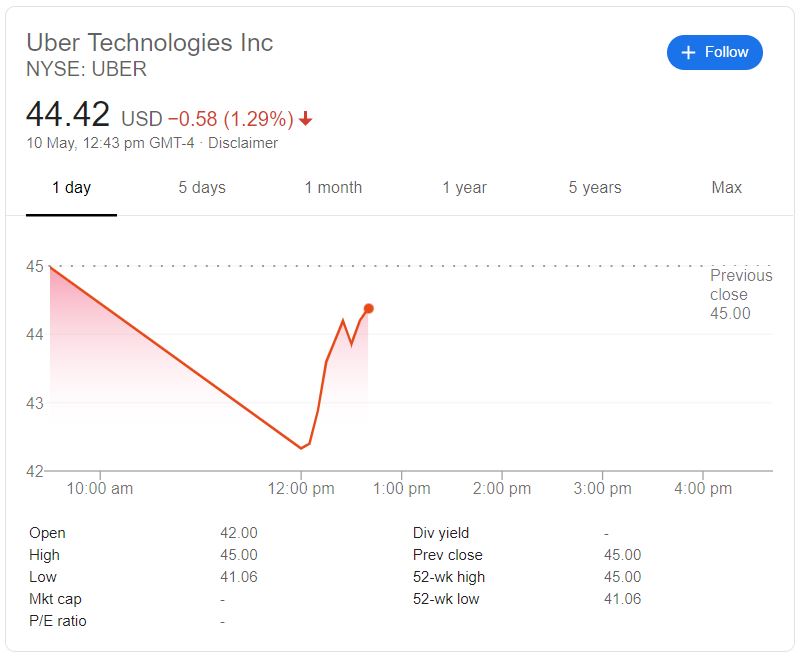 Uber's ride to IPO hasn't been the smoothest. The company has been marred by controversies involving its driver partners and the overall work culture within the organisation. The issue of work culture is what prompted a federal investigation resulting in ultimate departure of founder Travis Kalanick.
As discussed earlier, Uber's reported 2018 revenues of $11.27 billion, net income of $997 million and adjusted EBITDA losses of $1.85 billion. In terms of other numbers, most of them were revealed by the company in its latest financials disclosed in February this year.
Revenues continued to grow though, with the company touching $3 Billion in the final quarter of 2018. This accounts to a 2 percent increase when compared with previous quarter. The gains, though slender, are crucial considering that the company is looking to go for an IPO this year. Gross bookings also went up by 11 percent to $14.2 Billion. This is the amount that the company gets upfront, before paying up the drivers. Revenues totaled $11.27Bn in 2018 as per the filings.
On an adjusted, pro-forma basis, the company had reported a net loss of $768 Million, an improved performance compared to the previous quarter. Uber had reported a pro-forma net loss of $939 million in the preceding, third quarter of 2018. Uber's adjusted EBIDTA losses stood at $842 million, which represents a 88 percent increase Y-o-Y and a 60 percent increase Q-o-Q. In the preceding quarter, Uber's adjusted EBIDTA losses came in at $527 million.
This is a developing story…