Well, hello Clashers! The powers that may be, have released a huge, mega update for Clash Of Clans and all your wildest dreams are coming true. Night Witch, Multi-Mortar, a brand new base, one on one battles……in-short, everything you may have dreamt of is here. I have been busy collecting trophies and demolishing enemies (mwahahahaha!) since last night, so let me give you a quick tour of all the new goodies that have made their way to us with the new, Clash of Clans update. This app is freely available on TweakBox and you can download it right now.
The article will be same as downloading the mini militia mod apk and is recommended for you to read till end so, you can learn more about this.
Make sure that you don't forget to visit https://Rule.FM/ to download your favourite applications for free, like the above mentioned site, Tweakbox.
A brand new, Night base:
Okay, so this is definitely the highlight of the update. Remember the boat that had been floating near the edge of the water? Well, you can now click on it and assuming that you have a builder who is not otherwise engaged, you can repair it. And use it to go on a journey to some fantastic new lands.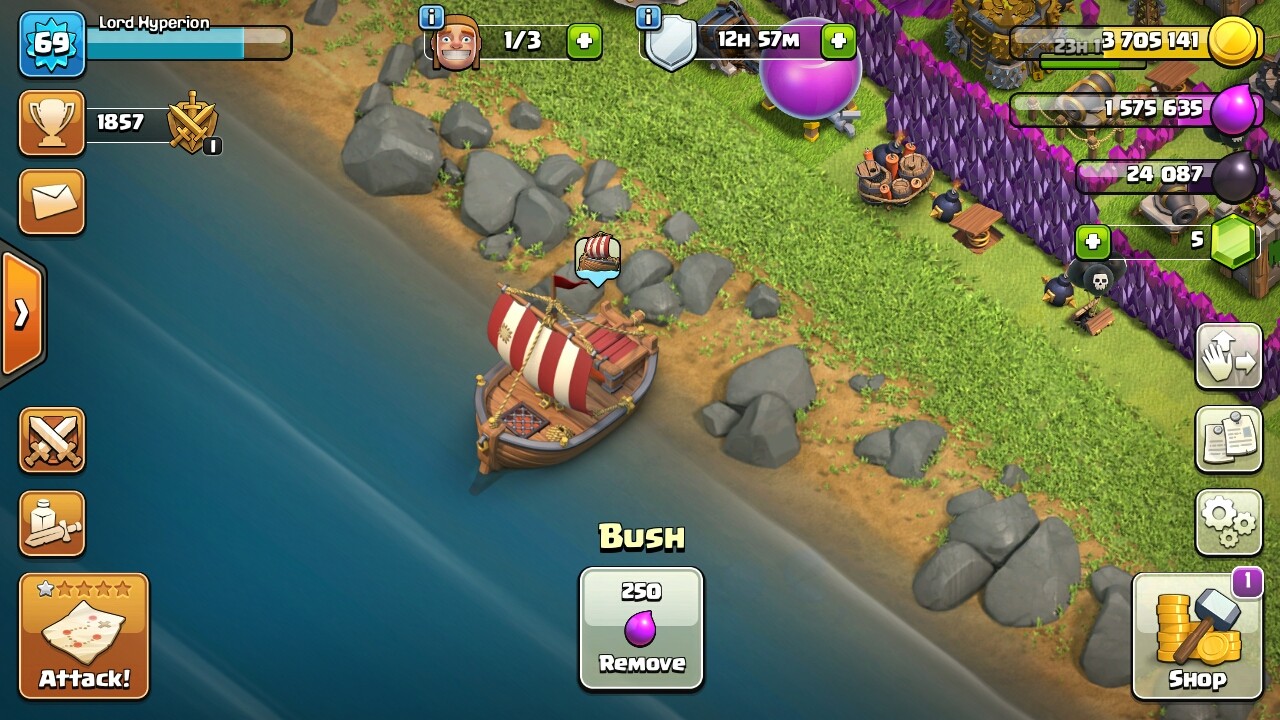 Once you embark on the journey, you will be taken (almost instantly) to a new land that will remind you of how your base looked when you first started playing. There will be a couple of buildings strewn about and the whole place is shrouded in a sort of darkness.
Here, your town hall is replaced by the builder's barracks – which is occupied by a master builder. The rest of the place is pretty much similar to what you got when you first started playing COC. However, there are a couple of buildings standing when you get there and you can shuttle between the old and the new bases by clicking on the boat. However, you can not carry any resources or army between the two place.
You can also build a lot of new structures including Crushers, Huge mines, Guard Posts, a different and more powerful Tesla, and so on.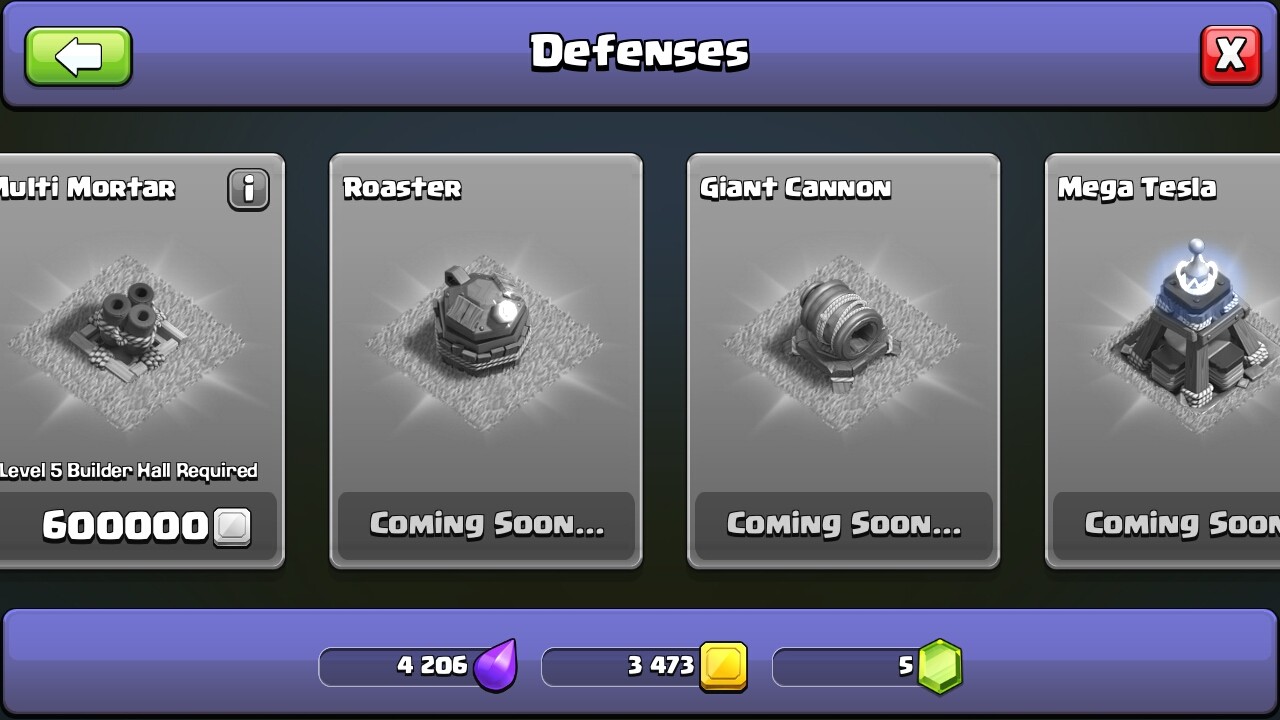 Moving on, let's take a look at the new characters that are being introduced to the game.
New Characters
The update brings a lot of new characters to the COC family. Take a look: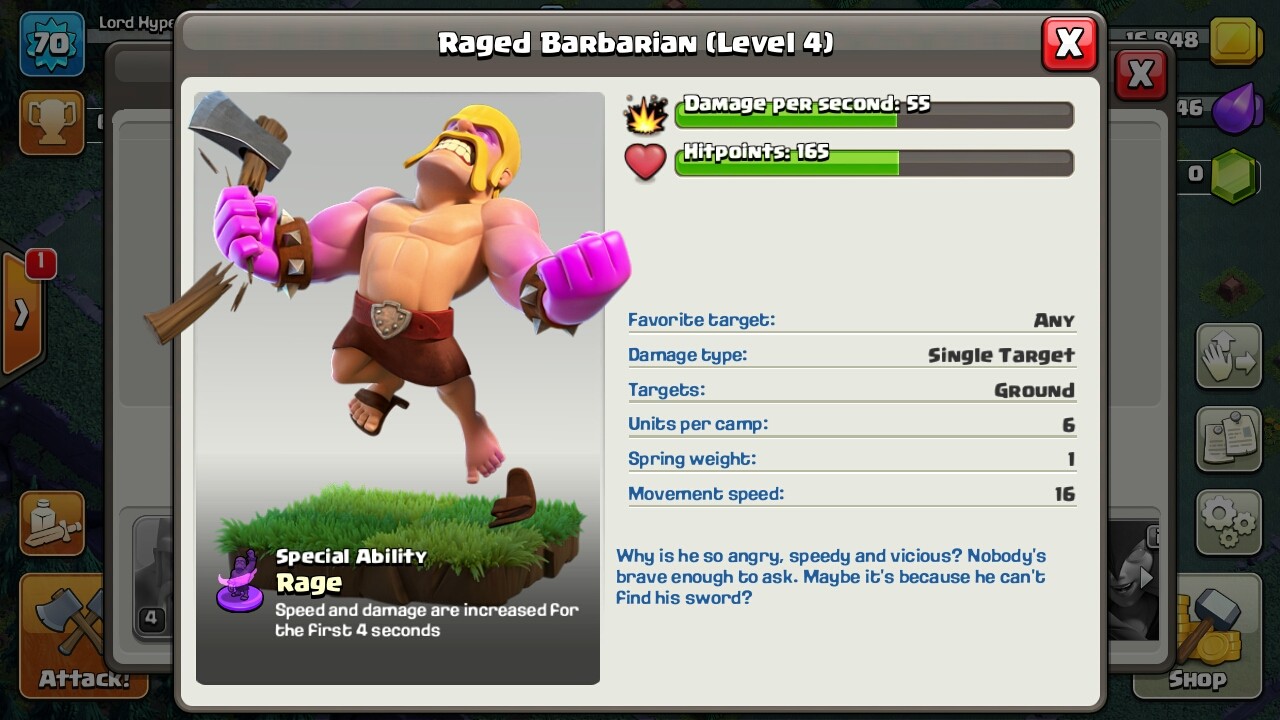 Raged Barbarian-  Much like the Barbarian, this troop too is the first one to be unlocked on the builder base, which looks intriguing in the night mode. They too merely rely on their muscle build and mass deployment in order to break chaos in the opponents territory. However, this barbarian is a little angry. Once this little warrior is deployed on the base, he comes in his raged form, that is more angry, more quick and more powerful (as if it was under the rage spell). But the rage only lasts for 4 seconds and after that, it is just a regular barbarian troop. One major difference observed in this troop is that, this time it is not carrying his signature weapon, the sword, with him, and instead of that a builder's axe is being used as an attacking material. Who knows, the missing sword could probably be the reason behind all his rage.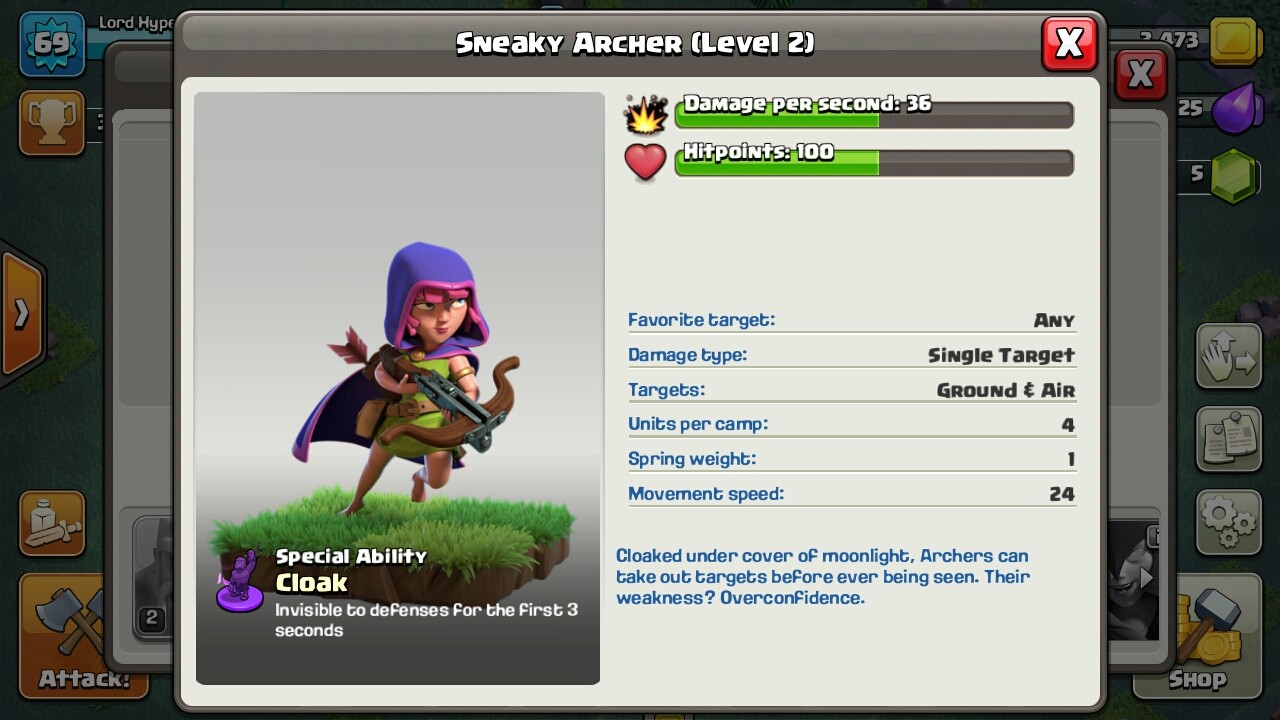 Sneaky Archer-  The sneaky archer is the next troop which gets unlocked in the game. Somewhat like Harry Porter's invisibility cape, the sneaky archer too cover with a special cloak which makes it undetectable or invisible for the first three seconds under the moonlight. She can make subtle damage before being detected, and could be of great importance if lured behind some attack absorbing troops, like barbarian or giant. She has a low hit point and could be easily eliminated by the opponents defenses.
Also Check : clash of clans mod apk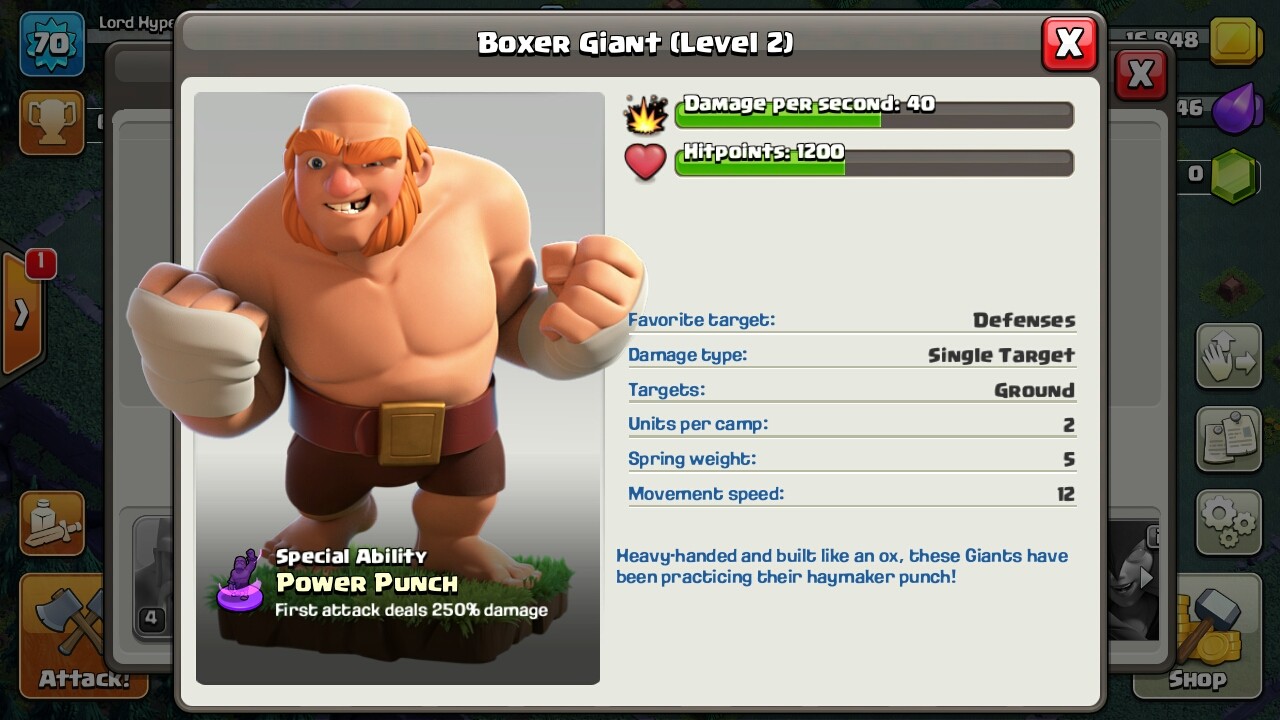 Boxer Giant- This troop is similar to the giant we used to see in the raw version of COC. Unlike the raged barbarian and sneaky archer, the boxer giant comes with no special ability, except for his extreme build and haymaker punches. This is one of the strongest troops in the update, which firstly concentrates on breaking enemy's defense buildings before diverting to other buildings. It has a good hit point, which means it can absorb sustainable amount of damages.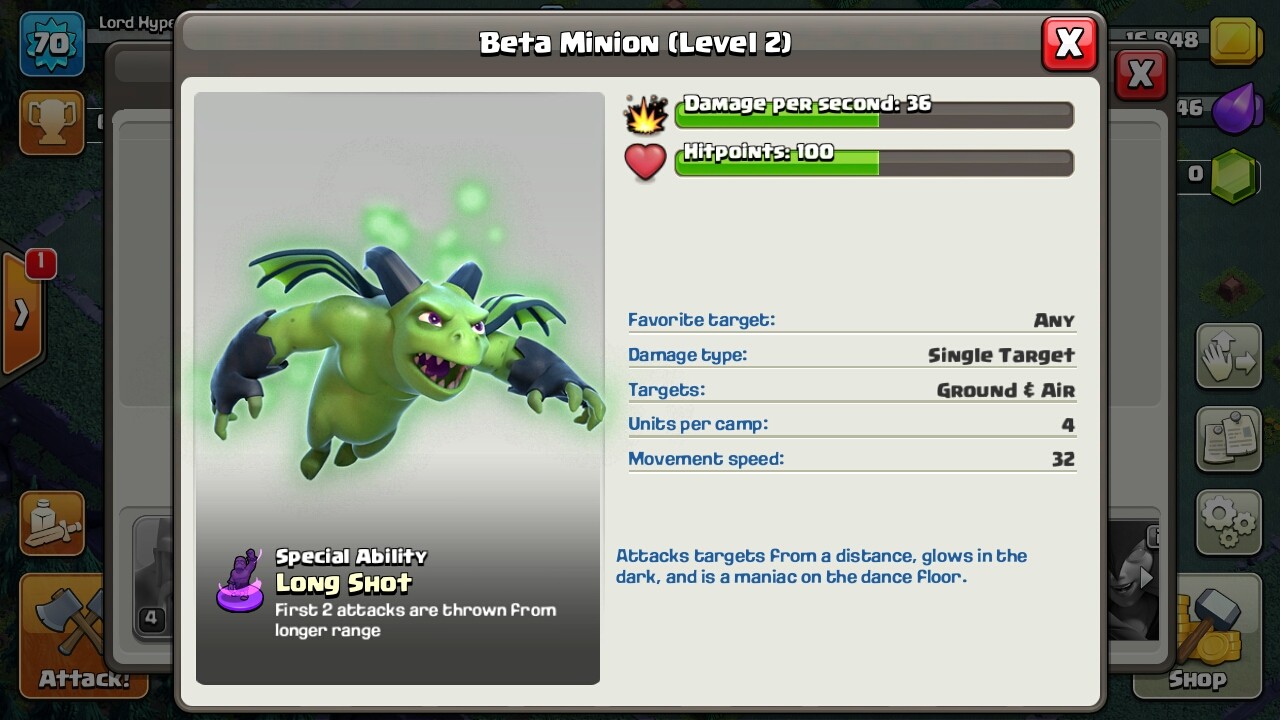 Beta Minion-  This is a glow-in -the-dark version of the minions, which used to be the first troop expending out of the dark barracks. They require level 4 barracks to be unlocked here, and come with low hit point as well as damage points. They do not have any special capability, except from glowing, however, they could inflict serious damages as well if deployed intelligently, because these are flying units, which are untraceable by many traps and defenses.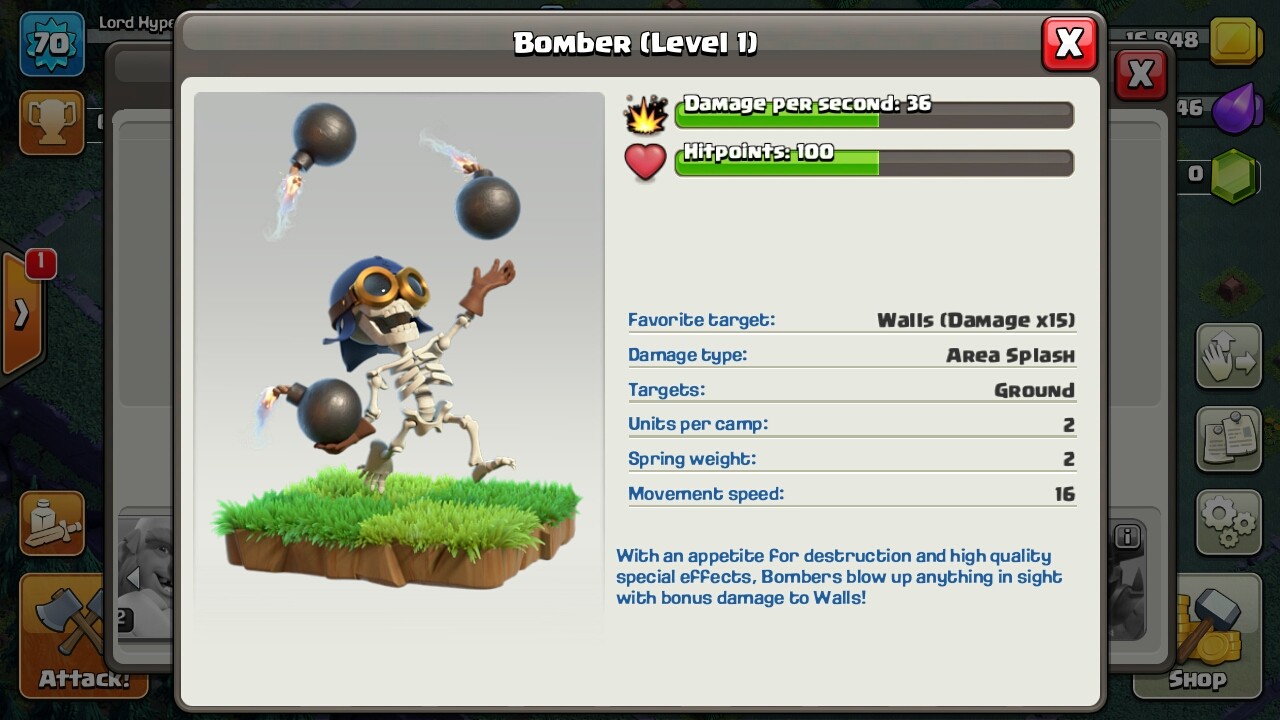 Bombers- These are the sane version of wall breakers which could be used only after updating the barracks to level 5. Thee skeletons have somehow realized that they can also blow the walls without blowing themselves along with it, henceforth, they have started throwing bombs on anything and every thing that moves. But, the walls are still its favorite target for which it has a better damage point in comparison to other buildings ot troops. Their info in the game tells that their destruction in the game will be broadcasted with high quality special effects.
Canon Cart- This is a completely new entry in this game coming straight from the universe of Clash Royale, another popular game from Super Cell. The cannon cart is a cannon on wheels which is capable of inflicting a good amount of damage on the defenses, and absorbing plenty of damages as well. It would act as a good distraction troop in my opinion, providing an opportunity to other troops to stay longer and make prolonged damages. The speed is however quite slow, which is its limitation. The troop unlocks at level 7 barracks.
Night Witch- This one is a little different from its sister which summons skeletons from the earth. As it is a night's creature, it is more popular among the nocturnal beings, which it summons for attacking. The troop is expected to come out soon, and remains unavailable for now. It summons bats and is actually kind of like what Batman would be, if he was a witch.
Super Pekka- One of the most feared members in the Clash of Clans universe is about to hit the turf in a new form. The super Pekka has not made an entry yet but judging by the looks, and the tendrils of lightning snaking around its armored body, the Super Pekka sure seems super wicked.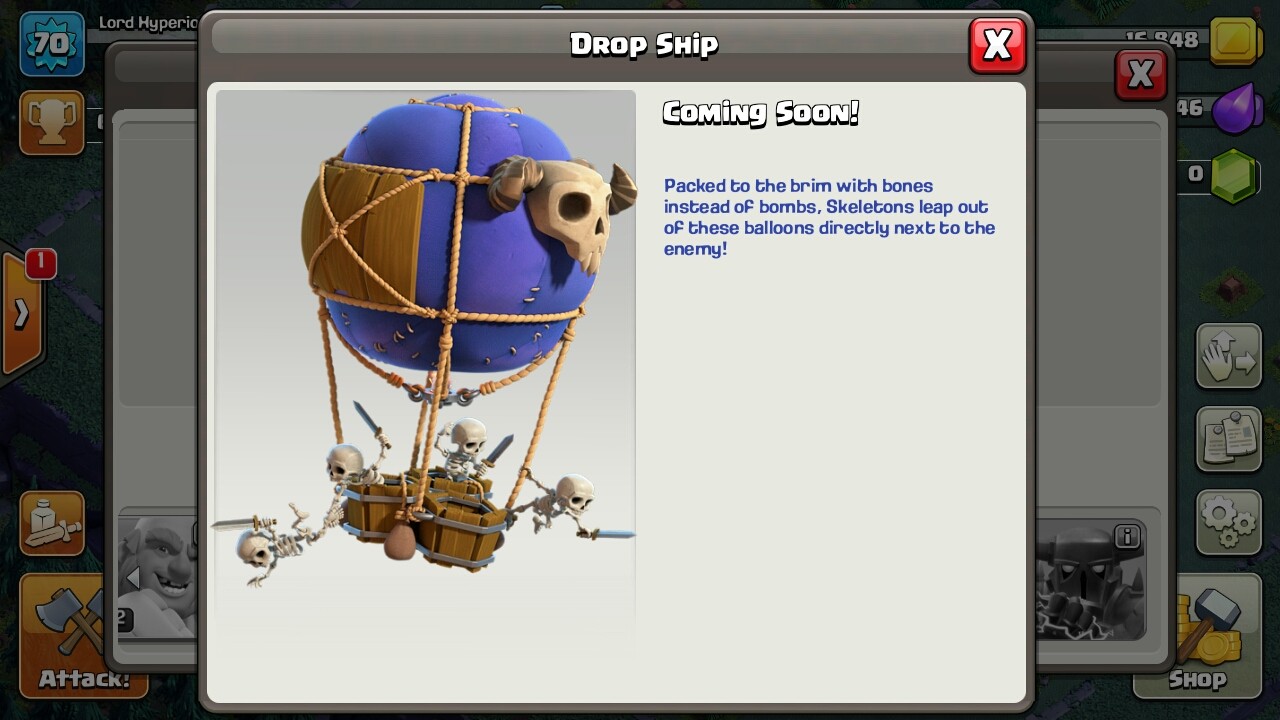 Drop Ship- This troop is mentioned as "coming soon," on the platform, and as far as we can deduce from the looks of the troop, it appears that this would be an army of skeletons which would be summoned from an air balloon, and will reach the ground right next to your enemies for creating havoc.
There's also another app for hacking/modifying any android game data called Game killer apk, that help you out with playing the game easily without any hard work.
Other Additions: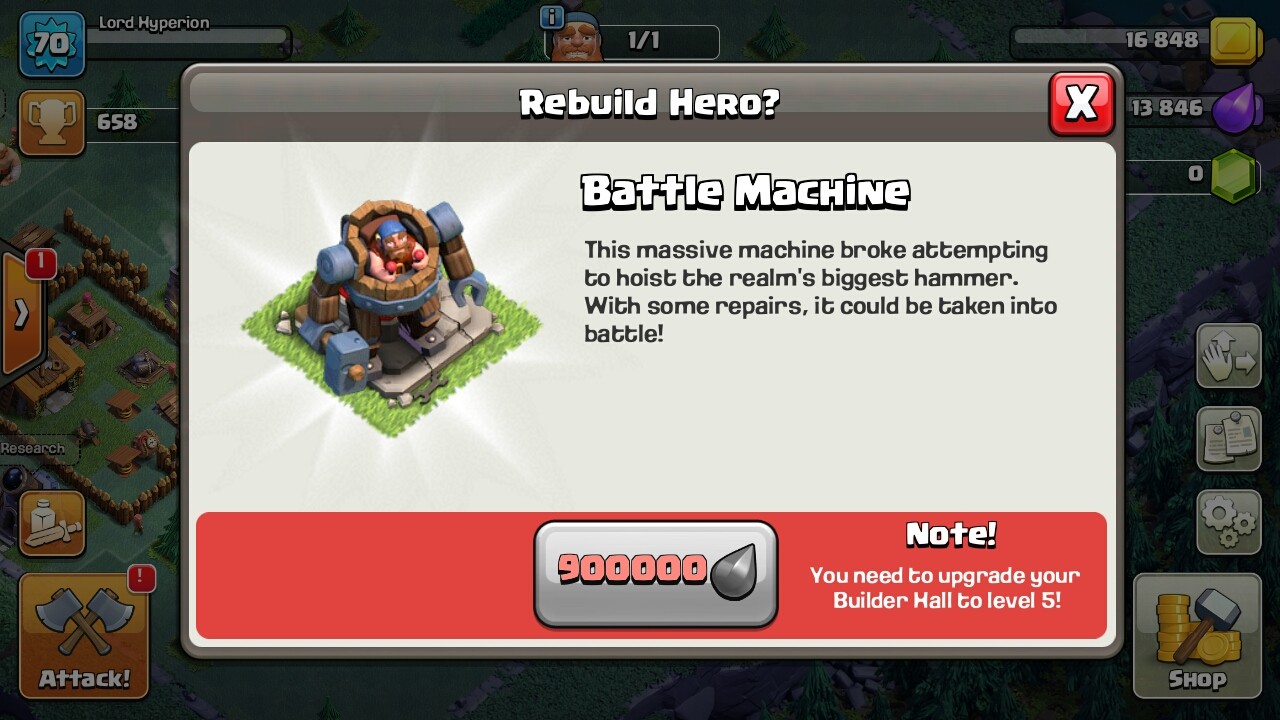 Battle Machine-  Bearing appearance with an old age transformer weaponry, the Battle Machine is entirely a new entry in the Clash of Clans. Once your Builder Hall is upgraded to Level 5, the Battle Machine could be repaired and used in battles. It is a colossal machine with a big hammer capable of pulverizing anything that comes in its way. You must check Clash of Clans mod.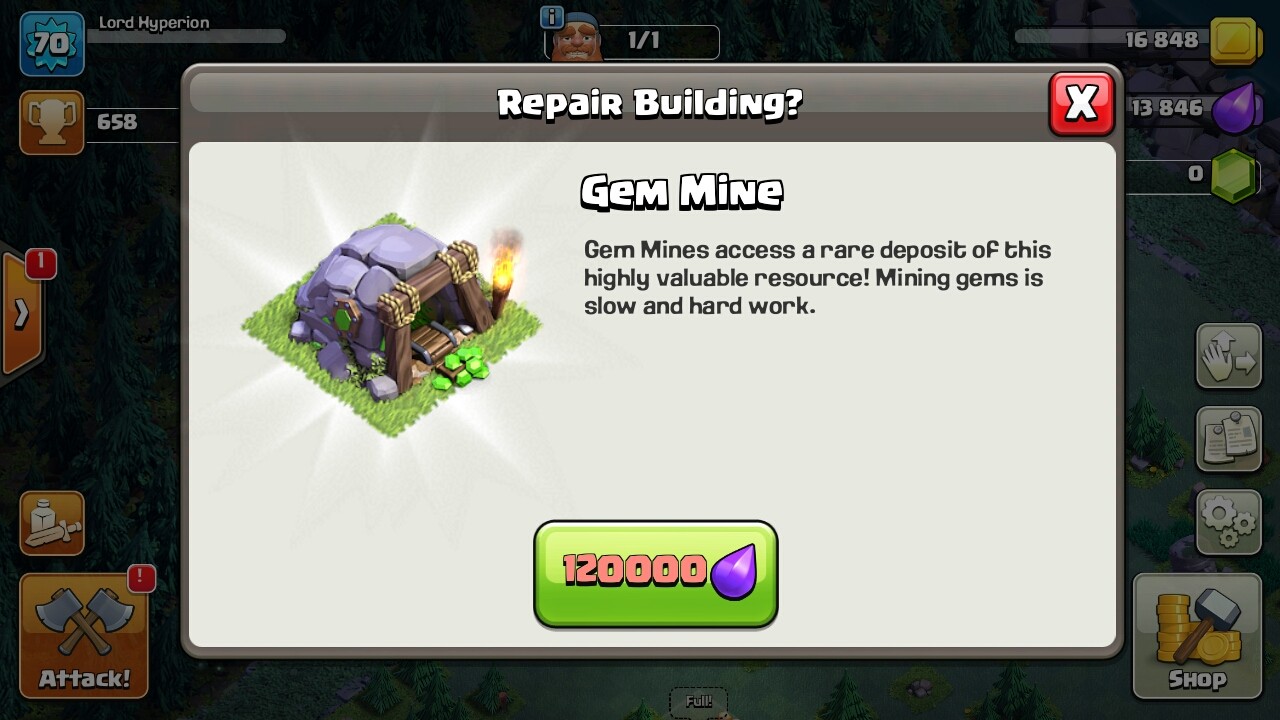 Gem Mines- Seems like the creators have finally found the deposits of the most valuable material of the COC universe. Gem mines is a new building coming forth with this update. With this update in town, you will no longer have to wait days for a gem box to appear, or be solely dependent on the rewards or in game purchases. With these mines, you will have a constant supply of gems which could be used for speeding up the game's progress. However, these gems are rare and won't  be available so easily.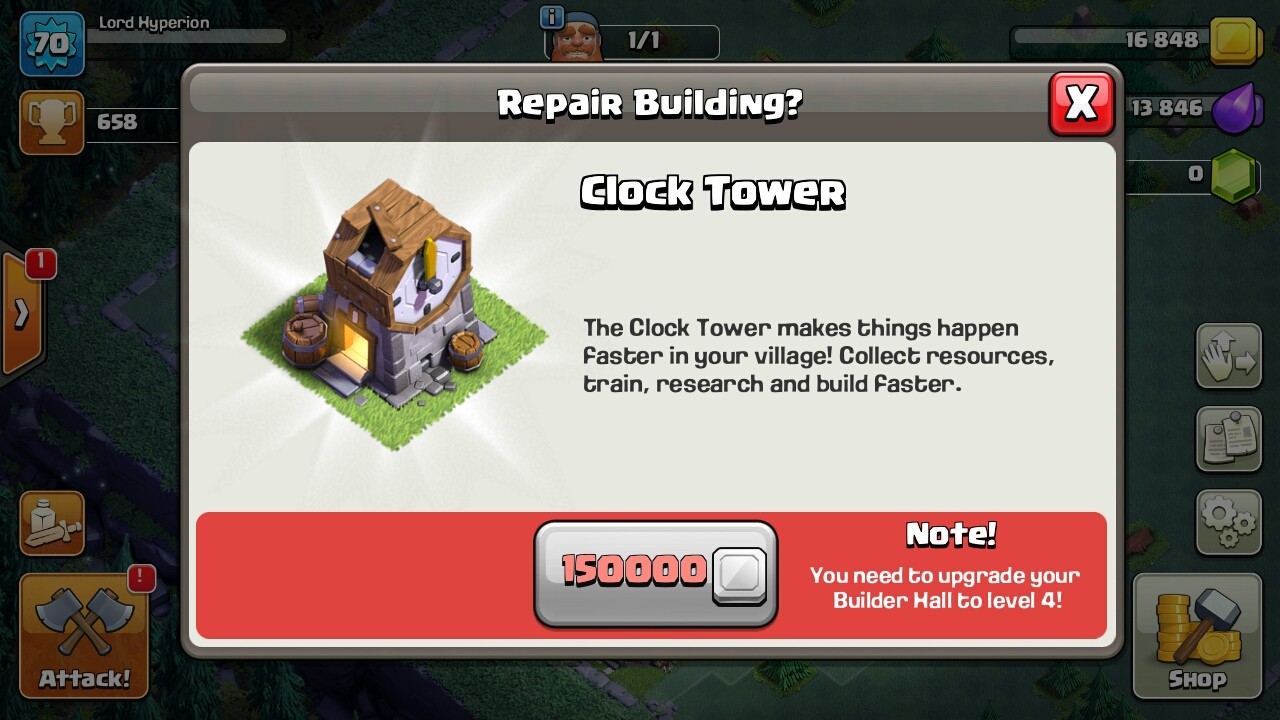 Clock Tower- Though I haven't seen the clock tower in action yet, its info tells that this building is like some time machine, which would speed up everything which is happening on the base, like building troops, extracting from resources or research work. Sounds interesting!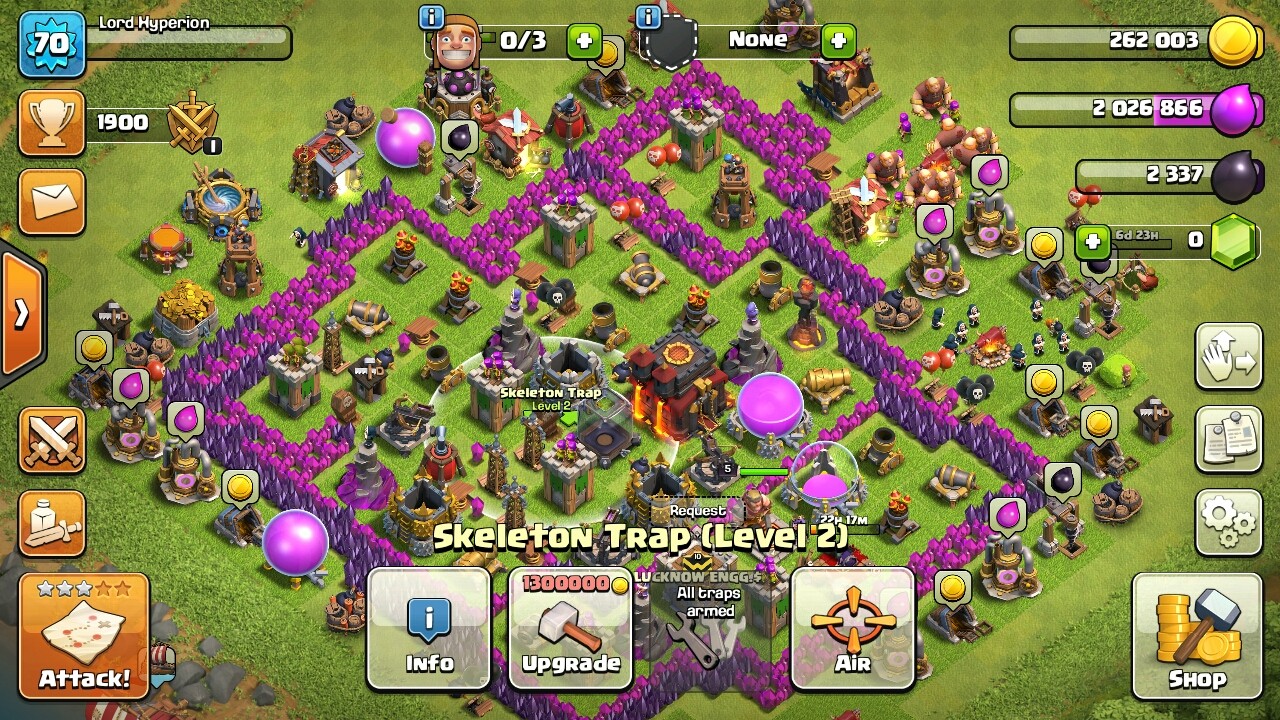 Gear-up- This is one update which directly links the Home Base with the Builder Base. Once your double cannon on the builder base reaches level 4, you would have the leverage of update your existing home base cannon as a double cannon, which would be much more effective in providing protection to your base.  The gear-up option for archer tower is also on its way, which would allow you to set the tower over a long range attack mode or a short range quick attack mode.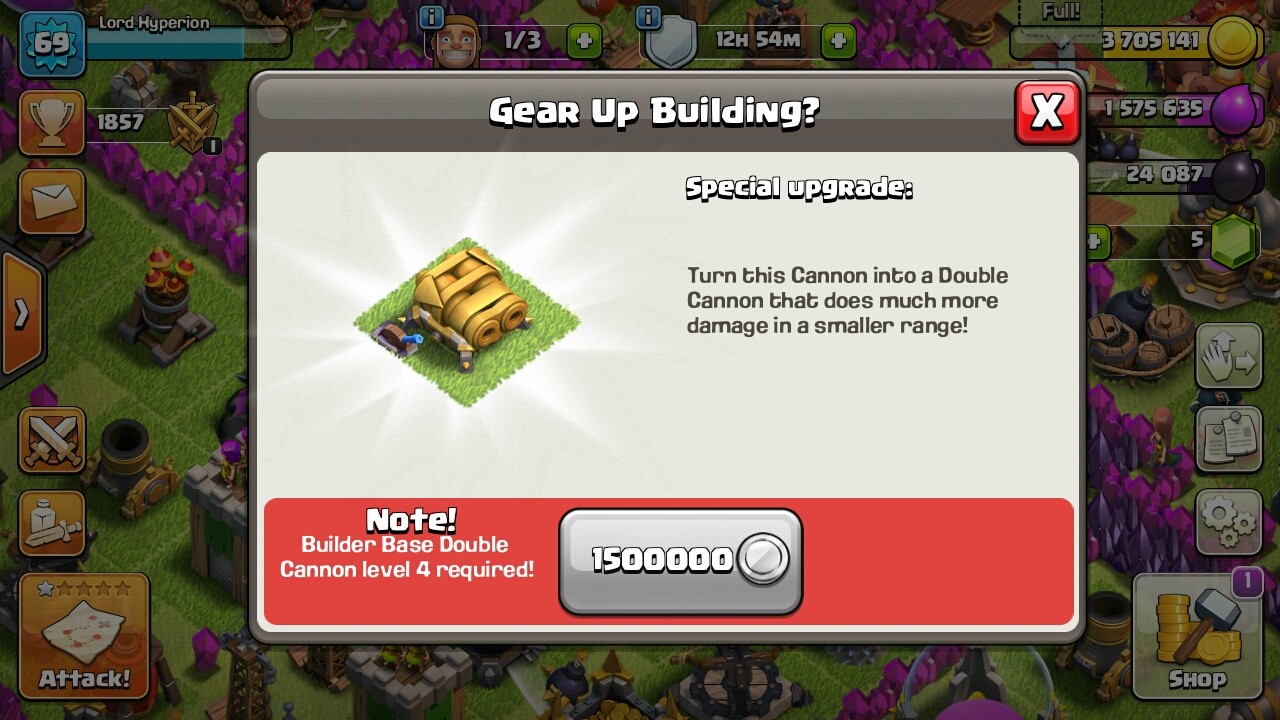 There is an additional ranking system as well: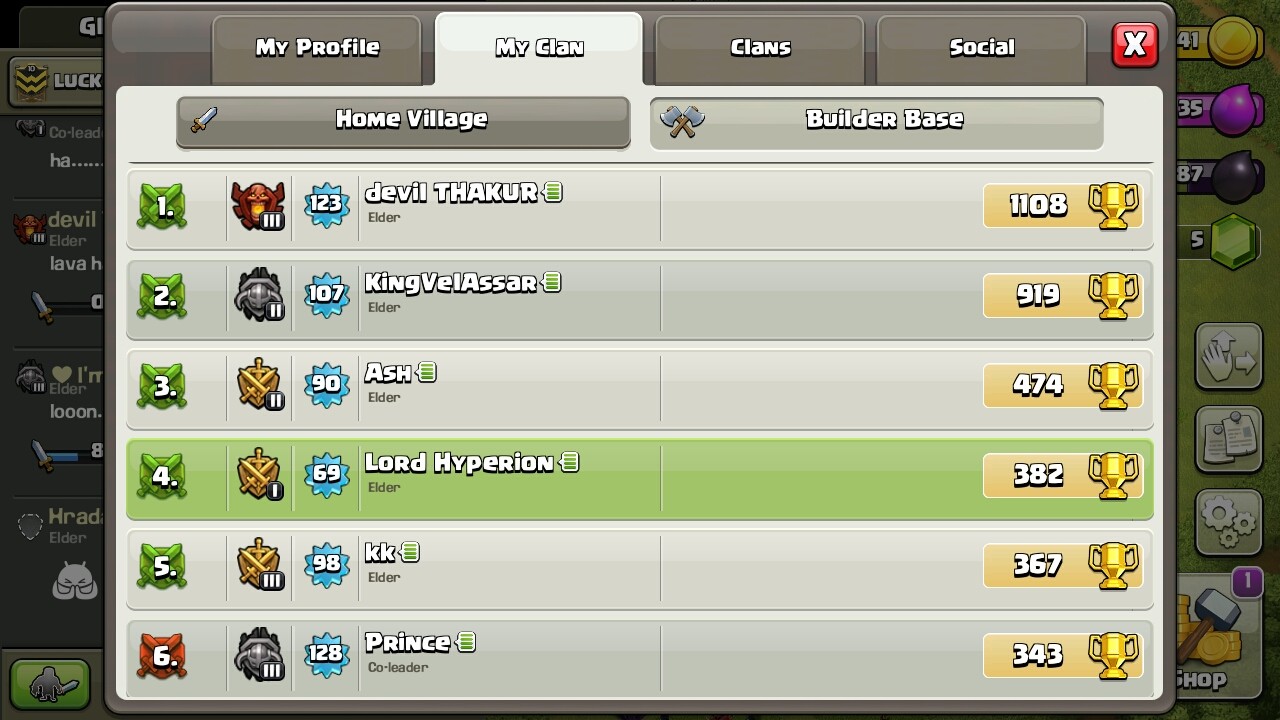 So, what do you think guys? Is the update going to make the COC universe a more fun place? Do give us your feedback by commenting right below.